Any videos of this in action??
As far as we got before the 2020 season.
It was speed limited and has a few more things that needs to be worked out. Intended to be a test bench for swerve code until we could make something good but this is by far the dumbest thing we have made, including 2 turrets from 2017.
Making a dumb thing is better than making nothing at all.
Where did you guys source your wire management system from on the turret? That looks like a half decent solution to the wiring issue we've been facing on ours.
Not ours, but 5687 in 2019 had made a NEO heatsink plate in case their NEOs ran into heat problems (which I don't recall them saying they ever actually needed). I forget which mechanism it was to (either elevator or drive).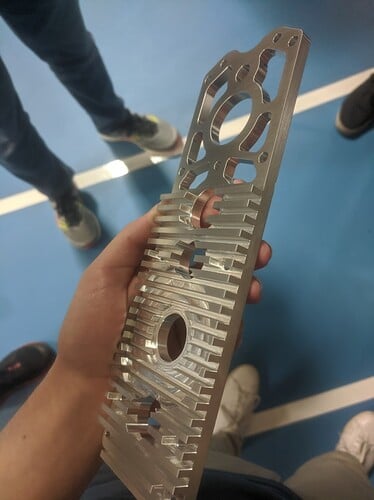 Also not ours, but 271 always has a hilariously overengineered drivetrain… @rich.varone may have similar pictures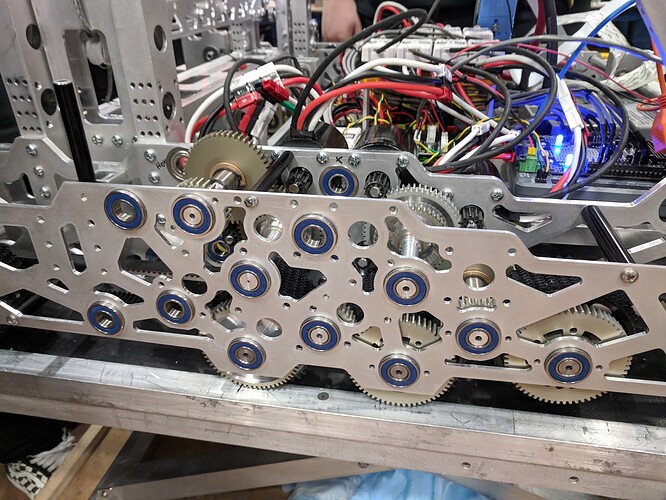 They're simple, but I like these teeny little elevator bearing blocks we designed in 2019.
This was a joke that we were all too afraid to call each others bluff on.
"Wouldn't it be funny if we put two planetaries end to end on a turret and called it a differential swerve module? unless…"
And now we have a competent differential swerve drive that's built out of lazy susans, 2x1 tube, and a 10->1 planetary.
The logo was cut on the router about .02" deep - 1/8" endmill first, then 1/16", then a 90 degree chamfer to bring out the edges and small details. Material is either 1/8" or 3/32" polycarbonate
The lighting is just addressable LEDs coming from the side
This is the first time we used that effect and are starting to use it in a few other places. It's time consuming as you can imagine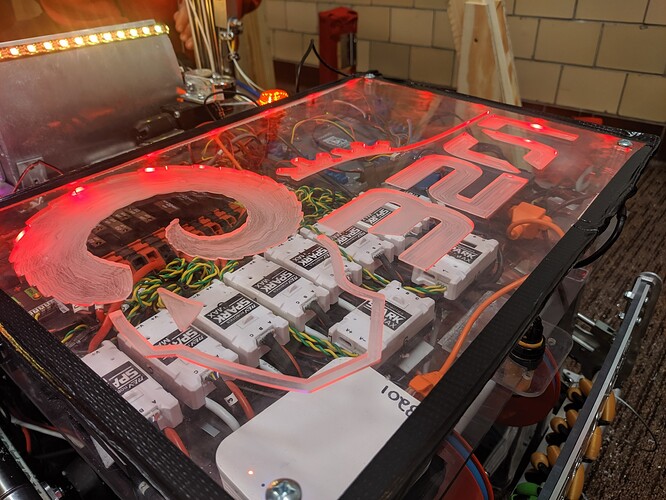 Our electronics cover is similar, but I have to say 7226's is particularly stunning.
Don't mind the duct tape edge.

Yeah, this really isn't what I was picturing when @saikiranra mentioned you guys were working on a differential swerve.

How did you not expect Code Orange to go from 2 turrets to 4?
When did code orange have 2 turrets?
How do the bearings not fall out?
This just in, something is dumber than vectored intake wheel drive.