4788 pit /lh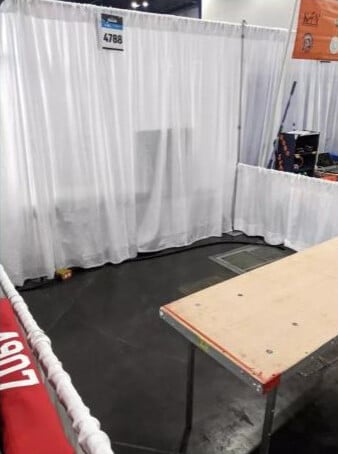 @Michael_Corsetto and @KennySandon what battery chargers are you guys using in this setup? Love the pit setup… designing something to be made on Techno router that is similar to this style of setup.
Also do you have any pictures of the empty corner piece?
What improvements did 4414 make and is there anything you would change about these setups?
So about that pit documentation

We are very keen to build a setup like yours

Seems like people are anxious, Ill get something up tonight. Hopefully I didn't allude to some secret sauce, its really just time/effort/money needed to make it happen

.
Ask and you shall receive
Our cases were shipped about a month ago. Finally got them today.
Fall off-season project to get these custom done to our liking. Hopefully done in time so we can use it at the Hawaii regional next year.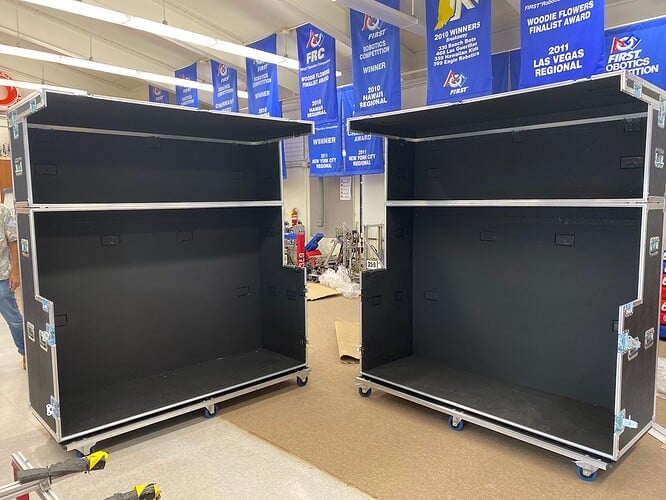 Those look amazing. I'm kinda jealous 🥲
Hey, gives you something for you and your team to strive for and acquire. Since you can drive them to all or most of your events, I assume, it's a good investment.
It took us 23 years to even consider something like this.
Yes, our events + district Champs are driving distance. Only Champs would be a bit of a struggle. We are looking into this but other things can take priority, like swerve drive ( not that I'm complaining)
Someone likes Stargate SG-1
4926 had the pit next door to 5006 at Champs. I wanted a ride in the Chariot so bad, but was too chicken to ask. So cool, you must feel like Royalty on the way to the field!
This pit setup thread is killing me; we currently have to go up and down 10 stairs to get in and out of our shop. EVERYTHING we take to competitions has to make that journey, every time, so big road cases just don't seem possible. As a one time thing, we moved a big CNC machine up. Funny pictures…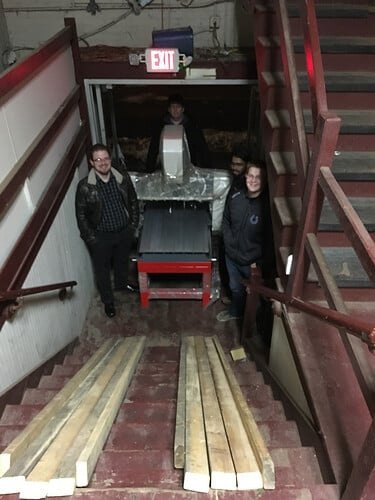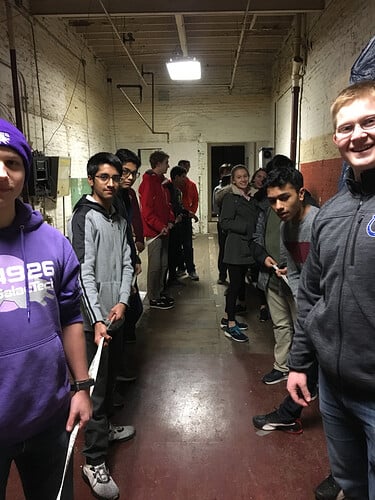 I feel you. We have a set of 15-20 stairs up to our area, and everytime we go someplace, everything must go down. The robot, tool box, totes of supplies, anything. We do have a life in the building, but are banned from.using it because we broke it one time (go figure)
That's unpleasant, but I can imagine ways around—think narrow cases built like hand trucks, or shorter (maybe 4') cases that get unloaded for the stairs. Either is still semi-miserable, but at least you can rerack early and hit the ground running as soon as pits open.
Small…agile…modular…that's our lot in life currently.

…
Would probably work better than having 4 freshmen struggle to carry the idk even know how heavy 700? 800? Pound tool chest which plagues everyone's dreams.
Team 3538, The RoboJackets, had a really functional and creative pit. Do not have pictures, but similar to 4414's setup