I was inspired by the constant stream of swerve designs here on CD to come up with one of my own. I set my goals as having a design that could be produced primarily on a Markforge with Onyx and have size and weight similar to, or better than COTS swerve drives. Here is what I came up with: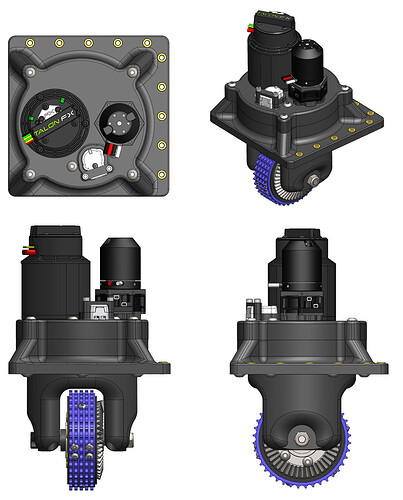 Tech Specs:
Size – 5.5" x 5.5" x 9"
Weight- 4.31 lbs (as pictured with a Falcon 500 and 2-stage REV UP with a NEO 550)
Drive Speed- 19.49 fps free speed (3.5" Dia Wheel)
Module Rotation Speed- 300 RPM free speed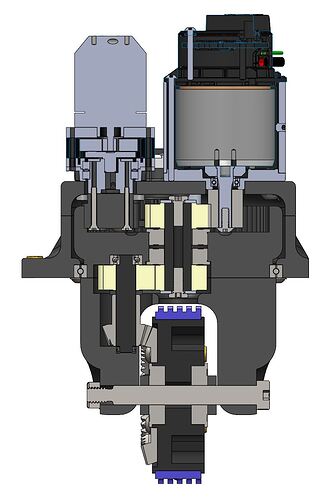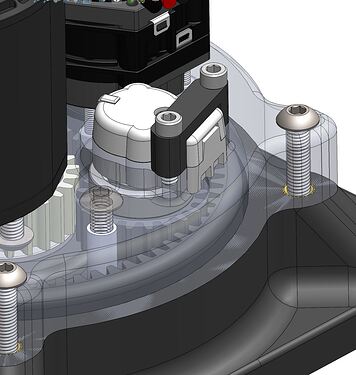 This module is designed around an internal 72t ring gear that rides on a 4" OD Thin Section Bearing. The bearing is held into a printed housing from the bottom with 6 screws. The clamshell style cover also carries both motors and the rotation encoder. The encoder also spins by meshing with ring gear. The wheel fork is printed such that the long bolts that connect it to the ring gear serve to compress and reinforce the print and prevent layer failure. The 3.5" diameter wheel is also printed with holes for heatset inserts that allow the bevel gear to bolt on as well as the nitrile tread. Overall this module uses a lot of heatset inserts to help provide sturdy mounting points. The top half and the bottom half of the module can easily be removed and serviced with just a few screws.
I haven't looked too deeply into the cost of the module, but I estimate it would be in $200 range without motors.
Thank you to all the people who have designed modules before this one as they all served to inspire this one!