During the fall some of the FRC team mentors the middle school FTC team. This is a great opportunity for students from both teams to get some shop time. Cutting gears isn't something normally time efficient but it is a great opportunity to teach multiple skills in the shop so when the FTC needed a gear reduction for their arm we decided to make our own.
The first thing we discovered was the gears are metric 0.8MOD with a 20 degree pressure angle. 0.8MOD is 31.75DP and functionally close enough to be considered 32DP. We found a resource Team 542 posted very helpful:

Cutting gears is time consuming. It requires a fair amount of specialized tooling. It likely will require prep work as often the students time is limited. I decided to post up some of these photos from the fall so you can see how it's done.
We ended up using the relativity easy to source 32DP cutters. We needed two cutters, one for the pinion and the other for the bull gear. I ordered them from Ash Gear http://ashgear.com/. I opted for import cutters to save the budget.
First thing I did was to turn a mandrel to mount the 104 tooth gear. I then had the students make a rough blank with the center hole and the 4 screw holes. This was then transferred to the lathe and turned down to diameter. Normally this would have been done between centers rather than the 3 jaw but we were in a hurry. Cutting gears takes time. A mistake I won't make again. I ended up re-making the gear because the 3 jaw was so far out.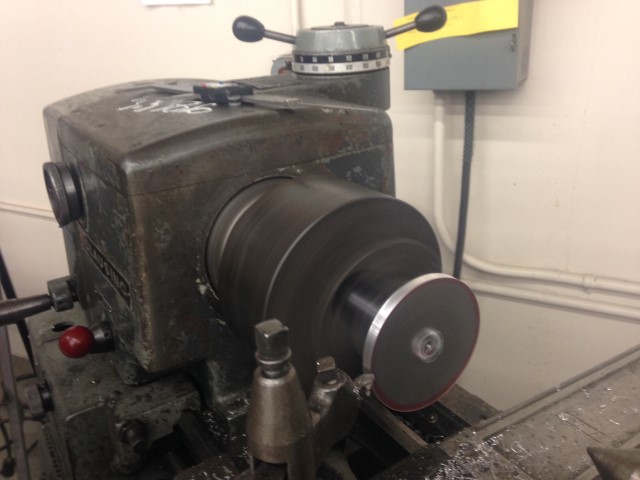 The indexer was then setup on the manual mill and the gear was cut. Great opportunity for everyone to get a hand at cranking the handles. The indexer was pulsed manually. The indexer is a Haas 5C.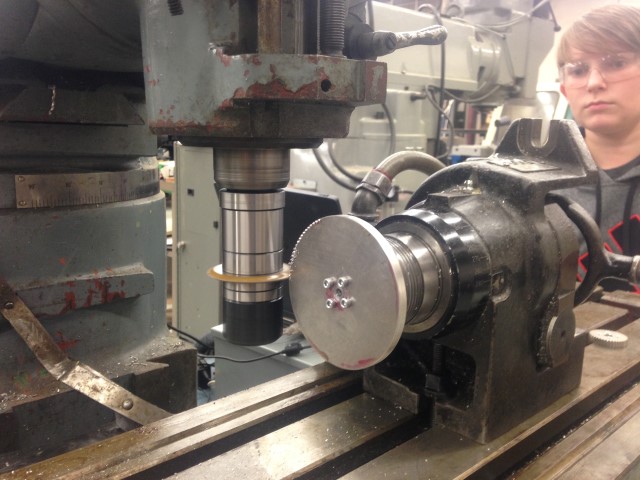 After the students finished the gear to was obvious the gear wasn't concentric. Never trust a three jaw chuck. :o So I re-made the gear at my shop. It was a great opportunity to show the two gears side by side and explain were the error was introduced and share the photos.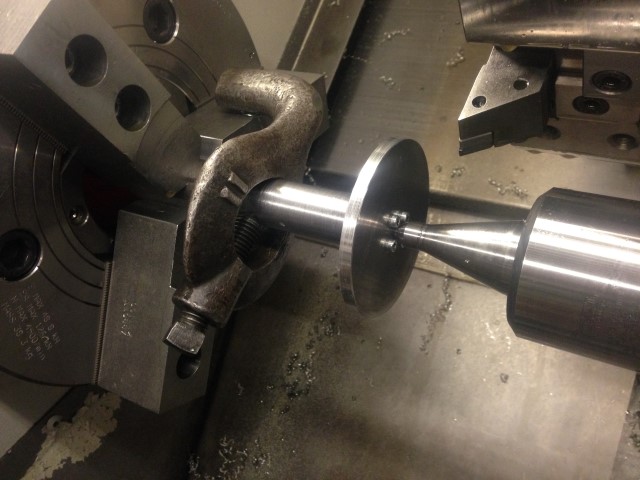 At the shop I can pulse the indexer automatically so a few lines of g-code and I can let it cut… while I get real work done. Notice this is done between centers.