With the end of the 2022 season, I'd like to release the cad for 955's 2022 bot and do a bit of a post mortem.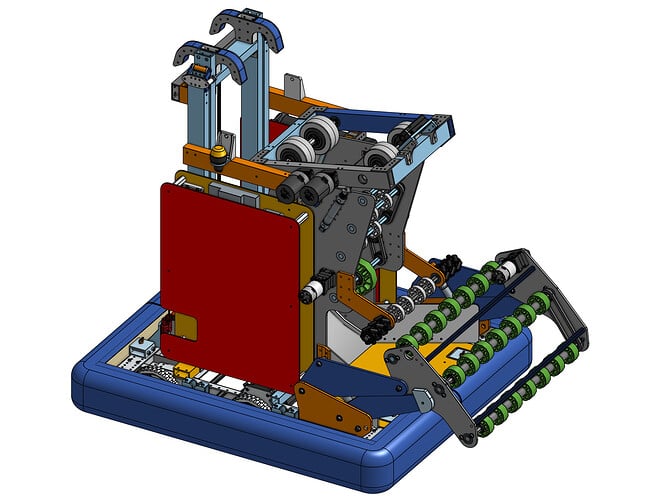 Feel free to ask anything about the design or the team in general.
This year had a lot of firsts for our team. We used onshape for the first time in a real season. This was the first real season for any of our design team. This year was the first time we built a bot without access to our school's shop (stupid construction delays).
Despite that, I think our team put up a great showing this year. We vastly exceeded our expectations for this year. We were the 2nd seed at Clackamas (semifinalists), finalists at OSF, 8th alliance captain at DCMP, and missed qualifying for worlds by 1 slot and 8 district points. This has been our team's best season since 2015, and one I'm very proud of.
However, of course, it wasn't perfect, so here are a few positives and negatives from this season. I'll focus mostly on the design because that's what I'm most experienced with.
Positives:
The cad was released on schedule this year, faster than we've ever done it. This is mostly because of the switch to onshape and the super dedicated design team.
Our strategy decisions were accurate. High goal shooting + mid climb was a very good choice for our team, considering our limitations. Using the kit drivebase allowed us to put more time into our mechanisms, which payed off.
Although we had lots of electrical issues, our mechanisms were super solid. Our climber was fast and reliable, allowing us to climb at the last second (we'd often start moving towards the hanger at <10s left). The intake was incredibly durable; the plates never had to be replaced, even with our drivers ramming it into the wall. The shooter was also accurate from long distances.
Our design was very simple, which helped our drivers get a decent amount of practice in (something we usually struggle with).
And most importantly, everyone had tons of fun, both in build season and at competition.
Negatives:
One of the greatest issues we had was a lack of upgradability, especially regarding the climber. We had an excellent mid climb, but no upgrade path to high or traversal due to the design choices we made. In particular, it lacked enough travel for a passive high or traversal. This really hampered our robot performance at later events.
We had both weight and center of gravity issues, mainly due to an excessive use of 1/8" tubing. We would be tippy while driving. Being too close to the weight limit meant there was little room for upgrades.
We had persistent electrical issues throughout the season. They were largely fixed by dcmp, but cost us our world's slot.
Prototyping was slow, and didn't explore many designs. We largely compensated for this through community resources, such as open alliance (thanks 3636!), but it is still an area for improvement.
Design was often inefficient because of inexperience. We could have finished the design earlier, giving other subteams more time.
Documentation was lacking. We're still working on a better way to document our work both to use during the season and in future seasons.
All in all, I think our team did a great job this year. Despite some issues, we overcame our lack of resources and made a bot we're all proud of. Everone's looking forwards to make an even better bot next season.
-Ethan