Hi
Is there a hotel in walking distance to Detroit Championship?
I didn't find one. .
If you are going through Experiant, probably not because they are all booked up. But- get yourself on a wait-list because teams with booked rooms have until April 16th to release rooms and once they are released, they go to teams on the waiting list.
Detroit is a very, very car-oriented city. It has some of the least pedestrian accessible areas and lowest amount of public transit of any major city in the US. Unless you booked the few hotels within walking distance very early, it will be quite hard to get around without some form of transportation (rented buses / vans / cars / etc).
Quite honestly it is one of my least favorite aspects of this championship location. Atlanta and St. Louis both had subways to the venue which meant even if you couldn't get one of the several walking distance hotels, your options expanded beyond that. Detroit, no such luck.
All this being said, I liked staying at the Marriott on Experient because it was connected to a people mover station and the tram stops inside COBO, so was able to get around pretty well without a car. 10/10 would stay (and will be staying!) again.
There is also no sane mass-transport option from the airport to city center like we had with MARTA and the MetroLink, so teams that can even secure hotels within walking distance need to rent or charter something with 4 wheels that can handle the atrocious roads of the Motor City.
We ended up getting a hotel 30 miles away from Cobo

Unfortunately Detroit is one of the few major cities in the US without a reliable mass transit system. They are working on it, but most Detroiters like to drive their car so usage can be low.
The people mover is a good option. There are hotels both connected and nearby stations. It's something like $.75 to ride, but if you're going to use it a lot FIRST has a program that will let you ride it all weekend for one price.
The Q-line (like a bus/ trolly) runs up and down Woodward (down the center of the city). While the people mover loops in a circle around the downtown area.
I would contact charter companies for travel between the airport and hotel. Or contact the hotel and see if they can help you find something. They're really is no good way to get to downtown from the airport.
It looks like the minimum gambling age in Detroit is 21, right?
(We are booked at a casino hotel - I am going to have to break the bad news to the college-aged mentors).
It's a pretty short trip to Canada if you have passports.
What's the situation on outside food at Cabo? Can you bring stuff in?
The last two years at Champs we had stuff delivered to Discovery Green and ate outside, which worked out perfectly in Houston, but Detroit is a new venue for us, so as we try to organize our food plans we were looking for some guidance.
I saw the Detroit Event Guide and the other thread about restaurants, but is there someplace you can sit down if you order some pizza or sandwiches? Thanks!
Last year the Law was no outside food goes inside. There is plenty of space outside, there are even some tables if you grab them early. Thankfully last year the weather was decent 2 out of 3 days.
We did that last year, it really wasn't too bad, right down 10 to Cobo. Spent more time in line to get into the parking lot.
Lmao just live 30 mins outside Detroit, that's what I do and it works for me xd
I never had any experience using the MARTA or MetroLink, but last year they did start a dedicated airport-to-downtown bus route. I haven't taken it myself, but they advertise approximately an hour trip for $2/adult and $1/student.
There are also two routes that runs all the way up Woodward, one to Troy, and one to Pontiac.
You can find more details here.
The Law turned a pretty blind eye for most of the time after the big crush of people first come in. There were entrances where they were not examining bags or even posting security guards, and people walked in with cases of water and all kinds of food.
(Also, we were warned that the Law was no backpacks, no laptops in Ford Field – and that they would be strictly enforcing it. We had to redo our transportation plans on the spot to provide our students with a way of dropping off their backpacks and laptops in between Cobo and Ford Field. In the end it was much ado about nothing as everyone was allowed in. So, plan for the worst, but YMMV.)
Our hotel was about a 30 minute drive to Cobo, in a rather sketchy neighbourhood. The hotel itself was disappointing as they seemed to forget to do any kind of housekeeping or to put food out for breakfast for the many students staying there. If we make the cut to Detroit this year we will definitely not be staying there again.
Last year I (and the team I was affiliated with at the time) stayed at The Westin Book Cadillac Detroit. It was a very very short walk away from the Cobo center, and was right next to a set of restaurants (including the fabolous Sy Thai). While you can probably leave your hotel at 6:50am and get to Cobo long before 7am, it's hard to be at the front of the line even if you leave at 6am, and security may end up opening one side of the building before the other.
Yes those are the official rules, but your mileage may vary.
Could someone explain how to get on a waitlist?
FIRST websites aren't exactly 'first time user' friendly with all the details / intricacies of travel.
I've created an account to book hotel rooms for our team and check daily for released rooms/availability, but no mention of a waitlist.
Am I better to deal with FIRST travel over the phone or online?
As a heads-up for those staying in mid Oakland County
I-75 which is a main throughfare is a complete mess right now since they are completely redoing the freeway from 13 mile road to Coolidge Hwy and its down to two shoulderless lanes each way with many exit/entrance ramps closed.
So if your staying in Troy where there are lots of rooms, driving in Thursday and Friday is going to be long ride.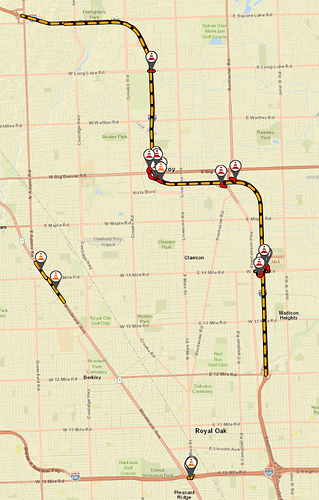 https://mdotjboss.state.mi.us/MiDrive/map
… and it will be even worse next year whey they start on the 8-13 mile section including redesign of a portion I-696 interchange