Yes those are the official rules, but your mileage may vary.
Could someone explain how to get on a waitlist?
FIRST websites aren't exactly 'first time user' friendly with all the details / intricacies of travel.
I've created an account to book hotel rooms for our team and check daily for released rooms/availability, but no mention of a waitlist.
Am I better to deal with FIRST travel over the phone or online?
As a heads-up for those staying in mid Oakland County
I-75 which is a main throughfare is a complete mess right now since they are completely redoing the freeway from 13 mile road to Coolidge Hwy and its down to two shoulderless lanes each way with many exit/entrance ramps closed.
So if your staying in Troy where there are lots of rooms, driving in Thursday and Friday is going to be long ride.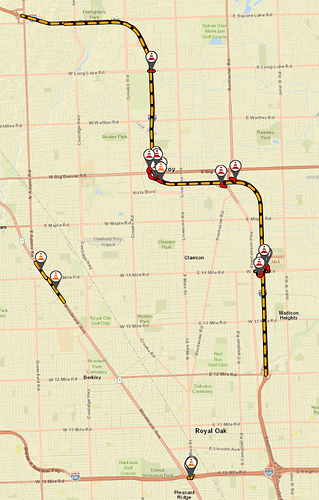 https://mdotjboss.state.mi.us/MiDrive/map
… and it will be even worse next year whey they start on the 8-13 mile section including redesign of a portion I-696 interchange
May I ask what hotel it was?
It's a short walk up to GM world headquarters from Cobo. There is a full food court with numerous options located on the lower level.
The waitlist is simply just every team waiting for FIRST to send out a verification of: "This is the division you're in, these are the teams in each division"
I do not believe you can bring food into the venue itself. However the food there is relatively well priced so there is no need to.
They're pretty bad. It's probably easier for people without dietary restrictions, but all I could eat indoors was overpriced honeydew.
It gets better when you walk to Ford Field and the bottled water is $5-$6.
Glad to hear this hasn't changed since the last CMP I attended in 2016.
Advice to people with dietary restrictions at most events - regardless of venue restrictions try to keep some small snacks in your bag. I do this all the time - usually a Cliff bar or a small bag of crackers. It's not a meal but it's at least something other than lettuce.
The first year we took high schoolers to St. Louis, we didn't know what we were doing (2015 - Dean's List finalist and a few volunteers who went to support her and learn how to become a decent team). We ended up with hotels 40 minutes from the Dome and could never find time to eat in the evening. Ended up eating at the dome and had people get sick from the food there, so we try not to eat stadium food any more if it can be avoided! Lessons learned.
volunteer food was great, though.
Just read an article where Ford Field lowered concessions for Lions games.
Don't know if the lowered prices are also in effect for events.
Its not only excessive, its a pathetic excuse for a sandwich. (See my post from a month ago)
Go out to the food trucks that show up everyday during Worlds or take the kids out for a walk to the numerous lunch joints downtown. American and Lafayette Coney are an awesomely unhealthy treat.
I would disagree, but thankfully cheaper food is not that far away. Food trucks, the food court inside the Ren Cen, or the many restaurants a few blocks away. There were a few concessions IN the pit area that weren't totally unreasonable for stuff like a hotdog or a pretzel.
Last year they set up a little courtyard of food trucks right on the front lawn of Cobo. This wasn't bad, but (assuming they set it up the same way as last year) take the short walk to Woodward Ave or Cadillac Square Park and there will be a much better selection and cheaper prices.
The RenCen (GM world headquarters) has a food court and is an easy walk to and from Cobo
This topic was automatically closed 365 days after the last reply. New replies are no longer allowed.