@JamesCH95's recent topic on terminal testing reminded me of some testing I did almost a year ago. At one point, @sanddrag told me that tighter is better when torqueing the nuts on main breaker studs, and I wondered how true that is.
Thus, I found a main breaker and an old ring terminal, and I decided to find out.
The low-resistance measurement technique was as follows: using alligator clips, I connected the + output of a calibrated Keysight N5746A to the stub of wire coming out of the terminal. I clipped the - output to the stud on the breaker. I then likewise clipped the terminals of a calibrated Keysight 34465A multimeter to the wire and to the stud, using separate leads and clips. I then used the power supply to put 10 A through the connection, and took the voltage read by the multimeter (averaged over 10 s).
It looked basically like this, assuming the ASCII art works:
Power Supply Clip                                        Power Supply Clip
|                                                        |
|        Multimeter Clip                       MM. Clip  |
|        |                                     |         |
Stub of copper wire- - - -Ring Terminal- - - -Breaker Stud- - - -Breaker

Yes, you read that right: 10 A through alligator clips. It's probably not ideal, but nothing caught on fire. And the beauty of Kelvin connections is that none of the alligator clip contact resistances affect the measurement.
The crimp resistance of the terminal to the wire does factor into the measurement, and I didn't attempt to quantify that: I want to measure how the resistance changes with respect to torque, and the crimp resistance should be constant.
The experimental procedure was:
Torque the nut down onto the terminal, using a calibrated CTECH1MR240 torque wrench. Record the target torque, as well as the maximum measured torque.
Measure the resistance, as described above.
Break the nut free, and record the torque required to do so.
Back off the nut fully by hand.
I repeated this procedure for 6 different torque values. I then redid the test, but abraded the contacting surface of the ring terminal gently with Scotchbrite between iterations.
Here are the data: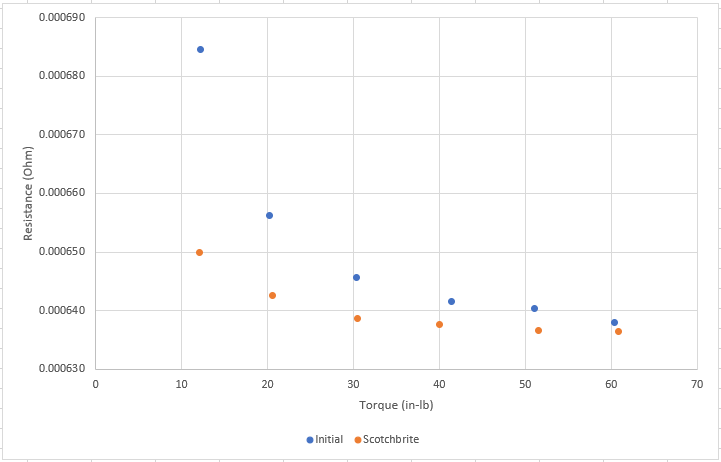 Obviously, I didn't have time to really do a thorough experiment. Some things I'd like to try, if I get around to it:
Several different breakers
Several different terminals
Apply Braycote to threads, to see what difference lubricated torque makes
Torque the studs until they snap, to figure out what the breaking strength is