Having been desperate to watch robots again, I'd been watching the IR@H progress of many teams. To my endless frustration some teams were posting photos where not only were they not distancing, they didn't wear masks at all (for the photo specifically). Some teams would delete the photos when called out, others promised to be better about mask requirements and getting their students vaccinated when possible.
More recently though, to my surprise the Northern Minnesota Robotics Conference held a full event (24 teams) and despite assurances to observing COVID modifications for event safety, there are instances where they definitively weren't met.
This post in the original thread suggests that they'd require attendees and spectators to socially distance. Unfortunately, that simply wasn't the reality of the situation. In a selfie posted by Tyler of FUN on their Facebook page, we can see there are fewer people there than 500 by a quick math problem (rows by columns of seats) , but they are not even remotely distanced.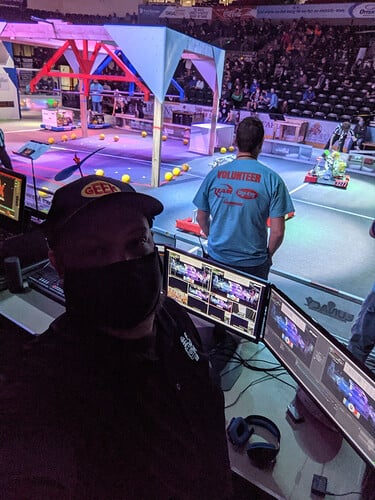 In short? How do we as a community morally stomach that when all scientific evidence says "no events, stay distanced, stay separate, do your part" some of us, even those in power, go "I want to play robots". All this, despite the consequences being greater than ever; literal life and death for our most vulnerable populations, our loved ones, our friends.
By broadcasting, advertising, showing off, and demonstrating willingness to hold events when the scientific consensus says "NO!", I think that we've ultimately abandoned any claim to promoting science and technology; you can't pick and choose what science you don't like and ignore it. We cancelled the whole season with a hundreth of the cases we have now. The risks aren't lessened…
---
This is less of a coherent post than usual, I'm just frustrated. Thank you to those who do do your part. I'll be back in a few days, please be kind and responsible.