Sharing a design for a 1.5 stage shifting gearbox. It uses Falcons, but it could easily use NEOs or CIMs. Inspiration came from revisiting Patrick W's 1-Stage Shifter from 2017. Also many thanks to @PatrickW for design input, this gearbox is more of a collab than my own design. I think it turned out pretty sweet!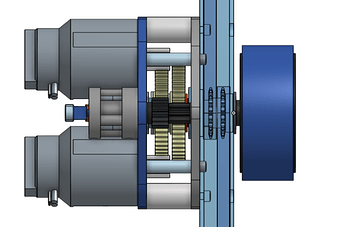 More images here:
https://imgur.com/a/91q0Qqi
Click here for
Onshape CAD
Specs:
1.98 Shifter Spread
High Gear is 10:54 (JVN adjusted speed of 16.7 fps with Falcons)
Low Gear is 10:16, 9:60 (JVN adjusted speed of 8.5 fps with Falcons)
Weight of gearbox, pneumatic and motors <4lbs (I don't have 100% accurate weights on all the shifter components)
Current version shown is Chain In Tube, first version had chain on the outside. There's also some earlier 3 motor versions that use normal pneumatic cylinders.