My team has been debating going all-in and dropping $1.2k on some Falcons. It'd be much cheaper for us to stay on SRXs. I decided to do a quick simulation of a sprint:
4 Falcons / Robot, 6 miniCIMs / Robot
Global current limit of 400A / Robot (ie 100A / Falcon, 66A / miniCIM)
Geared for the same speed, ~14 fps free (8:1 on the falcons)
Constant 12V applied
Voltage sag is ignored
Free current is ignored
Rotational Inertia of the wheels is ignored
Here's the summary graph: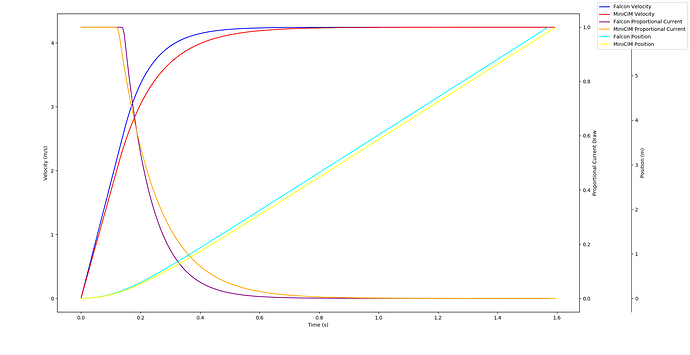 And here's the python3 code:
sprint.py (3.0 KB)
These results seem a little underwhelming given the hype. If they're correct, we'd likely go with miniCIMs.
Is there an implication I'm missing? Did I make a mistake or simplify too much in the simulation?
EDIT: I had made some mistakes with constants; it's fixed now. Results are the same as before, save for a constant multiple.