so synchronized it was a work of art
I will say without a doubt Houston Match 3. It might sound generic, but I did a whole film breakdown, that's how good it is. I love how genius of a move it was for 254 to switch to the side with the tarmac (and importantly the launch pads), which absolutely led them to dominate match 3 rather than getting a pretty good defense played on them match 1 and 2.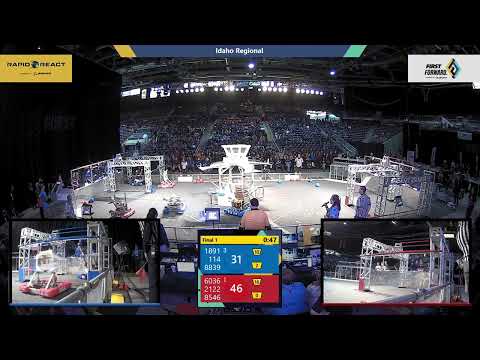 bit biased cause this got us our first blue banner in team history
unfortunately 2122 was having some technical issues so we were down a robot for finals 1. The match was also replayed since a driver station disconnected the first time mid match (the video is the second play)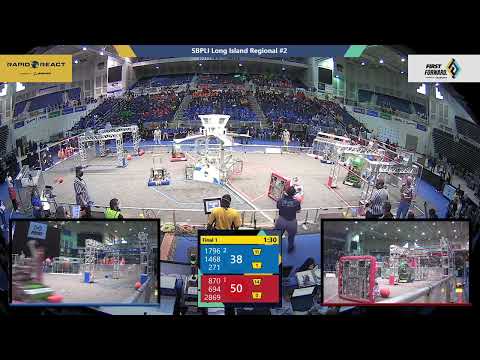 Stuypluse (694) falling over really added a bit of stress to the game. Luckily they had an extra shooter plate and they were fine.
this match was super fun to play in. nothing particularly interesting except good robots working together and executing their strategy perfectly. https://youtu.be/rfojrXKsGlQ
Roebling QM74 was incredible to watch in person - huge stakes when it came to the rankings, interesting strategies between two high-powered alliances.
My favorite part is the tension between 3310 hiding blue balls behind the hub and 5895 being aware of this, finding them, and scoring them, but the whole match is excellent.
For me, it was Q90 on Newton. Two very evenly matched alliances with the number 1 ranked team (2122) joined by 1640 (who was top 8 going into the match iirc) and 2987 on red and ourselves and 1684 and 2486 on blue. Just based on the rankings, red was favored, but scouting data showed that the alliances were more evenly matched than the rankings would predict. The match was extremely well fought with blue putting 50 balls in the upper hub and red putting in 46.
Shortly after this match, the livestream went down. I was joking with the team that they had played so well that they had broken the internet!
Watching it live was extremely nerve wracking. Even watching it now, knowing the outcome, still gets my heart pumping and I find myself shouting "go get that one there! there is another one over there!" Intense! That's what it is all about.
Also a little biased towards our team, but I was very shocked that 3 low goal robots managed to get 4 RPs in a qual match. Who woulda thunk it?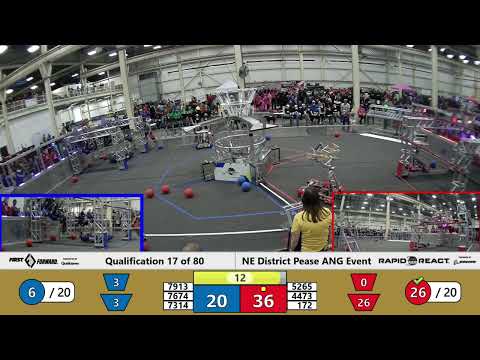 You guys had a very effective and efficient low goal shooter! Was a pleasure to watch.
Love this thread. Starting to collect matches to review to start talking about strategy,
Planning to try and pull stats from before the match, and then ask them what they think the goals of blue and red should be, then watch and discuss.
The other night we had the new members of our team show off old robots and talk about the gameplay of the robot a bit, now I have an entire thread of exciting and interesting matches to show them

Scores 153 points… doesn't win match… feels bad man
My favorite match has to be this one from our second district competition. It was us against 2046 but every other team on the field was drive-train only, this meant that we had a match with four defense bots and two scoring robots. This made for a very interesting match, with our autos almost perfectly mirroring each other and scoring shot for shot until the endgame. We had yet to speed up our climb, so we stopped scoring early and they were able to keep scoring thanks to their incredible climb.
Overall, this match was super fun and chaotic and 2046 definitely outplayed us with their amazing robot. Also, I believe this was the match where we burned out our climb motor which is why we got stuck on the mid bar.
Qualification 54 - 2022 PNW District Bonney Lake Event - YouTube
Ahh!! I was hoping someone would mention this one! I remember watching this match over again and I had no clue how close it was behind the glass! Big props to 1533 and 2486 for being on fire that whole match. Really hope we get to see more of you guys at worlds next year