Any idea when we would hear of there? And where?
We just declined our invitation. I would expect FIM to notify the next in line immediately.
And that's what I figured that teams would just wondering where we could see an updated list.
There was a list presented at the venue at the very end of Saturday, visible at https://twitch.tv/videos/1457964309
Evidently there are more changes to come if 5205 declined as well. District rankings are at FRC Event Web : 2022 FIRST In Michigan District if you'd like to see how far below the cutoff you are, but it doesn't appear to be getting updated in real time (I'm not sure if the FIRST championship column typically gets updated with declines at all, actually).
My team (2620) also declined last night but it was not yet reflected in that final list.
Hmmm interesting… I'm more just curious when they finalize that as the turnaround in Michigan is ridiculous
Sounds like they are currently working on it, one of my friends team who is are almost 10 teams down the list after yesterday's list apparently got the call they are going tonight.
2832 got the call an hour or so ago. We were 83rd overall.
Interesting we're ranking 4 spots below you
Did you accept? I'd love to get a chance to play with the Warriors - our schedules and divisions didn't line up.
5675 declined this year. But on FIRST website it still has us as registered.
It was 2832, as mentioned below. I assume the list is going even further below them too. Divisions for fim won't be out till load in I feel lmao
I'm not on the team, but from talking to some of them its my understanding they are going.
We (2832) did accept and will be in Houston.
Wiredcats 5675 decided to not go to Houston at the beginning of the season, even if we qualified. We finished ranked 38th and will be watching from home.
Pretty sure I read that 1718 The Fighting pi have declined. Maybe @Tom_Line can confirm.
Good luck 5505! Go kick some butt in our place! We're cheering for you!
Love and best wishes,
Team 5090
Home of the banana man.

1718 did decline along with many other teams on this list from states. Any team marked in red shows that they declined their invite prior to this list being posted.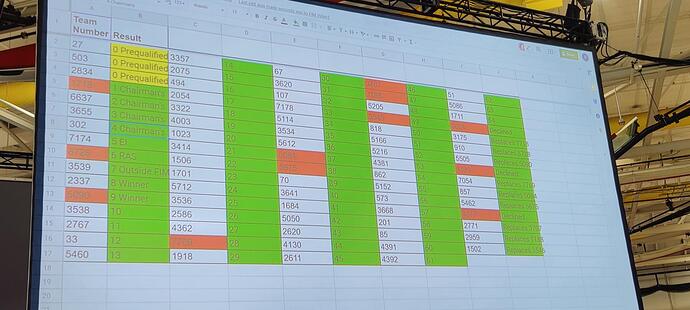 Your banana man was one of the best parts of states - kept me smiling!
Is there a place to see how many spots are left for worlds