Hey everyone!
If you enjoyed today's episode of Beyond the Bots - Game Design Challenge Show, have ever wondered what goes into designing a competitive robotics game, or just want some help with your team's Game Design Challenge, you should tune into FIRST Canada LIVE! this Tuesday, January 19th, at 7:00pm ET, where I'm giving a talk on How to Design a Competitive Robotics Game. (the game design segment should start at 7:45p, but there's trivia with FIRST Canada swag prizes before!!!)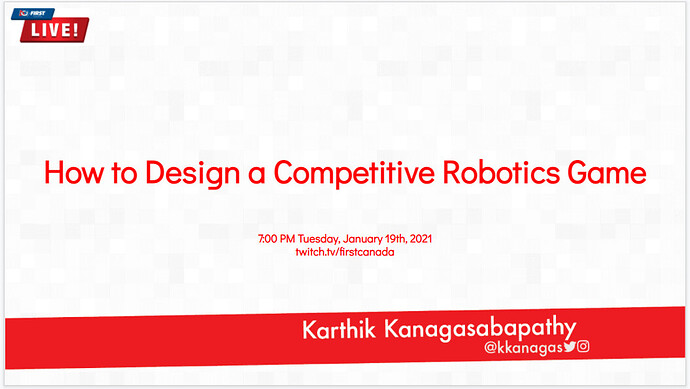 For some background, in a former life I was the Chair of the VEX Game Design Committees, and also a member of the FVC/FTC Game Design Committee way back in the day. I've been a part of the design of 21 games since 2007, that have been played by over 600,000 students across the globe. I did a lot of things with those games, mainly focusing on ideation, scoring analysis, being the rule writer, and of course project management.
Some topics we'll be covering on the show include:
Defining your game criteria
Maximizing the participant experience
A step by step game design process
Scoring analysis
A checklist of questions to keep your game on track
Anything else I think of between football and basketball games this weekend
We will also be taking questions on the show, so feel free to drop some in this thread if you'd like, or the live Twitch chat during the show.
As always FIRST Canada LIVE! will be live streamed at Twitch and available after the show at the FIRST Canada YouTube Channel. Also, FIRST has released an incredible amount of amazing resources for the game design challenge that you should definitely check out!
Hope to see all of you on Tuesday evening!