Honestly, I love it! One champs in Houston for the next two years?! Sign me up!
I'm happy to see that we'll have a single Championship event for at least the next two years! Seeing everybody in one place was awesome.
It'll be interesting to see what changes (if any) FIRST makes to the qualification structure relative to the 2022 season.
This will be a divisive topic. I am personally sad to see this outcome.
FIRST clearly doesn't care about the safety of queer students, families, or the educators that support them. I'm out. Y'all have fun and try to be as safe as you can, I guess.
I'd hope that with this much advanced notice, districts can rework their typical schedules to make this slightly less painful. I don't know enough about the resources of individual districts to know how feasible this is, but running events over six weeks instead of seven seems like it might be the best path forward. I'd imagine some additional folks are willing to step up and volunteer if it means an extra week to plan champs travel.
I love paying significantly higher travel costs for a more claustrophobic venues where fewer teams get to compete
Protect Trans Kids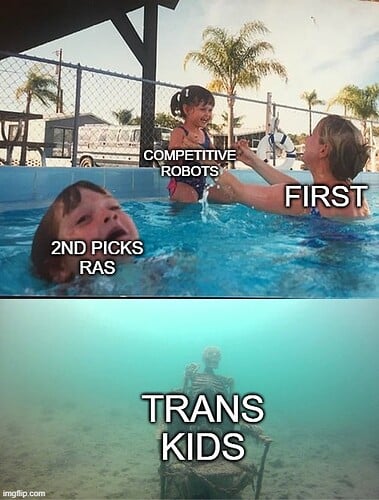 I hope all District Champs are going to be week 6 or sooner. We saw what happened with the Michigan and NE districts with the quick turnaround. 166 was one of those teams that qualified just days before Houston and I gotta say, I never want to experience that again.
EDIT: NE FIRST sent out an email stating that NE DCMP will be week 6
Throw Ontario teams in there too. I wasn't with a team that made that horrendous trip, and I've got to say, I'm kinda glad I didn't have too.
Absolute nightmare logistically.
That will require FiM to have 6 events some weekends. Ugg.
I do think that the 4 qualification spots per regional will stay, however I specifically wonder if prequalification will be the same rules from this past year. Definitely no personal stake there from me…
Definitely interested to see how FiM pulls this off. 6 events per week for 5 weeks could be… kinda messy. Although to be fair I thought the same about going to 5 events per week.
Edit:
There's also the elephant in the room of the choice of venue. I really wish FIRST would address these concerns publicly rather than acting like the concerns don't exist.
What disappoints me the most is FIRST hasn't even acknowledged the concerns raised by the community about even holding the last championship in Houston. I'd understand if they clarified that they were locked into a contract or something, but instead they've decided to continue to act as if nothing is wrong with their choice of venue.
It's a good thing they increased the registration costs that we know go directly to the championship so they could give exactly the same experience as this past year
For some reason I was almost certain they would not go back to Houston. This years a governor election year there, right? Hopefully another surprise will come my way.
Pretty hyped more of our students might have the opportunity to experience 1 Champs.
+1. That particular announcement wasn't the right place to do this but AFAIK there's been radio silence on this issue across all channels.
Also, if FIRST wants to continue with 1champs going forward, I think there will need to be a push to have champs closer to FIM/NE/ONT districts at the very least (unless they push it to week 9 or cut a week out of build season).
interesting that 2024 is also in Houston. Kinda expected no short term change otherwise.
Sucks to be a regional or W7 DCMP team for the next few years.
Overall I'm pretty torn here. I think one championship is better for the program. Really dislike it's not in a more centralized location again. -_-
For so many reason, I am pretty disappointed by this announcement and lack of transparency on what led to this. Were they locked into a contract, or just don't listen to the feedback?
Having CMP week 8 definitely caused a large amount of stress for our financials, students, mentors, schools, and students coming off a week 7 competition.
It will be hard to justify repeating this s**tshow of trying to handle logistics of getting to Houston a couple days after qualifying, in a time when half the charter bus companies in the country have shut down and airlines cancel flights on a whim.
Additionally, going to a state that has literally made our LGBTQ+ youth unwelcome is not something that I was looking forward to.
How disappointing. FIRST, if you are reading this, you can do better.