FIRST EMAIL/Advance Material List for the 2005 Competition Now Available!
Hello. This is an important announcement for all FIRST Robotics Competition teams. Please share this information with the rest of your team in a timely manner. If you think that other members of your team would also like to receive these announcements, please encourage them to sign up at http://listserv.leapit.com/cgi-bin/lyris.pl?join=frcpublic.
If you would like to stop receiving these messages, please see the bottom of this message for instructions.
---
Greetings Teams:
The Engineering Department is pleased to announce the availability of the Advance Material List for the 2005 competition. It is available on the FIRST web site at: http://www2.usfirst.org/2005comp/AdvanceBuy_r4.pdf
This list contains common materials required to build the robot or field elements for the 2005 competition that are not included in the kit provided by FIRST.
Happy Building!
---
Now all you speculatin'-type folk can really go to town!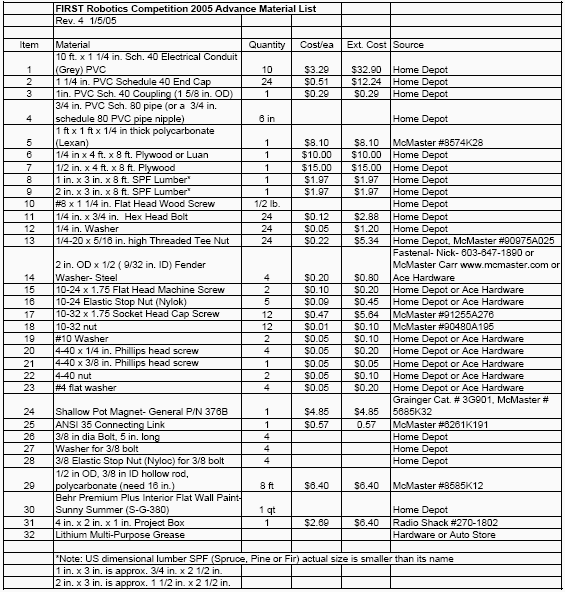 AdvanceBuy_r4.pdf
(8.44 KB)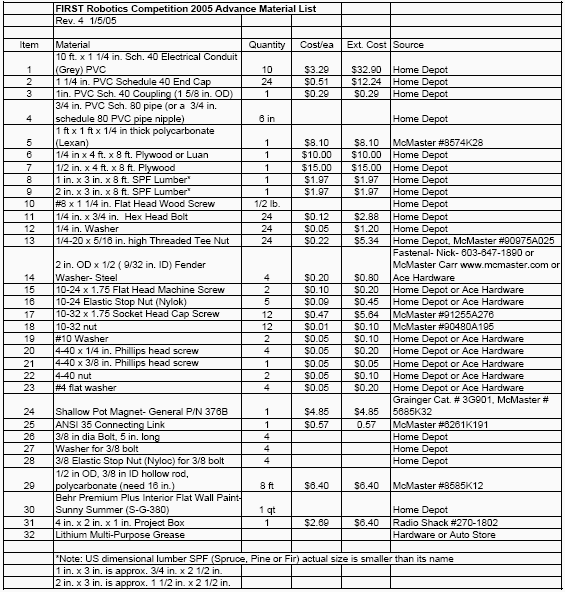 AdvanceBuy_r4.pdf
(8.44 KB)