Team 1448 suspended team 1329 in match 62 to tie the match 5-5.
Great job teams.
This image was posted on Twitter by @robogreg (Greg Needel)
dang…first one this year…gratz to the two teams that pulled it off
Looks like 1329 is suspended from 1448. Not sure about 1448, trying to confirm.
Thanks for the confirmation Alex.
Was searching for pics of 1448 and coming up empty
I'll see if I can get a few pics from 1448. They've been kind of busy with some programming issues, I'll ask some of the parents if they took any photos of it.
I am so glad i was able to see this in person. That was an awesome match and the entire stadium was on its feet. We were hoping to suspend from them earlier that day but unfortunately their robot was not performing correctly. I'm glad i got the chance to help them with this and as of right now they're in semi-finals with 501 and 3397 after beating us, 1756 and 3186. GO 1448 =)
Awesome, I didn't think it would happen in a regional. Cookie to who ever gets video of it up first!
That's impressive. In the Portland Autodesk regional there was a few robots that could hang, but none that could hang from others.
Wow, congratulations go out to both teams!:yikes:
No video, but a clearer picture. Congrats to 1329 and 1448.
Jeff Holland
Team 1329 - Mentor
RoboRebels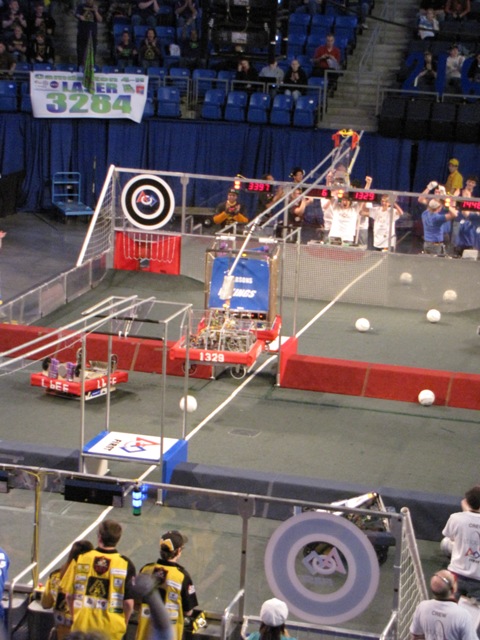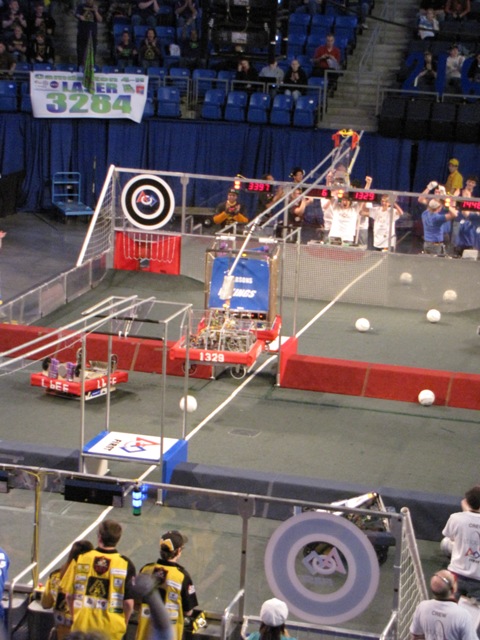 Thank you all for the kind words. The idea came from Team 1448 and it was executed very well from both of our drivers. So, thank you very much team 1448 for helping us achieve this.
I will have a video of it up shortly, but in the mean time go here, http://www.ustream.tv/recorded/5585547 , and skip to the 30 minute mark. Good luck to everyone else.
Derek Ward
Team 1329 - Software Mentor
RoboRebels
I going to say nice
very good looking
This is super awesome. I didn't think anyone would be able to pull it off. Congratulations to both teams on doing something truly amazing.
Thanks everyone for all of the praise!