Meet Spirit of Opportunity, the newest robot from the Pandamaniacs. And, as someone who has seen them all, the best robot from the Pandamaniacs.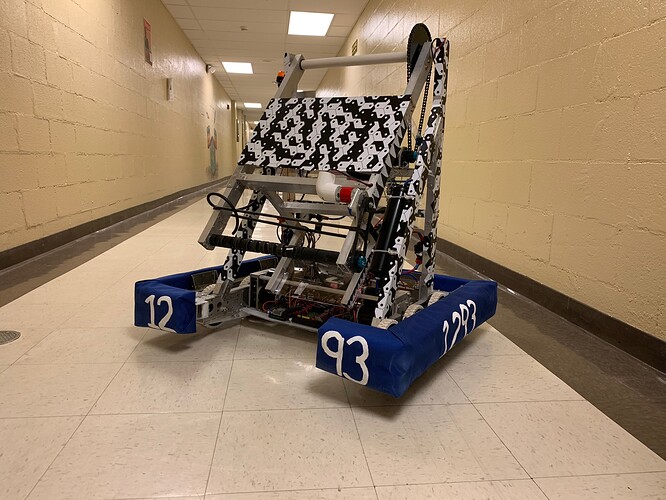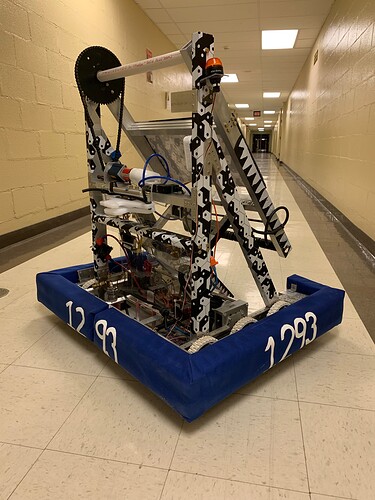 Specs:
AM14U4 Chassis, geared 7.31:1 with six Mini CIMs through battle-tested 3CIM4U gearboxes
Single-joint arm, powered by a RedLine through a 100:1 57 Sport
Arm structure is plasma cut and secured through a mixture of riveted gussets and AndyMark Walnut extrusion, with a tube axle. It's stout.
Cargo intake is a single RedLine A through a Two Motor Sport, using VersaRoller and surgical tubing. Oh, and a TileRunner belt.
Hatch panel system is pneumatically actuated using a floating grabber. We are currently using surgical tubing to retract, but a spring-retract cylinder is waiting in the wings and may come out at Palmetto.
Verified Level 2 departure and Level 1 return. Development is ongoing to get the robot back to Level 2.
Perhaps most valuable: Several hours of drive practice before bagging, a rarity for a 1293 machine. Testing was performed with interference from other robots, drivers positioned a realistic distance away from the robot on carpet, and in loud environments courtesy of various professional wrestlers' entrance music.
Thank you to Spectrum and the Grasshoppers for sharing so many resources during this build season. It doesn't take a rocket scientist to see the inspiration from the former's MCC and the latter's hatch system, but being able to study what others are doing has been instrumental in getting our budding design team through the process successfully.
The Pandamaniacs are sponsored by School District Five of Lexington and Richland Counties, Schneider Electric, Underwriters Laboratories, and Bluefish Mill. And thanks to the support of these partners, we're doing something for the first time in sixteen years: two regionals! See you at Palmetto and Smoky Mountains.