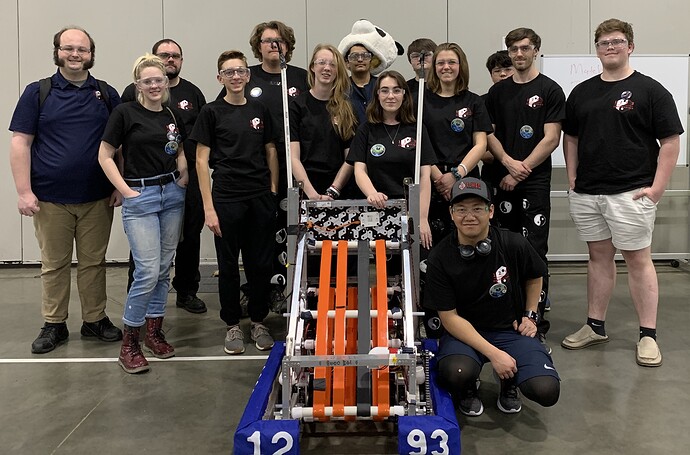 With our season clearly over (we had to tear down the shop and put it in storage for the summer yesterday without the help of the kids who are prohibited from being on campus), I definitely want to make sure this goes on record for posterity.
The Pandalorian is our 17th robot, and is a testament to tenacity.
The original concept was a high-goal shooter in the vein of FIRST Capital, with alterations to let us clean out the gobs of AM14U belts we've stockpiled over the years. Around the end of January, a cold-eyed review showed we were not likely to get the performance we wanted in that model. With very inexperienced programmers and very experienced drivers, it made sense to try a simpler plan. February was a pivot to dumping in the low goal, modeled off 2815's 2009 robot Cocked and Loaded's conveyor system with twin tightly-spaced drums at the end.
This robot was not operational on the Monday before Palmetto due to wiring difficulties. The climbers were rough and untested as we loaded into Myrtle Beach. Wiring even cost us a qualification match where we were favored (it's tough to win when you're bypassed for no roboRIO power). And sometime between our last match Friday and our first match Saturday, one of the upper belts failed.
Even through all this, The Pandalorian finished with a record of 7-2 at Palmetto, good for 8th of 63 teams competing and our third straight top-10 qualifications run. For the first time ever, we were a first-round selection (by Alliance 5 captain 1708, joined with 3492). And for the third event in a row, we were out in quarterfinals. Maybe eventually we'll finish off the Cinderella stuff, but three straight regional playoff appearances is a marked improvement after seven years away from Saturday afternoons.
The specs
AndyMark AM14U4 using old-stock 3CIM4U gearboxes and six Mini CIMs. We ran the same configuration last year on Spirit of Opportunity, also geared 7.31:1, and remain very happy with its performance while we let the brushless world build out a little bit further.
Climbers were dual Everybot clones, with rubber tubing substituted as the spring. (Had we gotten to it sooner, I think we'd have used constant force springs.) Each climber could hang the robot by itself, but we ran two for safety in case the generator switch was very tilted. Each was powered independently by an AndyMark RedLine A motor at 80:1, using a 20:1 57 Sport feeding into a 4:1 HD Kickup Box we got in FIRST Choice.
The conveyor system was twin runs of urethane round belts, with upper and lower rollers powered independently (but controlled together) by AndyMark RedLine motors at 20:1. The rollers were 1" PVC pipe with hex-broached end caps, with paracord embalmed in electrical tape to crown the rollers so the belts tracked.
The emergency belt repair on Saturday at Palmetto is four layers of gaffer tape, which may have actually been a performance improvement as it was less grippy on the power cells. Had we had the time, we probably would've investigated this further.
The yeet drums (which you can barely see below the top roller in the back) are twin VersaRoller-derived designs. We used the VEX hubs to run bearings on one side, while on the other side we used NEO motors (originally acquired for the shooter that didn't happen) with hex adapters. The polycarbonate was the cheaper-and-in-stock-at-the-time tubing that @AllenGregoryIV shared on Amazon (but now I can't seem to find).
Two main efforts were underway at the time the season was suspended:
The entire robot was being rewired, with new-to-us PowerPole connectors making it all look much cleaner. We also removed a significant amount of unnecessary wire along the way thanks to smarter routing.
An intake arm, in the mold of FIRST Capital, was assembled and almost mounted. This would use Thrifty Bot vectored intake wheels and AndyMark 2" omniwheels to give us a little more reach and fudge factor in taking balls in. The shoulder was inspired by our 2019 arm, and was to be driven by the AndyMark Snow Blower Motor with the new hex output.
South Carolina schools were shut down on March 15 with lots of uncertainty about whether that would happen, so our preparations were frozen in time. Still, this rear-side photo should give you a better view of the yeet drums and a sense of how the intake arm was going to go.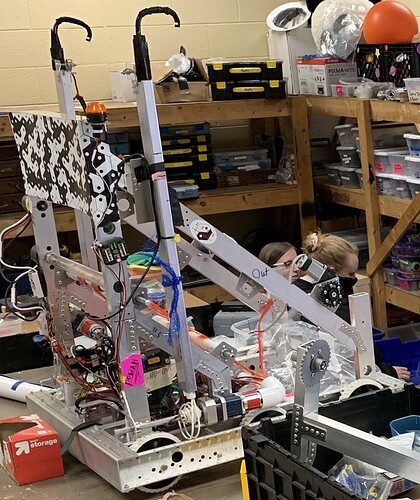 I don't know when we'll be back in the shop or on the field again, but I have absolute, unwavering faith that we will.