FRC 1923: The MidKnight Inventors are proud to present our 2023 robot: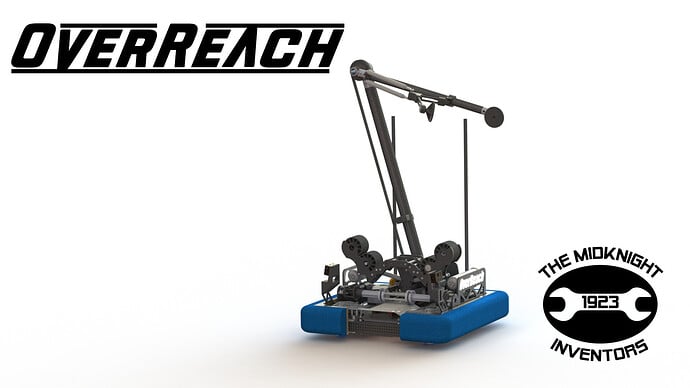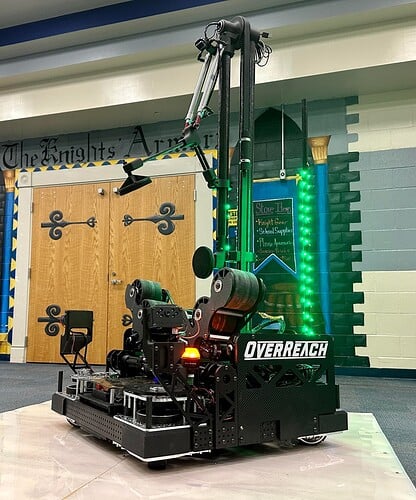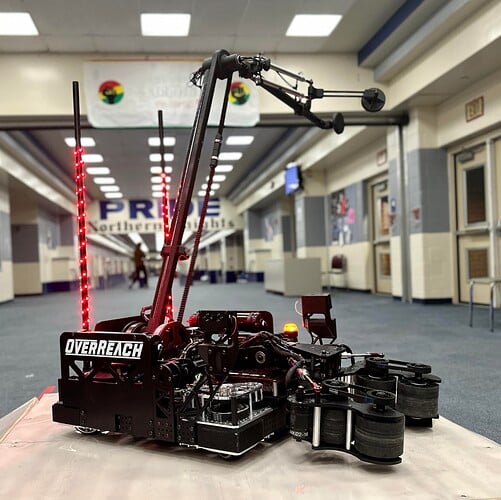 OverReach was designed with the goals of being nimble, quick, efficient and accurate all while fitting into a small package to facilitate easier endgame balancing.
Robot Specs:
24"x24" Footprint
~95 Lbs without bumpers and battery
CG located ~7" off the ground and centered on wheelbase with minimal shift even when reaching for L3 with a game piece
Can score on all levels from both sides of the robot
Can intake from the ground and double substation
Drivetrain:
SDS MK4i w/ Falcon 500 - L3 Ratio
Compact Bellypan with top and bottom mounted split E-Board
Bottom mounted battery for lowering CG
Intake:
Deployed and stowed via Double Jointed Arm allowing for multiple useful positions:

Intake
Stow/Handoff to Scoring Arm
Eject game piece Low with Intake inside Bumper Perimeter

Vertical Rollers powered with independent Falcon 500s
Proximity Sensor for confirming game piece acquisition
Pneumatic Cylinders to open Intake Arms to facilitate handoff to Scoring Arm
Scoring Arm:
Double Jointed Coaxially driven arm powered by Falcon 500s
End Effector uses pneumatic cylinders to clamp game pieces
Driven by HTD 8M Belts
Carbon Fiber Tube construction with Markforge inserts to transmit torque
All air tubes and signal cable run internal to the CF tubes
Uses self-aligning magnets to ensure arm snaps back to and holds stow position even under high acceleration
Controls:
State Machine manages all movements between subsystems
LED Poles for indicating Arm and Intake States pre-enable and desired game piece post-enable
Two Limelight 3s for tracking AprilTags and auto-aligning robot to desired scoring location
Operator only has to choose game piece type and desired scoring location
Autonomous trajectories generated using PathPlanner
Motion profiling done with MotionMagic while referencing absolute encoders that are 1:1 with all arm joints on the robot
Feel free to ask any questions! 1923 is excited to debut OverReach this weekend at the FMA Mount Olive District Event!