Team 4099 is excited to be participating in the #openalliance this year! We're a team in Poolesville, Maryland and have around 40 active members + 1 mentor (working to get more). We are currently working out of a church across from our school. We meet weekdays 3:30 - 7 and Weekends 12-6 pm.
We're super excited for the start of the 2022 build season and are looking forward to talking with y'all throughout the season. Please feel free to ask any questions and offer any suggestions as we move through our build season!
All of our work for this year and last year can be found at one of these links:
2021 Designs
2021 Github
2020 Build Blog
To kick off our build blog we'd like to share what we've been working on over the offseason:
Workshops
Our team has focused a lot of energy in the last two years towards more in-depth and comprehensive workshops to get new members up to speed and old members back into the hang of things. Below are the complete presentations and recordings for our workshops from 2021 and 2022:
In the past month, on top of presentations, we have begun incorporating offseason projects, such as fixing our previous year's drivetrain and electrical issues, into workshops to get more physical experience before the season.
Mule Chassis
During the 2021 season, we built two drivetrains, one mule, and one for the comp bot. The mule robot had several mechanical issues and in a lack of electronics last year we stripped it of some parts. During the offseason we've been having new members work to fix the old Thrifty Swerve modules and electronics. Members have been learning the correct amount of loctite to apply, how to remove stripped screws, and soldering/wiring basics.
One important thing that we've learned about the Thrifty Swerve modules is that the small pockets in the top plate should be taped over to prevent small screws or rivet mandrels from falling in and getting caught in the gears.
Issues we're working to fix before it can drive:
bad soldering connections caused us to have to redo some of the encoders, sometimes several times, which at this point are now unusable. The main issues stemmed from having the wrong gauge wire and so we were stripping individual braids off the wires which made it sloppy. After ordering better quality and correct gauge wire we're ready to solder our encoders correctly but we now need to order replacements for the damaged ones (2).
When initially testing code on the drivetrain without the encoders only one of the swerve modules was actually running. Right now we suspect that the roboRIO has very old code and was never updated so the next step is to try uploading current code.
The wiring right now is very messy (as you can see) so we want to work on improving the neatness of it. This is something we've failed to do in past years and as a result suffered when attempting to debug electrical issues.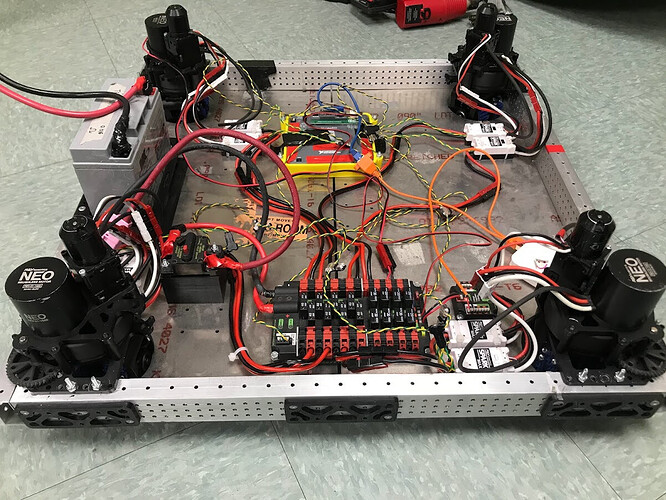 Scouting System
2021 was the first year that we officially started a scouting subteam in order to develop a new scouting system and improve our robot design decisions during kickoff. To create an efficient alliance selection system, Team 4099 utilizes visualizations created by Tableau Desktop, fed data from two sources: The Blue Alliances and Team 4099's own novel scouting data ingest tool.
During competition, Team 4099's scouts collect and input data into a form hosted on the team's website, which is run alongside the team's scouting data ingest (SDI) tool, and SDI collects live data from The Blue Alliance (https://www.thebluealliance.com/). SDI can simulate a live event outside of competition using spreadsheet data, JSON-formatted match data, and user input through a local GUI created using Flask. As of now, SDI puts both the calculated and collected data into a local SQL database, but SDI can (and already has) put data into a database hosted on Amazon Web Services (AWS) so that nobody needs to run the tool on their local machine. Team 4099's SDI tool (https://github.com/team4099/scouting-data-ingest) is open-source. It is currently being improved upon alongside Tableau Desktop to calculate and incorporate new metrics into the visualizations, such as offensive power rating (OPR), to make the alliance selection process as efficient as possible come kickoff.
The scouting data we collect is visualized in Tableau to guide drive team's match strategy during the qualification round and to help form our picklist. Drive coach visualizations include data on past performance during the autonomous, teleoperated, and endgame periods for the teams we are playing with and against for the upcoming match. Picklist visualizations aggregate data from qualification matches and create an initial ranking based customizable weights for each factor we are considering. We are currently working on putting out Tableau visualizations on Github for better collaboration between team members who are working on them.
Robobadge
In the past we've worked with local girl scouts troops to helps scouts get their Robobadge. Because of the pandemic and time restrictions we had been unable to continue this program but during the 2021 season and offseason we've been working to revamp the project and update our resources to also fit the needs of Boy Scout troops. Currently we're in the process of communicating with local girl scout troop in Poolesville to host a session for them.
F4 Cadathon
Last year and this year our team has competed in the F4 Cadathon to get our design members up to pace with designing a full robot and design some elements we haven't had much practice with in the past. Our full cad submission can be found here and our blender renders + kickoff design notes here
2022 Season Plans
Things We Are Keeping from 2020/2021
Overall robot strategy. Our overall robot strategy in 2020 was pretty spot on in terms of what our team could accomplish. We built a tall robot with a fixed shooter, a climber and a simple mecanum wheeled intake. We want to stay on track with building robots that allow us to be done building by week 4.
Swerve. After success in figuring out swerve software in 2021, we plan to stick with swerve for 2022. At this point our driver is used to swerve and our autonomous pathing is mostly figured out with our swerve chassis. If the game is completely opposed to using swerve, we may purchase a KOP chassis and stick pneumatic wheels on it — but we don't think this is likely, because even a KOP chassis with 8" pneumatic wheels has less ground clearance than an SDS MK4 chassis configured for extra ground clearance. The only issue would be if the field might damage the modules but modern COTS swerve modules seem to be pretty robust.
New member involvement. In both 2020 and 2021, compared to previous years, we had a lot more involvement from new members in terms of how much of the robot they were able to contribute to. We seem to be on track to maintain this.
Subsystem vs subteam structure. Before 2021 our team, was organized into subteams like mechanical or controls, but this lead to members only knowing how to complete tasks in their specific areas and people not knowing enough about the robot in general to diagnose issues. It also led to times in the season where some We have begun using a subsystem structure for our team, with a couple of people from each subteam working in groups, in order to increase technical and design knowledge and make prototyping/design changes more streamlined. During the offseason, we still train members by subteam, so that we have people with in-depth
Things We Are Changing from 2020/2021
No more practice robot. We learned in 2020 that building two robots is too much for our team to be able to do in four weeks. In 2020, had we built one robot (or at least competed with what we thought was our practice robot) we would have likely done a lot better at our week 1 event. So this year, we are building one robot, and we have a mule chassis already prepared for driver practice and autonomous testing.
SDS MK4i instead of Thrifty Swerve. The Thrifty Swerve modules were great as a relatively affordable entry into doing swerve. But after some annoying issues with tread replacement as well as some assembly issues on our part, we decided that it made sense for us to go with the SDS MK4i modules for this year.

Specifically: tread replacement on the Thrifty modules was difficult because it was really difficult to get the holes for the tread drilled in exactly the right spot, and from there, it was really difficult to align the tread with the wheels and screw in, etc, while the wheels were on the robot. This would have been fine if we could have had pre-prepared wheels with new tread on them, but due to how the Thrifty Swerve is assembled, this was not a realistic option. Because of tolerance issues on some combination of the bevel gears, the wheels, and the shafts, the recommendation is that you insert shims in a couple of locations on the modules until the gear mesh is perfect. The problem is that if you change the wheels, and therefore the bevel gears, you would also have to adjust the shims — this process would take some time, which would defeat the purpose of having pre-prepared wheels.
I'm sure these issues will get addressed soon by the Thrifty team, but in the meantime, its seems that the MK4i modules are a more bulletproof solution. We have bought a ton of pre-cut tread and some replacement wheels and bevel gears, so that tread replacement should be a super quick job (pull out shoulder screw, replace wheel, put shoulder screw back in).

All Falcon 500 motors. We'll see how long this will last — there's a good chance that in 2023, given the significant price hike to the Falcons, we might switch back to some NEOs. But for now, we got in on the Falcons for 2022 at the lower price. For us, the advantage is primarily that we don't have to worry about the wiring between the motors and the motor controllers, especially the delicate encoder cable (we've written off a couple of motors due to their encoder cable connectors being crushed).
Good luck to everyone and stay safe!