thank you for your kindness and charitableness. I wish you a enjoyable season

Oh note that on the spiral wheel we've added our own nitrile on there. So it's not just 3D printed. You can add different type op material treads that you'd like to try
hmmm… the nitrile's shape that you mentioned is like a tape? (to cover the wheel)
Week 1 - FRIDAY
We're back at it. AGAIN! We're loving the non-stop action. As said earlier in the thread, we split up the team in two and we're alternating days at the shop. Team members that are home for the day work mostly remote if they're available and people in the shop can join google meets to ask questions if they need more help.
It's been really effective so far since everyone can continue working on prototypes from the day before ór prepare decent revisions of the prototypes a day in advance.
Here's our progression from today!
INTAKE PROTOTYPE 7 - WEEK 1
Yessir another concept in the category: 3D printing.
A #125 - 2016 inspired corckscrew, helix style, intake.
Models used in the video were rigid plastics with 30mm fin height or 10mm. It worked until a certain extent but definitely lots of room for improvement.
To do's for this concept for tomorrow:
Change fin height to 20mm
Print in TPU and make sure that the stiffness of the screw is printed in the correct direction
Test single start, double start and triple start thread.


Tuning helix pitch on a 1 start thread will also change the direction of the force vector on the cargo. multi start threads will let you get more fin contact per surface area while keeping the same >45* angle on the force vector. (Thanks for the tip @Jeremy_Germita )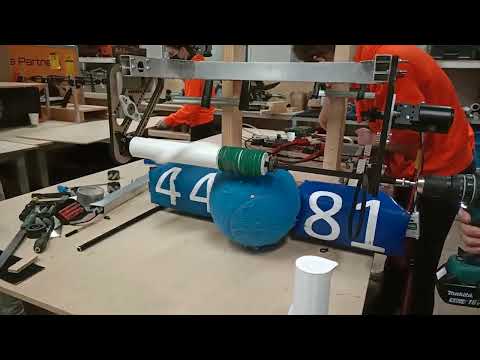 UPGRADED SHOOTER PROTOTYPE - WEEK 1
This is the revision of the shooter based on the input from last tests. We've been changing and testing quite a lot of different things.
See pictures of the test setup below.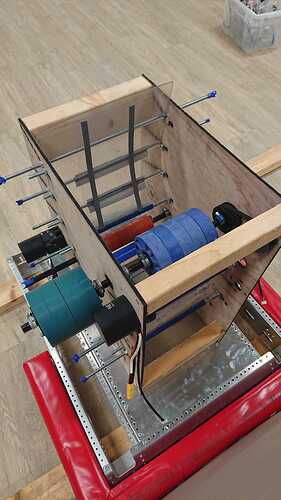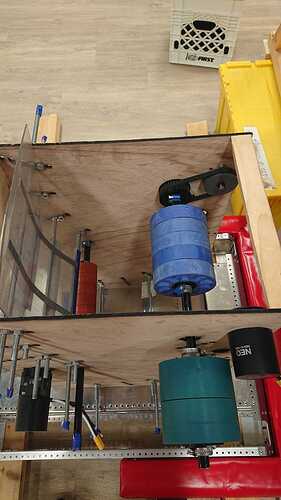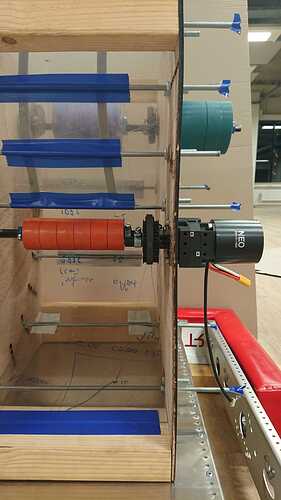 Testing different variables with flywheel mass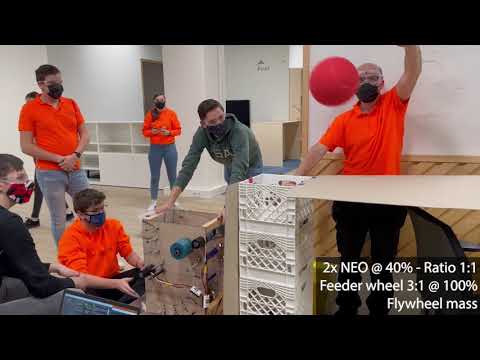 *Testing different variables without flywheel mass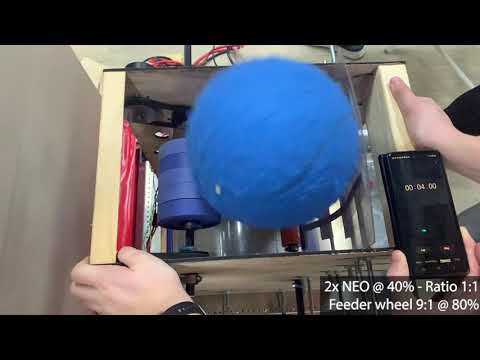 Narrowing down our choices: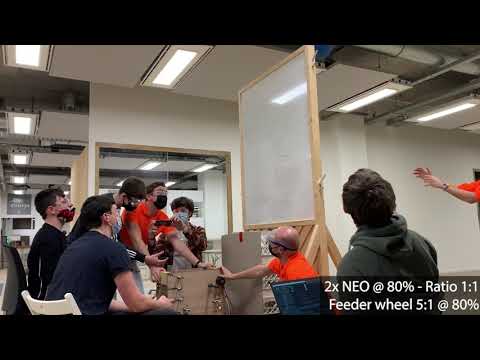 As you can see in the first video we tested mostly LOWER shots since that our first shooting priority.
We came to a flew conclusions:
With 4" wheels and 2x NEO on a 1:1 you'll most likely NOT need a flywheel mass.

We've been shooting with 5 compliant or stealth wheels and there hasn't been much difference. If you have the extra wheels we recommend creating a wide shooter drum since that will increase overall consistency.

Adding a feeder wheel increases consistently by a lot. (Duh)

Overall feedthrough/total shooting time of 2 CARGO is ~0.39 seconds which meets our requirement. (Shoot 2 CARGO <1 second)
We've changed the hood angle by 1 hole. I don't know the exact change in distance but for us it's not possible to shoot for the LOWER and the UPPER with the same angle. Now knowing the needed angle for UPPER and LOWER finalizes our shooter geometry.
What are we going to be testing over the weekend:
The shots in the video were without PID. They're still working on that so that should increase overall consistency across and entire day of testing.

Backspinnnnnn. We're going to add some nitrile, rougher, anti-slip materials on the hood to see by how much we can increase the backspin. Current thought is that if we can stay around 80% power on the shooter but lower the total height of the ball path that would be huge. *
Lots of teams are going to be shooting high, CARGO is going to be bouncing and hitting in the air. If we can narrow down our shot to JUST shoot over the rim in the UPPER we'll be hitting hardly any other CARGO in TELE-OP but most importantly in AUTO.
xRC Simulator
Some team members have been playing lots of games on the xRC Rapid React Simulator. They've written down their analysis and findings. One of them will be sharing their analysis tomorrow on here.
The 3DM department is currently comparing their findings towards the simulations they've ran themselves. Don't forget to tune into The Open Alliance show tomorrow!
REV MAX PLANETARY GEARBOXES
We're just going to put it out there.
These
Gearboxes
Are
THE
BOMB!
It's been a couple days we have them in the shop but these are truly life changing. Swapping out gear ratios on the feeder wheel has been so quick and easy today. We've went through 4-5 different ratios and changed them literally in a minute.

Yeah really, that's it. You don't need an written instruction.
If you're thinking of needing some more planetary gearboxes we highly recommend these!
If you have any questions you know where to find us
It's game analysis time!
This week we have been playing the simulation game for quite some time with some team members and drivers. Playing this game gave us a good feeling about the overal game experience, but also strategies that might work and not work. Here is a detailed summary of our observations:
General observations:
Almost every ball lays against the wall.
Some balls will roll against the pillars of the hanger (and might be hard to pick up).
Balls scored in the upper hub are not worth waiting for to pick up. They bounce too much and it takes too long.
Balls from the terminal are not worth waiting for to pick up. They bounce too much.
From the driver 's perspective it is very hard to see and pick up balls on the opposite side of the field.
2 V 1 match:
After a while all your alliance-colored balls lay on the opponent's side. When your shooting with 2 robots and there is a 50/50 chance of going back to your side of the field there are quickly no balls left.
Defense: while playing offence and gathering balls you can also play a little defence by ramming into your opponent just before they want to shoot. It is very simple and fast.
3 V 0 match:
It is very busy on your side. The hub and the hangar take a lot of space.
You struggle with getting balls since 3 robots are using them.
When trying to hang, 1 robot should already go hang BEFORE end-game. It is once again very busy if 3 robots are trying to hang. You easily push someone causing him to realign for hanging.
Autonomous:
4 balls auto is possible, but it must be executed perfectly else you won't make it in time. I managed to perform it 1 time.
More balls in auto is impossible i think, unless your robot has a turret. The simulation doesn't have a robot with a turret so we were not able to test it.
Calculations:
I tested the reliability of the balls actually going in the hubs and not bouncing out. I did this assuming no driverskill issues. I tested it from two positions because they would have different launching angles: The fender and the tarmac line (I wanted to shoot from the launchpad but the simulation robot is not able to do it, so I had to choose a closer position).
Results:
Shooting 20x (so 40 balls) in HIGH HUB from fender:
33 scored (82.5% accuracy)
Shooting 20x (so 40 balls) in LOW HUB from fender:
39 scored (97.5% accuracy)
Shooting 20x (so 40 balls) in HIGH HUB from tarmac line:
32 scored (80% accuracy)
Shooting 20x (so 40 balls) in LOW HUB from tarmac line:
39 scored (97.5% accuracy)
During the test I saw the ball that bounced out was ALWAYS the second ball that was shot. The first ball knocks the second ball out.
I also notice that aiming slightly off centre changes the whole outcome. The first ball won't interact with the second ball and they go much more gently inside. I quickly tested it and it seems that it does help for shooting from the tarmac, but not for the fender position. Probably because the fender position is shooting almost vertical and bounces the second ball out anyways.
Disclaimer:
Keep in mind that this is a simulation. Not everything is 100% realistic (for example: the balls bounce way too much on the ground (more than 10x before you can pick them up), gravity might be off).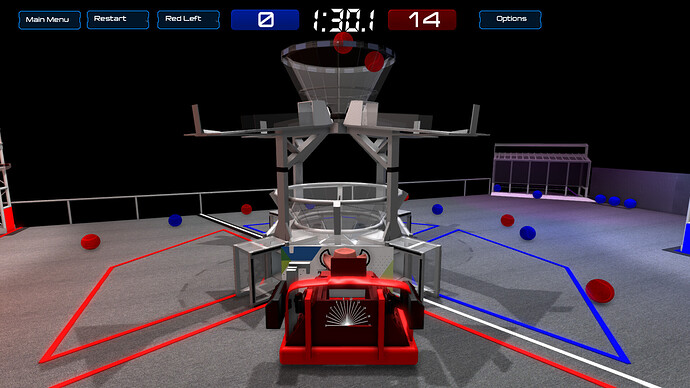 Awesome stuff Rembrandt's! Really appreciate you putting this all out there for us to learn from. I had a couple questions on your most recent shooter prototype. What is the amount of ball compression you are testing this with? Are your cargo inflated in a way that you believe is accurate to the 3.5 psi (like is said in other threads you need a more specialized pump to measure that low). And do you know how many degrees of wrap the cargo is engaged with the flywheel for your two shot heights?
The team is busy at the shop, but I can answer this for you:
40mm of Compression
Between ~35-45 degrees of wrap with the current configuration, I don't have the specifics of the release angle, but it will be different depending on the distance between the shooter axle and the fender and the height from the floor (this is still in discussion based on the CAD integration and the prototype testing
The most recent videos the balls were filled and verified with a gage to 3.5psi, the older videos the two balls were at different pressures (unknown, one soft, one hard)
On Sunday we will test with the balls at different pressures
What speed are you running your feeder wheel at relative to the main flywheel?
I'm not going to do the math on these but you could- in the bottom right hand corner of each video it says the gear ratio on the feeder and the % they are running it at as well as the % of the main flywheel. It seems like the feeder is also a Neo through various ratio's of max planetary.
Oh good call-out, I completely missed those numbers on the video. Thanks!
Great conclusions and nice idea to feel game playing in simulator

Good luck!
QUICK RECAP
A quick update on our intake progression!
We'll be posting our shooter videos tomorrow but those take a little longer to edit… At least I don't want to get your bored watching a 2 minute video for 10 double shots.
I'll be quick cutting those tomorrow including results.
We've been testing 5 different types of hood grip.
1 Neo vs 2 Neo
All UPPER shots
etc…

BOUNCING CARGO INTAKE PROTOTYPES
We've been working with the idea of adding a top roller above our eventual intake. Today they tested two different types of ways to get the CARGO down into the intake.
Sadly we couldn't get these prototypes recorded on carpet while driving so they're stand-still shots but still quite interesting…
Test 1 = Carwash with the non-slip drawer liner.
Seemed to work pretty well. The spacing and geometery was sub-optimal on this setup since we had to deal with what we had bolted on there. Make sure that when you're using a CARWASH style that the flaps that spin won't get out of the 16" frame extension

Test 2 = The expensive velcro roller.
We bought some plastic hook and loop velcro which was quite stiff, wide and hard. This type of velcro seems to not damage the CARGO that much.
We're really worried about using velcro on our robot because it will most likely damage CARGO for worse… But after couple test runs the CARGO didn't seem to bother it that much.
Both tests can be seen in the video below.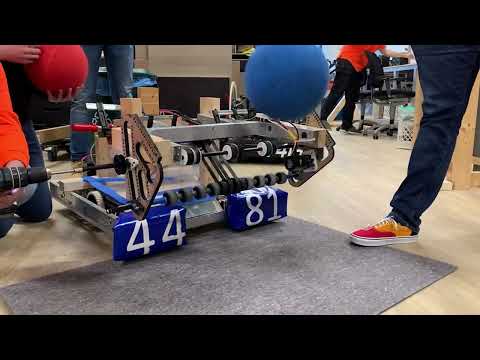 HELIX SPIRAL STYLE VECTOR INTAKE
It started with a couple 3D prints, a few extra iterations to check what geometry would work. Both for the positioning of the spiral roller itself on the robot as well as the helix dimensions and pitch.
Whenever the CARGO fits inside an entire width of a screw it seemed to work best for us.
These were still just regular PLA prints.
They were similarly mounted as our mecanum intake so they're easy to swap.
We're leaning into the idea of designing both intakes and see which works best on the entire robot eventually.
The screws are being printed out of TPU currently so they don't break as easily, are a little more grippy and can flex a little.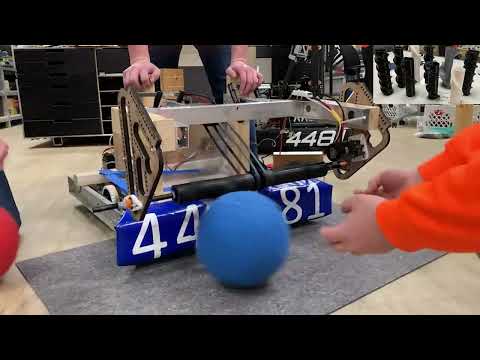 MECANUM VECTOR INTAKE + STORAGE MOCK UP
We added a "storage" on the kitbot plus the mecanum intake. To see what needed to be done with the drivetrain in order to intake the CARGO through the bumpers.
After narrowing down the slanted plate from DT into higher "storage" we added a couple belts to get the CARGO through the robot.
This style of "connecting" "subsystems" helped us a lot in figuring out complete dimensioning and see if we could get things to work properly. If it works as janky as this it will probably work out of sheetmetal as well…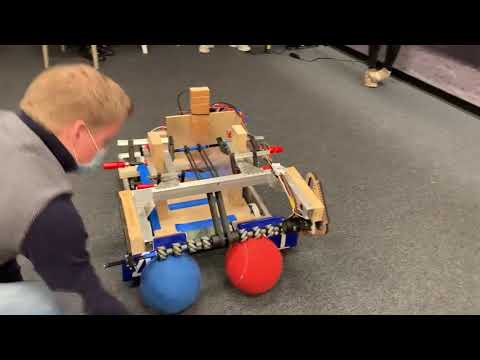 WHAT'S NEXT?
Tomorrow we'll post a longer update including the shooter videos and conclusions.
Our team meeting on monday evening will be completely remote and we'll do our first real design session based on the strategy outcomes of 3DM and the prototype outcomes.
By comparing those we can update our requirements for the robot and adjust the goals we have if needed.
Thank you all!
We've been getting quite a lot of positive comments through DMs, on Discord, on SLACK, on Social Media which really means a lot for us. We love to be an inspiration to others and being helped by the community whenever we're making a mistake or someone has an suggested improvement.
That's all what Open Alliance is about and we're proud to be part of it!
Stay tuned for more videos very soon!

If you have any questions… you know where to find us

I love that shooter prototype! Would you guys be willing to share the cad (dxf, dwg, whatever is easy for you) of those side panels? We have started testing in our shop, but need to head in a different direction and this would help is greatly!
That intake is magic. Well done!
Would adding more mecanum wheels to one half side of the intake shaft help intake cargo when 2 have made contact with the intake mechanism at the same time so they don't get stuck in the mid opening of the bumpers?
This is great footage that's helping out teams that have no cargo at all to be testing intake designs. We are still waiting to get our hands on one cargo to test.
Thank you for your invaluable information!
This is a good idea, but to be honest I would bet the problem solves itself once you start driving the intake around a lot more. All you have to do is turn a bit in one direction after intaking and that should end up putting one ball into the bumper opening before the other.
What rpm is the Mecanum intake roller running at? I found in 2020 that while our prototype ran great with a drill, when we ran our production one 2:1 off a Falcon (~3200 rpm) it vectored even faster.
Might want to try increasing your speed and see how it does.
You can find the CAD files here.
Nick, it's currently running at 3:1 off a NEO / MAXPlanetary Combo, we will be looking into increasing the speed for the final version, it's good to hear you have had good results with it at 2:1