I love you crazy orange weirdos. You're the best.
As part of preparations for the 2022 we have started to compile some design studies based on previous robots. The goal of these studies was to look at different solutions to the same problem, in that regard, we tried our best to not duplicate too many design options to show the diversity in solutions. Note that these spreadsheets are living documents (always open to suggestions and additions) and some are much more complete then others, but with kickoff tomorrow the team has decided to make them public:
Also for those of you who following us on social media, for the 50 weekdays leading up to kickoff we posted one robot a day, this was to have a look back in time and to discuss each robot internally on our Slack. The list of the 50 robots are here:
Best of luck to all teams this year, 4481 is happy to be back and #werenotdoneyet !
Happy to see you all coming back to Florida, loved having you all here in 17 and 18.
You bring up losing time to shipping the robot out in week 5 or 6 in the past when do you plan on traveling to your first event this year?
We're boarding on Monday the 28th of February. So that's 3 days prior to the regional. We'll be packing our robot on Sunday the 27th. This means we have approximately won two weeks of valuable driver practice time.
Our flightcase with pit tools and pit structure will be shipped earlier. Probably somewhere end of January.
I love the design philosophy of modularity and having field replaceable units. It will be interesting to see where this philosophy takes you.
Hereby we'd like to share our cheatsheet we've created. We use it during discussions and brainstorms as a easy reference for everyone.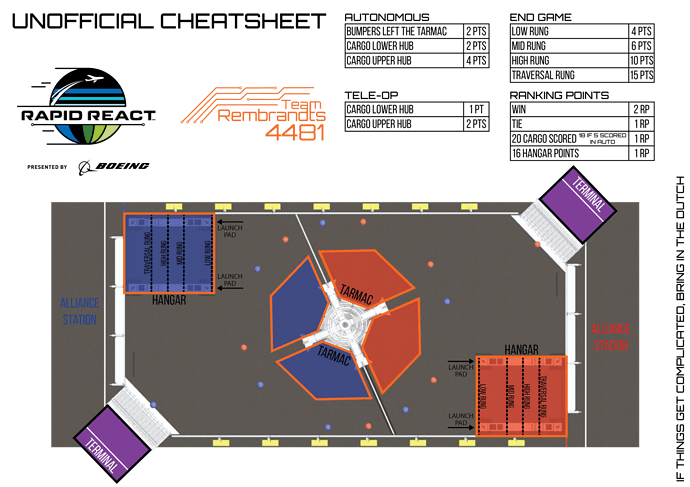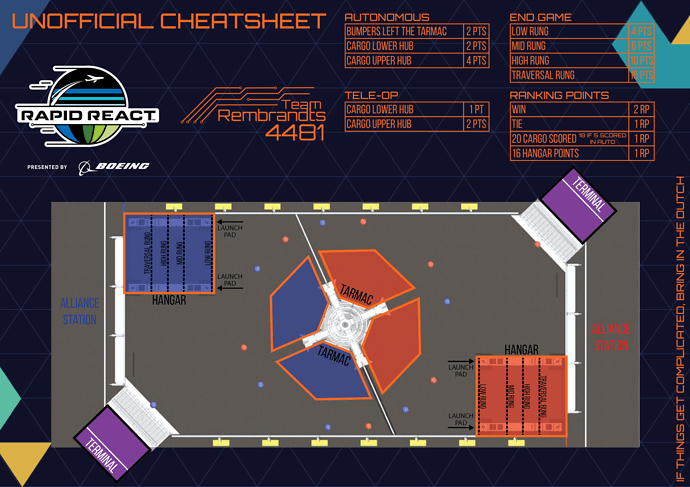 Weekend Recap - Happy Kickoff everyone!
Our kickoff weekend has just come to an end and the week 1 meetings are now fully on its way!
Our hybrid kickoff weekend was fully focused on the analysis of the game, with the team analyzing the game from home and the strategy department starting their first day of Data Driven Decision Making at our main partner's headquarters!
This post shows our collected data during the start of Data Driven Decision Making as well as our experience in managing the team, and analyzing in this hybrid form.
For quick reference, the first half will include useful data, and the second will give you a good feeling of our experience this kickoff in terms of managing COVID.
I'm excited to show you our kickoff weekend of this year!
Data Driven Decision Making (3DM)
If you didn't read our previous post, here's a little recap of this new method.
Data Driven Decision Making is a new way of picking prototype priorities in the early weeks of buildseason. And it's a mouth full, so from now on, we'll call it 3DM, because D-D-D-D-D-M is hard to say 5 times in a row…
3DM is a new approach for the 2022 game, in which the strategy department will be looking at the game tasks through the eyes of historical game data and new cycle estimates. By making predictions of this game based on previous, similar, game tasks and on cycle time analysis, the strategy department will be able to give an objective and rational look at tough decisions in the first weeks. Their goal is to develop quantitative requirements for the subsystems. This way, by not allowing experience and gut feeling to drive our decisions, but instead by making data and knowledge the fuel of our flight (#FIRSTFORWARD) to a successful robot, we minimize the amount of time lost discussing and make more informed decisions. The goal of 3DM is to calculate the most optimal robot strategy before the end of week 1. The results of 3DM will influence the decisions made in choosing prototypes in week 2.
The 3DM Sunday Sessions
During the Sunday Sessions of the analysis, the 3DM group focused on estimating the cycles of the game and their achievable points, and comparing this to the minimum amount of points necessary to be competitive in our events, to create a minimum and winning competitive robot concept. By making an accurate estimation of the travel, collection, and ejection of cargo times, the group was able to give insights on the strategies necessary to provide the required amount of points to win an event.
Estimations were based on the travel speed of the drivetrain, scoring and collecting speed based on previous games, and an appropriate safety factor.
The results can be found in this document
Data Driven Design - 2022 - Autonomous Cycle Times - 9_1_2022.pdf
The results of the skills list and scoring analysis, generated during the weekend, and the cycle times, generated during 3DM, are combined and a minimum and competitive concept is generated.
Data Driven Design - 2022 - Robot Requirements - 9_1_2022 - 2022.pdf
Planning week 1
Based on experience, prototyping priorities are thought up and chosen for week 1 based on the concepts created by 3DM. These subsystems will be prototyped in week 1 until the 3DM group has found a clear direction to go towards. After a decision has been made on which prototype priority fits our strategy, the 3DM group will steer prototyping into a clear, narrow direction for the proceeding weeks.
The prototype priorities have been concluded to be directed towards the following tasks:
Scoring Low and potentially Upper

Collecting cargo from floor

Climbing mid rung

Start on path following for AUTO
With these in mind, we have a clear mentality to achieve our goal of controlling our fate at regionals.
The hybrid kickoff
COVID has created an entirely new strategic field for our team to overcome. Creating an event for a large group of people has never been harder, and I personally would like to give you a fun insight into our hybrid kickoff experience.
Due to the new Omicron variant, meeting up with the whole team during kickoff weekend was not possible. That's why we opted for a hybrid kickoff.
The strategy department, together with a small group of team members, would work on creating a plan for week 1 as well as start their new strategic plan called 3DM.
The rest of the team would work on analysing the game for themselves from home and making sure the strategic team had not missed anything.
It's Saturday, that means…
Happy kickoff! Around noon the physical group joins up at our main partner's headquarters and starts setting up the stream and preparing for the analytics.
Being able to work in their large auditory allowed them to work together during this kickoff weekend. With the weekend being filled with strategy, the first thing they did was warm up with a practice analysation of the 2007 game. Creating a game tasks analysis, skills list, and required skills set, they were getting ready for the real deal in the evening, making the best use of the waiting time created by the time difference in time zones.
At the end of the afternoon, the physical group is joined by the online group to watch the reveal of the 2022 game.
Print the manual, turn on noise canceling, and read the rules!
Directly after the game, both the online and physical group head dive into the manual to read every rule and memorize every potential cycle. As the online group logs off, the physical group comes together to create the skills list.
Having a draft version of the skills list, the physical group goes home.
Sunday begins. The sun rises, the sky turns orange, and an engineer in a bright hoody with a cup of coffee is reading the manual exclaiming they found something.
The physical group goes over the skills list one more time to review all newly found exceptions and loopholes before splitting up in groups. The strategists start crunching numbers, the engineers look for subsystems related to this game, and management starts the call for the Online group, who start pouring into the call. The Online group is split into breakout rooms to create their own skills lists.
The online group produce a new skills list
The online group has found a ton of skills, and a bundled copy is assembled and distributed back to the online group. The skills lists created by the breakout rooms are now reviewed to create a final skills list, removing all doubles and spelling errors, and checking each other's skills.
During their breaks, they're sent the #frc1678 rules test. Over the course of the day, members send in their answers, and with each attempt they inch closer to understanding the game.
With the second draft skills list now created, it is sent over to the strategic team for a final comparison between the two drafts. The resulting skills list is now set in stone. Well, sheet metal I mean.
Conclusion
Scoring Low and potentially Upper

Collecting cargo From floor

Climbing mid rung

Start on path following for AUTO
The team will be working on the 4 tasks above, as concluded by the strategy department this weekend. During the final meeting of the weekend the conclusion is shared to the entire team.
With that the kickoff weekend comes to an end. The team's next step is discussing the role division for prototyping. We expect cool videos to come real soon.
This has been the most unique kickoff we've ever had. Accepting the challenge of organizing a hybrid kickoff, the excitement for this new strategy system, and the looming anxiety of COVID in the back of our minds, makes this season one with every potential to never forget.
We wish you all a happy kickoff

Credits for this post go to @Laurens !! He had some troubles with account being on hold/log in issues.
Week 1 - Monday
Kickoff is over, prototyping has begun!
The team is divided into two sub-teams: 4481A and 4481B. These two sub-teams work on their own tasks and on their own days to keep it from getting crowded.
During the Monday meeting we've divided these sub-team into groups to work on the prototypes.
With the team divided, a requirement list was made for each subsystem prototype.
The groups will be trying out different ideas in their subsystem concepts:
A mechanism for the intake of CARGO intake
A mechanism for CARGO outtake
A climbing mechanism for climbing to the MID rung
Teams started drawing their ideas and planning their meetings for week 1.
Starting tomorrow, prototypes will be made, and we expect this thread to start filling up with videos.
During the group's off days, they will work from home to try and prepare for the next day.
We'd like to give a special shoutout and a thank you to all teams that have posted their videos and ideas on this year!
We've implemented a lot of your ideas into our prototyping planning and expect to send back some exciting new stuff!
We'll be testing your ideas on our own flexible, modular testing setups, so expect these videos soon!
I love the detailed and empirical specifications you've created for your requirement list. This is some fantastic work. I'll be following this build thread with a lot excitement this season!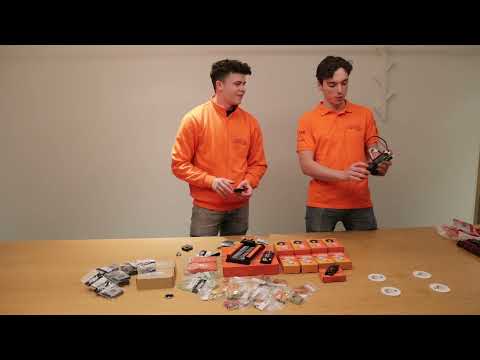 We're super excited to share our new REV products we just received!
We ordered the new REV control electronics and the newly launched MAXPlanetary gearboxes.
On first look & feel these products look amazing and wanted to share our first thoughts with you all. Some of you maybe haven't received yours but we're definitely in love already! We're for sure going to be using these planetary gearboxes on prototypes and our robots ASAP!
For sure worth the upgrade from CTRE and VEX in our opinion!
MAXPlanetary System Kit: MAXPlanetary System Kit - REV Robotics
Control System Pre-order we placed: FRC Control System Pre-order Bundle - REV Robotics
WEDNESDAY - WEEK 1
We took a day or two to prepare our prototypes but we finally got around testing a bunch tonight to get a first feel for some different materials vs. CARGO on intakes and shooters.
Intake Prototype 1 - Carwash #frc95 style
Carwash style intake with non-slip drawer liner. These were mounted in a 3D printed adapter > 4 flaps.
Looks quite promising but we need to improve compression and maybe 2 flaps instead of 4.
Intake Prototype 2 - Mecanums + Nitrile
VEX 2" mecanum wheels on left and right, a 3D printed hub with nitrile tread in the middle.
Worked quite nicely but we're probably not going to be using mecanums since the robot would be small and we'll serialize into the shooter. We rather have a full width grippy roller than vectored intake wheels.
Intake Prototype 3 - Dual nitrile roller
PVC pipe with nitrile tread on there, dual roller.
Spacing of rollers is far from optimized but main goal was to get a feeling for materials and general concepts.
In the end we added a sheet of the non-slip liner and that worked quite nicely. A combination of a carwash intake + nitrile seems to be working quite well.
Intake Prototype 4 - Nitrile with velcro straps
Everyone figured velcro would be a magnet to these CARGO balls right?
Well… turns out it does

They do quite some harm though so teams should be careful with velcro intakes. We love the function of velcro vs. unsettled bouncing CARGO. Maybe these flaps were a little wide and smaller strips would work to + damage the ball a little less.
This concept vs. the non-slip liner seems to be our top two.
Intake Prototype 5 - 3D Printing Magic
Using every 3D printing trick in the book one of our team members came up with an interesting intake wheel concept.
It uses 0.8mm wide layers of TPU-> shore 95A (flexible).
It has Gyroid infill so it will flex in any direction. We could play with the infill density + number of shells to change the flexibility of the wheel.
Using "fuzzy skin" settings the printer will generate a random squiggly outer shell that gives it a more grip like texture. If you make the fuzzy skin very big it will start make plastic loops mid air: if we cut these (like they do with velcro) it could become kind of a velcro surface
Video down below! Haven't tested them on a full roller yet.
WHAT ABOUT THE SHOOTER?
We build a flexible test setup out of some flat wooden sheets, polycarbonate and threaded ends.
Hooked up a NEO on a 1:1 ratio on there and tested various compressions, wheels/treads, speeds and masses.
We've been trying LOWER and UPPER shots.
There are 6 different configurations shown in the videos below. Variables of each configurations is displayed in the video if you're wondering while watching.
Main take aways of our shooter prototypes:
The low goal is very do-able and the upper goal is very tempting. We'd still highly advice teams to first get low goal shots working consistently and then upgrade from there. Being able to contribute to your alliance by 100% consistently scoring your pre-scored ball will be very valuable!

1:1 with a NEO seems like a pretty good ratio to land on. We're debating options now on adding an extra NEO vs more flywheel mass. This was tested with a PID or any control. End of week 1 we'll have a upgraded shooter with control and better consistency.

Colsons seem to shoot okay. We've had better consistency with a bigger drum consisting out of 5 x a 4" Andymark Stealth wheel.
Shooter Prototype 1 - Colsons 4" x 2 [LOWER]
Shooter Prototype 2 - AM Stealth Blue 4" x 2 [LOWER]
Shooter Prototype 3 - Black Fairlane Teardrop Style 4" x 2 [LOWER]
Shooter Prototype 4 - AM Stealth Blue 4" x 5 [LOWER]
Shooter Prototype 5 - AM Stealth Blue 4" x5 + Extra Mass [LOWER]
Shooter Prototype 6 - AM Stealth Blue 4" x5 + Extra Mass + Tilted Shooter [UPPER]
WHAT ABOUT THE CLIMBER?
We thought about a flop-out single stage pneumatic climb that could unfold fast. While building a prototype we succeed in doing something we had in mind.
Still we went with something we knew that will work 100% for sure. We're going by the philosophy this year of first building simple things that work and have a completely functioning robot in 4 weeks.
We can upgrade after we have a consistent LOWER cargo bot with a MID RUNG climb. At least by the end of week 4 but hopefully faster.
The climber subteam has started their sketches, CAD and calculations for a single stage telescope with a pneumatic stroke.
If you have any questions you know where to find us

Would adding a strip of the "hook" portion of hook and loop onto the bumper help intake the balls a bit easier?
We would try this but both cargo balls were missing from our kit of parts black tote

That 3d-printed intake wheel looks really interesting, would you care to share the CAD/ G-Code?
That's an interesting concept! You mean instead of on the rollers or both?
I think "doing something with your bumpers" might be an interesting concept. In practice I think it will be little more difficult to incorporate into your design. I rather look into a stiffer/rougher bumper material and leave it as is.
The bumpers in our videos are like truck vinyl and rather smooth. In one of the intake videos we added the anti-slip drawer liner on the front bumper and that helped for taking in cargo over the bumper.
If you're trying to center a CARGO with vectored intake wheels then have a slick bumper material might be better.
Adding the strip of hook onto your actual bumper would be correct. It can also allow teams to leave the bumper be slick close to the bumper corners if teams would like to try and vector the cargo towards the center and then add the hook strip towards the center of the bumper.
WEEK 1 - THURSDAY
Today wasn't as busy at the shop. Many worked remote from home as help desk, designing new subsystem iterations or playing the xRC Simulator.
Shooter Version 2 - Kicker wheel + Dual motor setup
As you can see below, the concept of the shooter construction is relatively similar. The ball path changed a little and they added some extra options.
Hopefully we'll have this up and running tomorrow and we can change a couple things.
There will be a separate driven 2" kicker wheel

A 4" flywheel drum based with either 1 or 2 NEOs 1:1 ratio

We can add an extra 4" wheel if we like in front of our shooter

Controls department is working on a PID tuner to control the shooters better

If we like, we can add extra mass on the shooter axles to see the difference between # motors vs amount of added mass
Intake Prototype 6 - Week 1
We worked tested a similar concept as before but with a gap in the bumper. We are currently liking the fact of having a gap in there since it might simplify other things such as:
Indexing/singulation inside, towards the shooter
We'll probably only need 1 roller, so deployment of the overall intake concept is easier
The overall intake can be pretty lightweight and flexible
The gap wouldn't be huge, probably, since the intake will be mostly deployed out during the match anyways.
Improvements for this intake:
We'll be wiring up the KIT BOT, so we can drive the chassis around and into the CARGO for better representation of testing
The middle rollers are 3D printed out of TPU but are still quite stiff. We're making more flexy-ones.
The overall mounting of it can be more sturdy and give equal spacing in between the mecanums
Having no gap between the mecanums will increase intake speed from what it seems. We need to confirm this by driving in the CARGO.
Maybe incorporate some velcro straps in between the mecanums to see what it does vs. unsettled CARGO.
Storage Prototype 1 - Week 1
They've been working on a mock up subsystem to test compression and spacing on the CARGO with timing belts.
The overall compression on the hubs vs cargo is around 35mm.
Putting the hubs tighter next to each other increased consistency.
In the video below, we ended up on 70mm between the two hubs.
Drivetrain Update
We're leaning towards 7.6:1 with 4" wheels. [Gearbox: 12t → 50t, Chains: 12t → 22t]
Free speed 14.6 ft/sec (4,45m/s), adjusted speed 13.2 (4.02m/s)
Drivetrain base: 550mm wide, 600mm long
In inches that is: 21.65" wide, 23.62" long
Wheels 50mm wide nitrile tread, custom made aluminum milled wheels.
Below our the wheels shown of our test rig, these are little smaller in OD than 4".

3DM UPDATE
Our 3DM department has been working hard on some impressive stuff. Everybody thinks that with the limited amount of game pieces and the feedback time of the field a starvation of game pieces could happen. But what are those odds and can we predict a starvation of game pieces. Should we be worried and how would it determine our own cycles?
They been modeling the game with potential outcomes, cycle times and average CARGO availability throughout the game on the field amongst other things.
They're wrapping up their analysis and we'll be sharing our approach and results in The Open Alliance Show hosted by @Greg_Needel and @Tyler_Olds on FIRST Updates Now.
After the show we'll upload our findings and conclusions on CD as well.
If you have any questions, you know where to find us!
Hey, I'm curious as to how you landed on 4" wheels for the shooter rather than any other size. We were testing with 6" and 4", but ended up liking the extra surface speed the 6" gives. Since this year the size constraint isn't too bad, we're thinking of the 6". Is there anything we might not be considering other than mechanism size?
Good question! Whenever there is a game piece we are trying to launch with a flywheel our starting point for prototypes has been a 4" wheel 1:1 with a CIM and adjust compression. More recently we have switched to a NEO because of the ability to control it from a laptop and get accurate RPM feedback. If this can hit the desired results we can then choose different size wheels and gearing to achieve the same release velocity. In theory a larger diameter wheel has a longer distance to transfer energy to the ball for the same release angle which can result in more consistent energy transfer, you can see this taken to the extreme in FRC2481s 2020 robot. Hopefully this answers your question, if not please let me know!
Awesome, I think we'll stick with the 6" then (ordering some more "official" testing parts this weekend). We also landed on ~1.5"/40mm compression (possibly more if we expect deflated cargo in competitions) based on similar testing, which was reassuring to see in your post lol. Thanks so much!
Hi! Your wheels are seems really cool and effective. Are you planning to publish print or design files?