After a bunch of different swerve modules were modeled by our team over the last few months we have finally decided to build a swerve module this offseason. We have been working on it for a little while now and this is what we have so far. It's been through a few design reviews and revisions so it's very close to being a finished product.
Our goal in this module's design is for it to have a footprint as small as possible, to be as thin as possible and also to be completely manufacturable in house (lathe, 3 axis CNC, 3d printer).
We chose to use a 775 RedLine for the turning for two reasons: we have no experience working with Neo motors and also we already have a lot of 775 RedLine motors and Talon SRXs and would rather not spend more money on Neos and SPARK MAXes.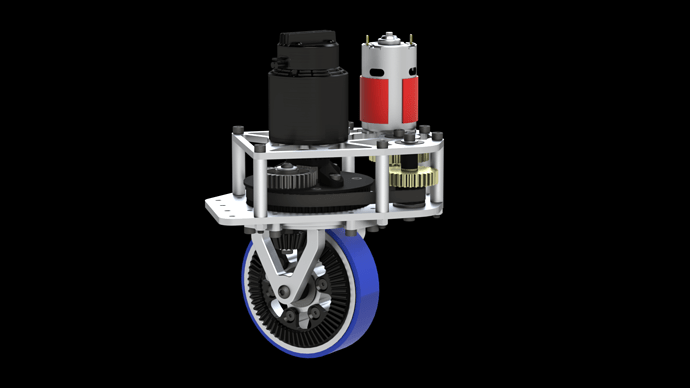 Specs:
Weight: 2.16kg / 4.75lbs
Footprint: 176mm x 131.6mm x 133.5mm / 7in x 5.2in x 5.25in
Drive Gear Ratio: 11.64 : 1
Free Speed: 3 (m/s) / 9.6 (ft/s)
Loaded Speed: 2.6 (m/s) / 8.5 (ft/s)
Steering Gear Ratio: 43.17 : 1
Free Speed: 7.2 rps
Loaded Speed: 6.5 rps