I've been getting a lot of responses both here and on the Discord telling me i should've used a Falcon or NEO 550 for the turning, with the main arguments being less reduction and weight. After looking at it more closely, i just wanna point out that neither of these motors would actually mean less reduction, at least in terms of stages- my module has 3 stages of reduction for the turning, which is really just a mistake on my part.


Looking at it again, i could've just as easily done the same ratio with 2 stages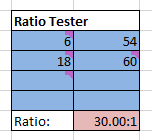 A 2 stage ratio would in hindsight be better in every aspect- efficiency, weight, space, complexity etc. I made this mistake because i'm so used to the 775pro 12t 32dp pinions and didn't even think of using a 20dp. If i get around to making a MK2 this is probably the first thing i'll change.
But either way, this does mean that using a Falcon or NEO/NEO 550 really doesn't help much since it would still require the same amount of stages in reduction and either just needlessly complicates the software side of things or costs too much