Kickoff Plans 2023
For 2023, we decided to take a step back from our approaches the last couple years and try to develop a more streamlined, prototype-oriented, approach to the first weekend. Many ideas present here are borrowed from @ShelbyA's kickoff resource. I recommend that anyone and everyone looking for how to run their kickoff tomorrow review that presentation. It is unmatched.
We are making use of the 2023 version of our kickoff worksheet, which helps the team to fully understand the rules in the first few hours. We have streamlined this worksheet since last year as well as updated the examples to include the 2022 game so it is more approachable for current rookies and second year students. This worksheet drew heavy inspiration from the 2791 kickoff worksheet and 1678 offseason strategy training.
Below is our schedule for the first two days. You can expect blog posts from us at the conclusion of both days. I will also briefly explain the important aspects of this schedule below.

Break into groups, Manual reading, and Worksheet completion
Similar to last year, we are breaking into predetermined groups for the first read through of the manual. There will be separate student groups and mentor groups. Student groups will have a "leader" who is just there to ensure the group stays on track. The groups will read the "relevant" part of the manual aloud, switching the reader every paragraph. We think this will be good for getting a good initial understanding of the manual, as well as accommodating team members who may have a harder time reading. Following the reading, teams will complete the aforementioned worksheet in the order the questions are written. This should hopefully mean that by 3:45p, present members have a strong understanding of the manual.
Robot Archetypes / Game Sims
The easiest way for me to explain is to just post a screenshot of Shelby's presentation: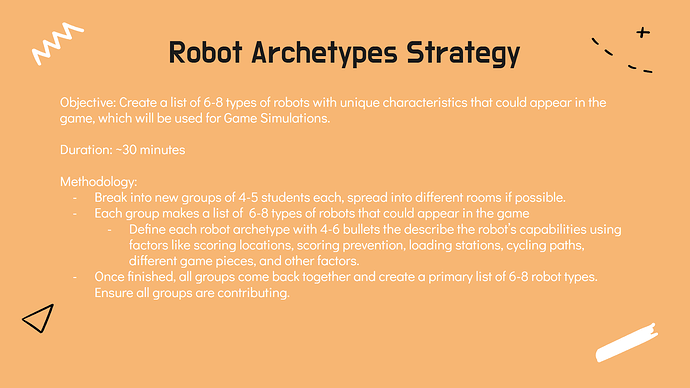 We will be mostly following this methodology, but plan to probably spend longer on this exercise. Some students and mentors will start work on potential game simulation tools (details TBD)
Discuss game info, Discuss high level strategy, Robot priority list
At the start of Sunday, we are going to have a relatively off the cuff discussion of what we think we may have missed the first day. It's hard to know what to expect here. Following this we are going to have a discussion about high level strategy for the robot and what we want to see from the top-most level. This can be things like "be able to solo a rocket" or "be a strong low goal scorer." Immediately after this we create our guiding priority list, which will be using the MoSCoW format (another idea we stole from @ShelbyA , noticing a trend?). This means that our goals are broken into Must Have, Should Have, Could Have, and Won't Have. During this part we intend to get more specific and have things like "intake two balls at the same time" or "5 ball auto." This list will be living and changing over the coming weeks, but will be the guide for our prototyping and design strategy.
Brainstorm mechanisms, Select early prototypes, Prototyping groups coordinate
For the rest of Sunday, we will be coming up with prototype ideas and starting the initial work to get them rolling. Early on, we will break into our preassigned prototyping groups, consisting of 6ish students and a couple mentors. These groups are determined based on a balance of team member experience, subsystem interests, and subteam. These groups will come up with ideas for any prototype for any subsystem and prepare to pitch them to the greater team.The full team will then discuss these prototype ideas and select which we are going to move forward with. The prototyping groups will then reconvene and coordinate for how to move forward.
If you have any questions or comments, feel free to shoot me a PM or post here.
-Connor