The 6328 Scouting Experience:
System Overview
We have been using a custom scouting system since 2019 to collect and analyze data at events, and it has been an integral part of our success, especially this past season. We use a custom app, which we run on Kindle Fire HD tablets to collect data and upload to a laptop over bluetooth. This data gets stored in a SQLite database. We then do post processing with an Alteryx workflow to sanitize our data. Finally, we use Tableau and Google Sheets to visualize the data for match strategy and alliance selection.
Switch to Svelte
Our offseason project was to migrate the front end of our app from plain javascript canvas, to Svelte in an effort to modernize the app. We also took advantage of Tailwind CSS utility classes and the DaisyUI component library to improve our UI design. This switch has drastically improved our development experience while also cutting down on our development time.
App
UI Design
In past years we used a layout that mimicked the field. However, this year we opted for simplicity and functionality. We realized that with the field based layout, components moved around based on the alliance color and field orientation, leading to an inconsistent experience for scouts, which is why this year every element is in the same place no matter what alliance is being scouted.
New UI

Old UI

Here is a walkthrough of the entire app:
The auto section consists of two pages. Scouts enter into the "pre-match" page, where they select the configuration of the starting game pieces and robot location before the match.

The start button takes scouts to the "Auto" page, where scouts enter robot actions in auto, including nodes scored, charge station interactions, and mobility. Note that the engaged button is disabled by default. This is because a robot cannot be engaged without first being docked.
The "Teleop" page is set up similar to the "Auto" page, but has options for game piece pickup from the single and double substation in addition to the floor.

The post game section contains various data fields that scouts fill out after the end of the match, including ratings and comments.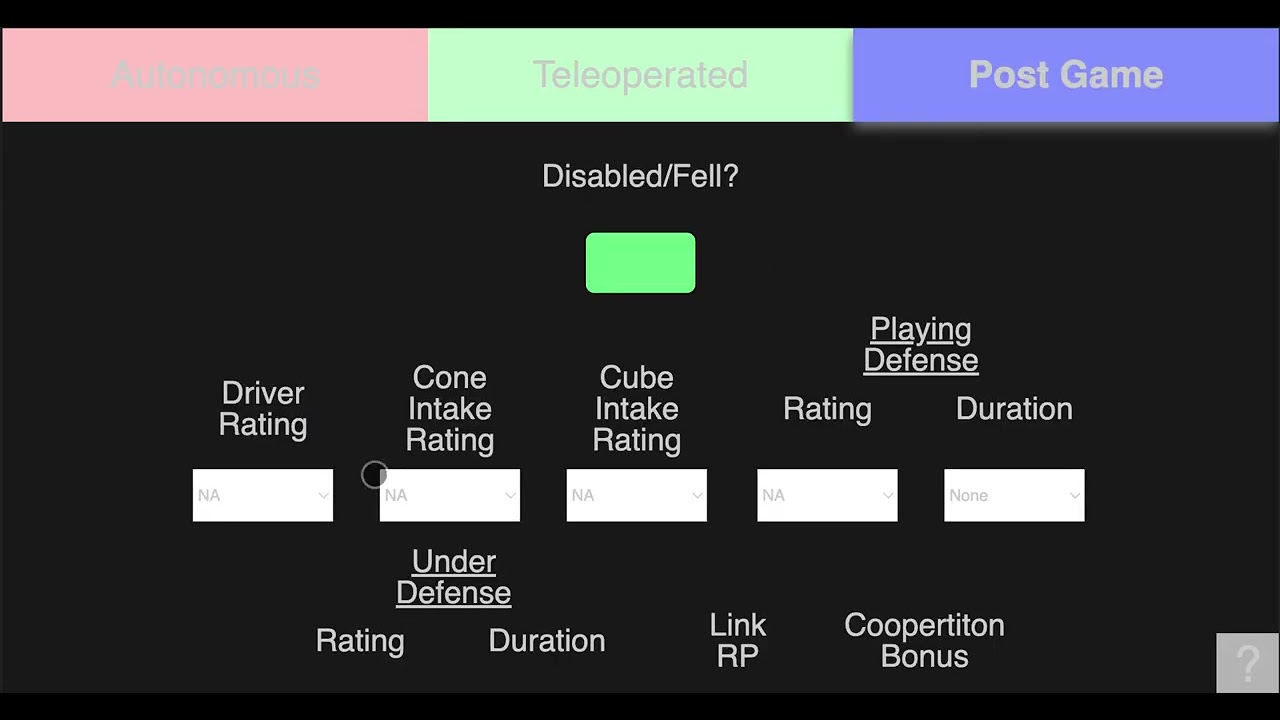 Admin Page
Our admin page serves as the "control center" of the scouting system during an event. From the admin page, the scouting systems lead can configure who is present in the stands, assign team preferences to scouts, monitor the status of the kindles, and monitor the upload status of data for each match.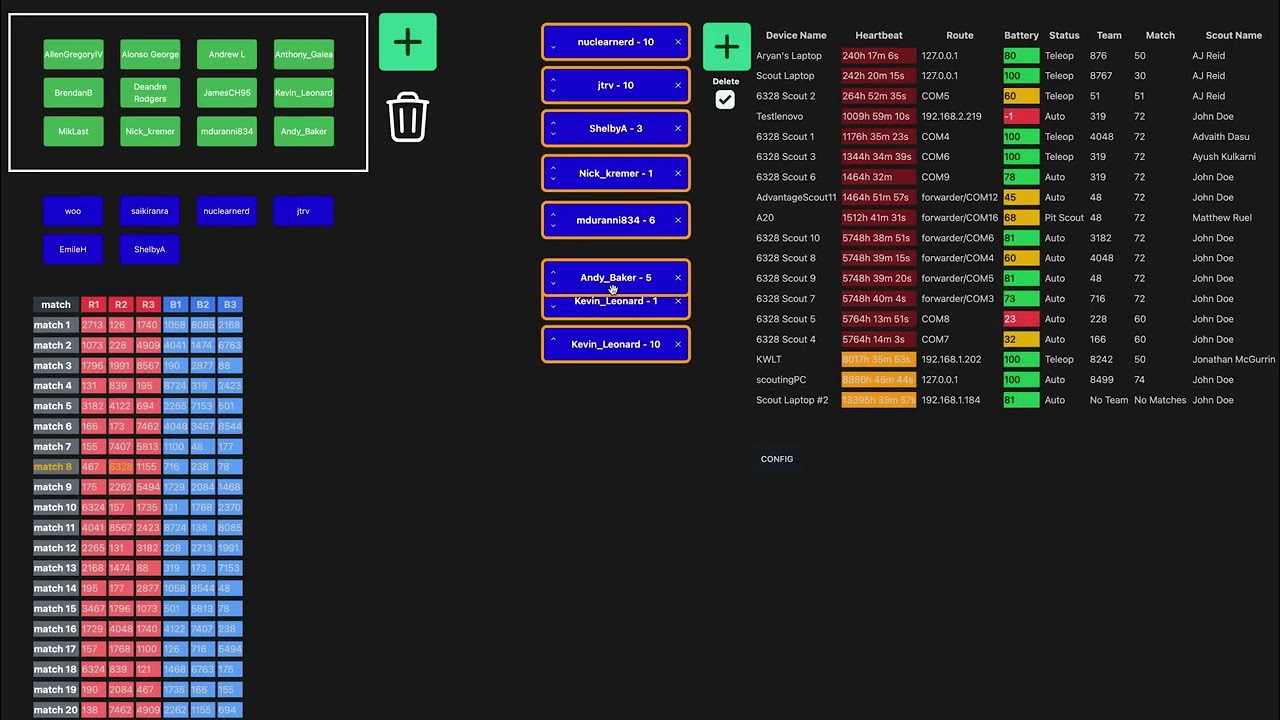 What data do we collect?
Below is a list of all the data we collect through our app.
Match Scout:
Starting Location
Starting Game Piece
Starting Midline Configuration
Mobility
Scoring Location

includes scoring both game pieces at all 3 levels, as well as an option if dropped
Pickup Location

Includes ground, single substation, and double substation
Charging Station
Disabled/Fell
Ratings
Ratings

Driver rating
Intake ratings for both game pieces
Defense rating
Under defense rating
Ranking Points
Comments
Penalties
Pit Scout:
What drivetrain they use?
Multiple Drive Teams?
Dimensions
Build Quality

A mostly subjective rating that indicates how well we think the robot is built
Programming Language
If they use a gyro for control
Picture of the robot
If you have any questions feel free to post here or shoot me a PM.