I am excited to launch the 2022 Open Alliance build thread for 7407 - Wired Boars!
7407 started in 2019 and unfortunately have only had 1 complete competition season in 2019. I started with the team this fall and we have been busy bees prepping for 2022! A little bit about us:
Our school is Choate Rosemary Hall and we are an independent boarding school in Wallingford, CT. 7407 welcomes students from all over the world, which is pretty cool! The way our team works is pretty unique, as we have a full academic signature program dedicated to FIRST Robotics called the "Advanced Robotics Concentration" or ARC, as we like to call it. Students can apply for ARC after their freshman year at Choate. Right now we have 23 students in ARC, and these students take a variety of FRC-based robotics courses:
CS450HO - Robotic Design & Fabrication: I actually got to re-write this course last summer so we are running a fully custom FRC curriculum in this course! This course is intended for students brand new to ARC and focuses on the mechanical aspects of FRC. Students learn how to use CAD software (Onshape) through a FRC-based design challenge. This year I chose the task of designing floor gear intakes from 2017, and the students designed, manufactured and tested their designs in class. Students also learned how to operate all shop equipment (hand tools, power tools, 3D printing) and how to run the CNC routers. Additionally, students used the NASA RAP Guide as a textbook, and there were weekly reading assignments and reflection questions from the book to complete. If you are interested in checking out their final design posters and technical reports you can find those linked below, soon to be posted to our website (currently under construction)

https://drive.google.com/drive/folders/1jcDyeWqIShacQFbgSskll4yZVBi_KMJp?usp=sharing
CS560HO - Competition Robotics: This course is just as it sounds - time to build the competition robot in class! We have 2 sections during the class day that meet 3 times a week for 1 hour and 10 minutes. This class started after Thanksgiving so we had a few weeks to do additional prep for build season. I really liked this format so I think we will run this in future seasons. Students were able to choose one A project and one B project to focus on. A projects included prototyping cargo and hatch intakes from 2019, fabricating a swerve drive, fabricating an elevator design that was created in 2021, designing and fabricating a pneumatic linkage to attach an existing 2018 cube intake to a swerve drive, finalize swerve drive code and make autonomous pathing routines, write teleop code for an existing tank drive, and creating a 2-stage parametric elevator CAD model in Onshape. We actually fabricated this elevator with our buddies at 2168 and will be sharing the full parametric model and results from building the elevator, and the students who worked on the model will be writing a post about it soon! B projects included technical mentorship of other teams, pit design, various media projects, technical documentation and awards prep, CNC management and scouting systems.


CS570HO - Autonomous Robots: This course will go a full overhaul this upcoming summer, but we are doing a mini redesign before we run the course this spring. This course is intended for advanced programmers and students will have already taken our intro to CS courses before this class. All of our coding classes at Choate are in Python so that is the language we are using for FRC code right now. The general idea of this course is to have a variety of FRC drivetrains available to the students (tank drive, swerve, maybe an H-drive?) that they will create various autonomous routines for. I am also thinking of making a project around automating the 2020 ball tunnel as right now there are no sensors and I genuinely have no idea how the students were able to operate it and make it look easy I have been asking around for ideas for this course so please reach out if you do! I will be doing a full re-write in summer 2022!

Potential Future Course Add - Advanced Robotic Design and Fabrication: Our long-term goal is to add this course to the ARC line-up eventually, with the idea that we would invest in more advanced machining equipment and have the students design more complicated FRC-based mechanisms.
So that covers the academic side of FRC at Choate! But there is always more!
In addition to class time during Competition Robotics, FRC is considered a "sweat sport" at Choate (we love that name) so students get athletic credit during winter term. This means we have afternoon meetings just like sports teams. The afternoon schedule in MTRF 4-6 and W 130-430. We also meet on Sunday's.
On Sunday's our club robotics team also meets, as they are currently preparing for their VRC competition on 1/22! We brought VRC Teams back this year as a measure to include more students in robotics on campus as well as recruit students for ARC. Our Sunday team has about 25 members, mostly freshman and sophomores. We also started an FLL program for kids of faculty and staff on campus and ran 1 Discover team, 1 Explore team and 1 Challenge team, about 25 students altogether. Students in ARC and in Sunday club robotics helped mentor the teams this fall. Once their VRC competition is over, I will be working on bringing these students into FRC projects, especially scouting systems, pit design and really anywhere else they can help out.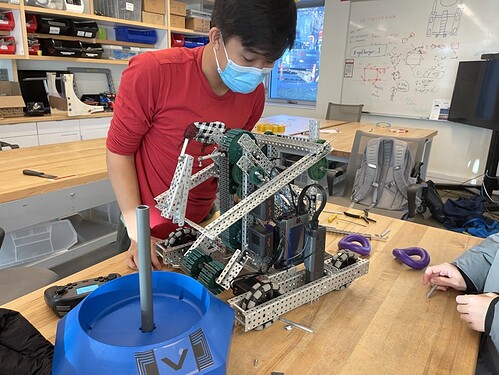 Many of the students in Sunday club robotics also take our Intro to Robotics 1&2, as these electives are open to all students at Choate, not just ARC students. Intro 1 focuses on VEX V5 based mechanical building challenges for the first half, and then coding challenges for the second half. Students use the VEX V5 Pro coding software so they get some C+±lite exposure and get a general understanding of how robot code works. I am teaching Intro 2 in the spring, and it is more of the same, just more advanced building and coding challenges. I taught Intro 1 in the fall and it was a blast! Like I mentioned before, there are also lots of coding classes at Choate students can take, from intro to more advanced topics in Python.
Unfortunately, classes are virtual at Choate right now until otherwise announced. Thankfully teachers live on campus so we should be able to run parts the students design virtually for prototypes, but I hate that they may not be able to do it all themselves. Kickoff is looking like it will be 100% virtual right now, so check back for virtual kickoff resources!

Later this week we will have links to our social media, GitHub and 2022 Onshape! I am currently working on getting my students going on writing these posts so expect to hear from them soon!
Please reach out with any questions you have about our team, classes or anything else (: