Posted on the FRC Blog, 8/3/2022: https://www.firstinspires.org/robotics/frc/blog/2022-2023-event-listings-and-frank-farewell
2023 Event Listings & A Frank Farewell

2022 AUG 03 | Written by Frank Merrick, Director FIRST Robotics Competition

2023 Event Listings

The 2023 FIRST Robotics Competition season is fast approaching! You can start planning your event attendance now by checking out the list of official events we have posted. Many more will be added in the coming weeks. We list an event when we have a written agreement with the venue, the event's projected capacity, and the event's site documentation. Our goal is to have all events posted by the end of August. As a reminder, first event preferencing is scheduled to open on September 22.

While we have started posting events, we won't be opening Volunteer Registration to allow folks to volunteer for those events until the end of October. We'll be sure to remind you when it opens, so stay tuned.

A Frank Farewell

This is my final blog as an employee of FIRST, as I am retiring Friday. As I noted in the blog announcing my retirement, my time in FIRST Robotics Competition has been a privilege and a blessing, and I am absolutely convinced an even brighter future for the program lies ahead!

FIRST is in the process of selecting my successor. In the meantime, Collin Fultz, currently Senior Program Manager for FIRST Robotics Competition, will be taking over my responsibilities. As well as being an alum of the program, Collin has worked in several departments within FIRST and even served on the Board of Directors of FIRST Indiana Robotics. The program is in great hands!

While I am retiring, I'm not going away, and I hope to see many of you at events in the coming years!

Frank
---
I don't normally add in my own commentary to these posts, but I figured this special occasion warrants it. It will certainly be a tough mission for FIRST to find a worthy successor to Frank Merrick. The amount of passion and pride that Frank exhibited towards FRC each and every day was simply unmatched; not just towards the organization as a whole, but the individuals within it as well.
True story: Back in July 2016, Frank had noticed that I ~uncharacteristically~ missed posting two consecutive FRC Blog entries on Chief Delphi. While this likely didn't even register for most others, Frank personally reached out to me via email to make sure I was doing okay. Despite how small this action might have seemed to him at the time, the fact that Frank took even just a few seconds to check in with a random internet stranger says wonders about his incredible integrity and loyalty.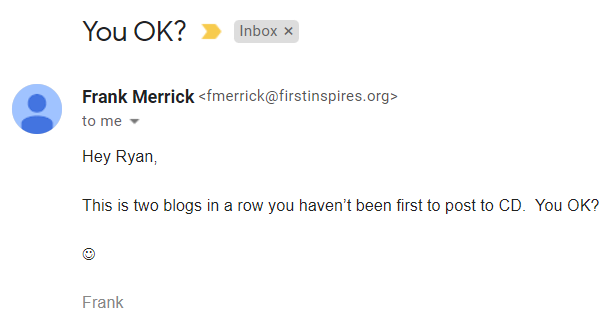 Thank you, Frank, for all that you've done for FRC and its participants over the past several seasons. Enjoy your well-deserved retirement, but we certainly hope to see you at future competitions in the coming years!