If it were my shop:
Frisbee the waterjet. Extremely maintenance and overhead intensive, offers precious few advantages over plasma+laser+router.
4x8 Routers are flexible machines that are generally easy to train with.
Lasers are awesome, very low-risk to train on, and flexible. Just more expensive than routers.
CNC plasma can, and should, be used more commonly in FRC. They can rip through aluminum quickly and with 'good enough' tolerances to be worked around. For example, these 1/4in arms for our 2014 robot were plasma cut in <6min each.
Every bit of aluminum sheet on that robot was at least blanked-out on the plasma cutter.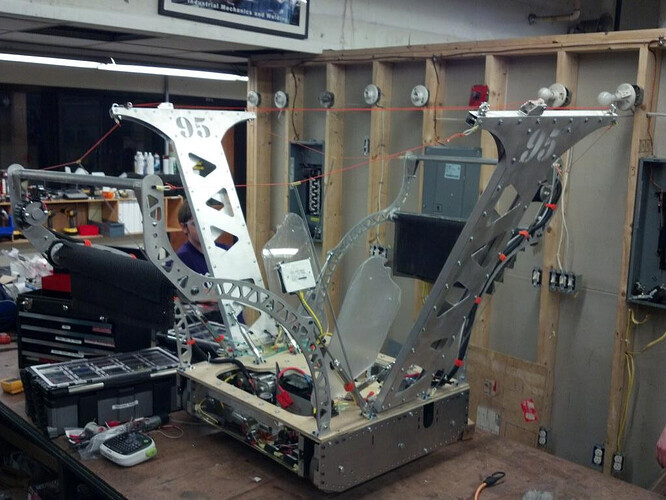 It is quite time-effective to plasma-cut blanks and then dust them in on a router or mill. Cut the precision features +0.02 on the plasma table, then skim them to size on a more precise machine.
I would love to get a CNC press brake as part of outfitting a new shop. It's a machine that is extremely common in industry and I've never, ever, seen one in a tech center or FRC workshop. Then you'll be off to the races making sheet metal parts until you're blue in the face.