Hi guys!
Over the past semester me and a teammate decided to build an FRC electronics diagramming GUI for both build season as well as rookie training. Included are most FRC parts, an automated debugger for all diagrammed circuit errors, complete LED simulation, saving/importing, and pretty sweet animations (Built with LibGDX).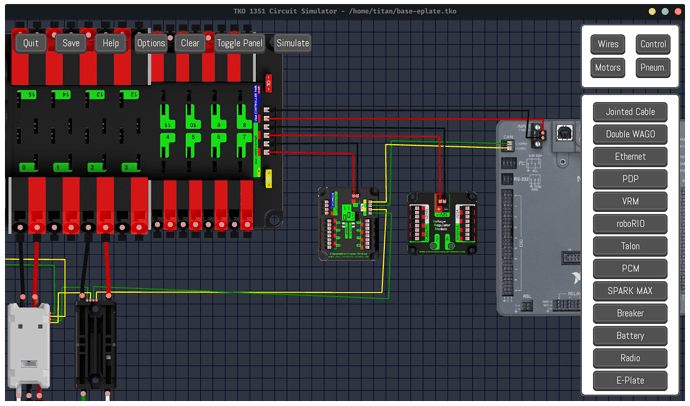 Features include:
realistic FRC components and configurations
accurate simulation and debugging
saving & importing
cross-platform (Windows, Mac, Linux)
an awesome GUI
I'll link the GitHub project, as there's more info there: GitHub. It also has more detailed instructions on how to install/run the program.
I will say to keep the following things in mind as you check out the project:
It is still buggy in a few places (specifically save/importing and cable management)
Not all FRC components have been implemented, parts may be missing
The code is a bit messy, uncommented, and is yet to be cleaned up
Windows is still in beta, run from gradlew if possible (documented on README)
Expect a few bugs, but if you find any fatal ones go ahead and open an issue on GitHub. Any additional feedback is appreciated

If you would like to check out a few prebuilt circuits, I'll link the save files below (chiefdelphi won't let me upload them here):
This took us quite a while to make, I hope you guys like it!