I love when fire codes back up my gut "I've got a baaaad feeling about this"
If you're in a low humidity area, you should know the foam floor tiles really increase the risk of ESD.
Our foam tiles are just in the center of the pit. Our tools and table do not have tiles underneath.
You betcha. I don't have the exact model on hand but we ended up going with adjustable ones. Anything that can grow/shrink between 8-10 ft range should fit most venues.
Drape, actually, we just made our own valence for the top, and our own lightweight backdrop that changes year to year. Ideally we leave the sides open so we can talk to our neighbors.
Useful thread. We are doing a total pit redesign and are weighing the merits of 1x1 tube vs expandable pole structure. At least with the former you could eventually scavenge it for robot construction! But for ease in set up the poles look superior.
I think a tailgating canopy is actually a great choice. It's built to easily deploy and folds back up into a compact package. If desired/required you can leave the cloth part off when indoors, but you can hang a lot of led lighting from the frame and get better pit illumination than any venue I've seen. You also have a handy means of sun/weather protection for any outdoor events you might have.
In 2012 my team invested several thousand dollars in an aluminum truss structure (powder coated red) that we used until this year for our pit "structure" (shown in the attached photo).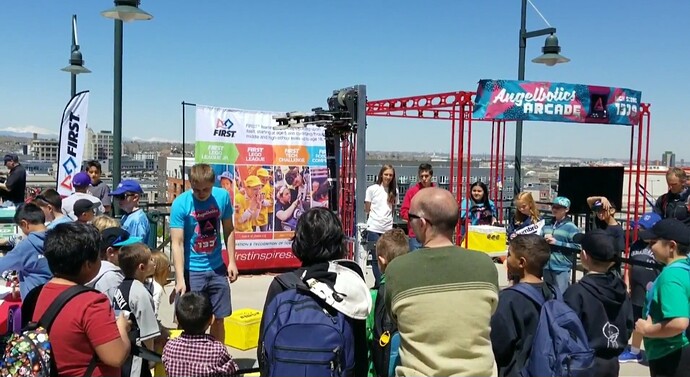 The problem has always been that aside from providing a place to hang a banner, it provided no useful surface to do things like store tools and parts, organize team wares, or work on the robot. It took a lot of storage space and took time and effort to set up as well. I've reached the point where merely decorative structures like ours baffle me; I don't really understand why teams put in the effort. Instead I recommend (as others have above) listing all the things you need to make your competition successful (such as a work surface for the robot, tool storage, parts storage) and draw up a flexible plan that can meet those needs, then make purchases that will get you those things.
We don't use foam tiling, but we got some off cuts of rubber gym flooring. You know, the stuff that's designed to hold thousands of pounds of weight racks on a few contact points. We haven't seen any deformation from the workbench or battery cart, but we don't put it under the corner pillars.
This is the part I've always been amazed by. Every year we watch teams work for hours on load in to build their pits and then again when it comes time to load out. We prefer a minimalist approach to pits and only have 4 rolling parts: workbench/storage, battery cart, robot cart, and toolbox. Total unload and set up time is about 15-20 minutes for one person, less than ten minutes if we have 2-3 people.
I am looking into how to integrate a overhead work light for the upcoming season that will package nicely with our existing workbench.
When I have seen teams do this, it looked great from outside the pit. Unfortunately, once one starts working on the robot, one creates a lot of shadows, making it difficult to see what one is trying to work on. Perhaps if there were many light sources distributed around the pit, the shadows could be overcome.
None of my trucks fit in my tiny little 1930-era garage so I use one in the driveway for underhood work. I have 8 led bars under it. With 8 linear sources, shadows aren't an issue. Lighting is definitely sufficient (and then some – way more than makes it though my trees).
Steering back towards FRC, I'm not sure how practical it is, but team 5006 "Apophis" has one of the coolest themed pits I've seen.

It may work in your application. Your truck is much larger than a robot and you probably have fewer people to block the light. The times I have seen teams do this, they got shadows, especially when there were several team members and mentors crowded around the robot.
FTC teams concur (especially pre-REV control system).
Is this drawing of flight case the same as the ones produced by the omega cases?
I took the 4414 prints & drawings and created this OnShape assembly…there might be some differences in assembly? Could use another set of eyes on it
This is great, thanks!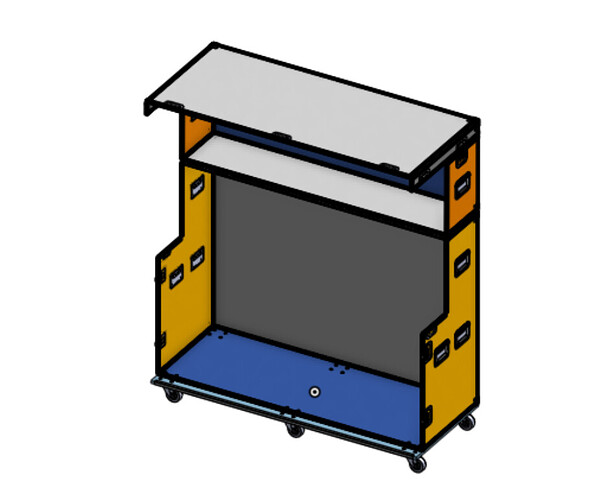 I've been toying with the OnShape model all afternoon to see if I can improve the design.
On that note - can someone tell me why 4414 and others chose 60" as the maximum collapsed height of the case? I'm debating shrinking the whole thing so it will fit in a UHaul trailer (< 58" tall opening) if necessary. I'm also looking at narrowing the wheelbase a smidge so that it can be pulled up a 24" wide U-Haul box truck ramp.
We have a very similar setup that's just a tad smaller and can fit in a trailer. We tend to use the road case side with a typical husky toolbox and use the provided table on the side for programming related things with spare part storage underneath. This gives the pit a more open feel, and is a breeze to pack and unload (takes up half a uhaul trailer at the max).
Yes, please improve it! I wouldn't say it's in a releasable state, but hopefully it's useful enough for some teams to do some rough planning/design/mods. I originally put this together for @Tostadinator who bought a set of the 4414 Omega cases.
@nuclearnerd a lot of teams with these road case pits (1323, 1671, 1678, 4201, …) have 14' trailers that have full-width ramps. You may want to check those Uhaul dimensions in person…I know the roll-up door on a Uhaul truck doesn't clear the opening completely and takes away interior ceiling-volume (also need to think about the ramp angle). Going narrower on the wheelbase could make it more tip-able? (something to watch out for, safety first! when securing the cases, make sure you ratchet strap flush against surfaces and put the weight forward of the axle/wheels: https://youtu.be/4jk9H5AB4lM)
We put these on a open flatbed truck via a lift gate so none of this was a thought for us. You can probably squeeze 2" out if you needed but would be careful going any more than that, the clear bins fill the top shelf pretty optimally. Omega case should be able to adjust our design as needed I'm sure they got it down by now…
We built our pit out of 80/20 framing. It wasn't cheap, probably around 5-7k in 2020. This doesnt include bins, tools, chargers etc. but it is a phenomenal setup, includes a banner stand integral to the structure, and 80/20 gives FRC Teams a discount. If you are interested let me know, I will post a picture.
I like the idea of an elevating top shelf like 973's super pit. That way no one has to do any manual lifting. I've been trying to think about how to have that and still allow the top shelf to be removable (so that it fits under a 41" tall Prevost H3 underfloor bus bay if needed).
Here's a potential solution: Does anyone see any issue with using two of these motorcycle jacks to lift up the top shelf in a 973 style superpit?
https://www.princessauto.com/en/1100-lb-motorcycle-atv-lift/product/PA0008667818