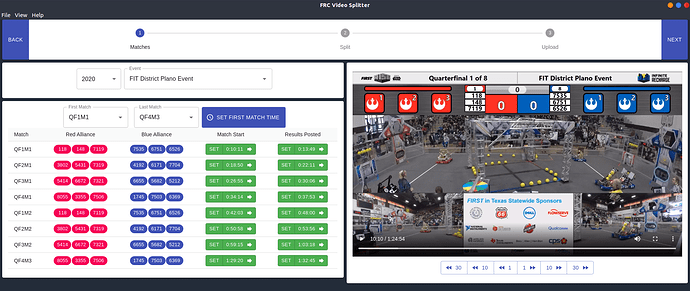 I'm excited to announce the beta release of
FRC Video Splitter 3
. This one is quite different from the previous versions.
Cross Platform - First and foremost, it's built it Electron and can now be run on Windows, Linux, and macOS*.
Included Video Playback - See the video right in FRC Video Splitter, jump directly to match timestamps, you can even extract the timestamp directly from the video's current position.
Actual UX - I've learned a lot of front end development since I published FRC Video Splitter 2 over 5 years ago.
Proper Software Architecture - It's built on Electron and React, which makes the code quite modular and easy to extend, expect more features soon.
*publishing for macOS requires a $99 developer license that I don't have yet.
This is a beta release. If you experience problems, please file a github issue.
Planned Features
Automatically trim long delays between end of match and match results
Add pre-roll images before each match.
Suggest more in the thread!