The NUTRONs wanted to take a moment and drop these files into the wild before the heat of kickoff is actually upon us. We developed a printed 2" mecanum wheel that we were pretty happy with over the last 2 seasons. We first uncovered the wonder of the vectored intake wheel in 2014 and since have been deep in the V.I.W. (vectored intake wheel) game, particularly with printed parts. Even if not actively trying to 'center' the game piece, we've found capping an intake roller with a mec wheel helps to grab when out on the extremity of the roller.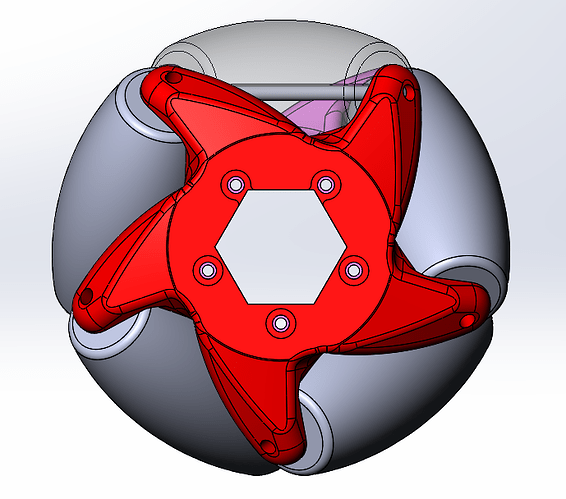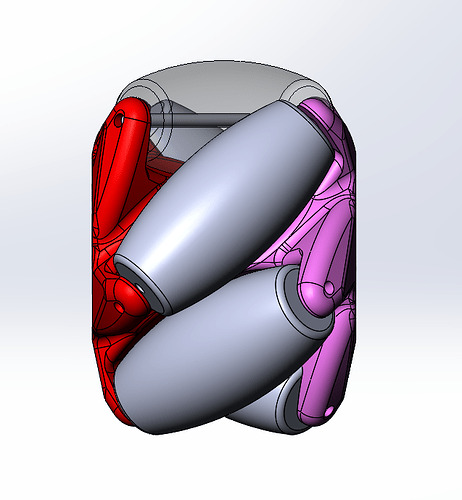 Printing small mecanums makes a lot of sense if the game and game piece calls for it:
Intake rollers tend to be longgggg, so outfitting an entire roller with mec wheels becomes expensive
Intake rollers tend to get messed up, so having cheaper replacements also makes sense
Because the wheels can be assembled, they can also be disassembled, which makes them easy to be repaired, etc
Mecanum wheels tend to get heavy because of all the parts/pieces, controlling the weight with your own plastics is a big plus
There are 5 printable part files in total: LEFT-A, LEFT-B, RIGHT-A, RIGHT-B and the ROLLER.
Each individual wheel requires:
QTY (5) of 1.5" long, 1/16" diam, dowel pins
QTY (5) of #0 Thread Forming Screws (for plastic) - it's possible to use fewer screws if you're feeling lucky
QTY (5) of the printed ROLLERs
QTY (1) of a wheel's "A" part
QTY (1) of a wheel's "B" part
Tips/Tricks:
Due to the size of the hole in the individual rollers, we recommend chasing the printed roller with a drill bit to get a nice free spinning fit. We've had tremendous success with this technique making nice, free-spinning rollers.
The rollers can be a bit tricky to print, we'd recommend a raft for the printed part, or a support tower if you're having issues
These wheels were used successfully in the 2019 season by the NUTRONs, 1678, 3476 and 1323.
We hope they help other teams in the future!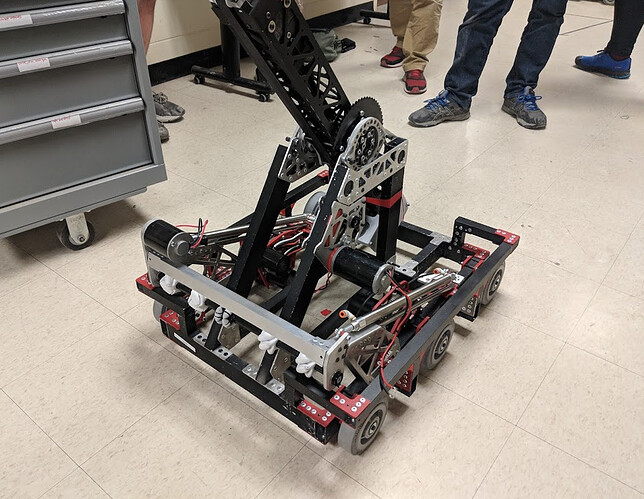 Without further adieu the STL files can be found here: https://drive.google.com/file/d/1xv5hIl8pUSDNbyTBSXNPV_aDzjY6zR6f/view?usp=sharing
STEP files here:
Right: https://drive.google.com/file/d/1P6F_jfHLSCmsnUrW3_ajvnYv_zUl2-JQ/view?usp=sharing
Left: https://drive.google.com/file/d/1LjsXnLDHOHSd92crhBou3zngerlbahTb/view?usp=sharing
Feel free to reach out if you have any questions/issues, or find anything interesting in the design. We love hearing from folks who used them and to hear any suggestions to make life easier in the future.
-Brando