Could someone post a video of these in action on the power cells?
Started the Printer 10 minutes ago.
What print settings did you use? When we printed on our MF, there were some holes that appears on the sides, which when looking at the internal view, are due to how thing the walls on the 6 holes around the center are. We then tried to print one using expand thin features and although the holes around the sides were gone, the hex became too tight.
See attached:

These are of the printed wheel with thin features expanded:

I had the same issue printing on my ender 3 with .2mm layer height and I think 30% infill no supports anywhere. I don't think it's a big issue though
Thanks, I'll give that a try, but why no supports? I wonder if using turbo print had anything to do with it, as that does make the infill .2 layer height.
I've had some problems like that with turbo print on small parts. When I looked at the time savings turbo was only saving 10-15 minutes so I disabled it. I have had good luck with it on larger parts.
Im new to 3d printing so I just pulled ender 3 profiles from GitHub and used those with slic3r. It seems to print pretty well I haven't tried messing too much with the speed
Oh, and for reference this is what the layer with the hole looks like when expand thin features is turned off: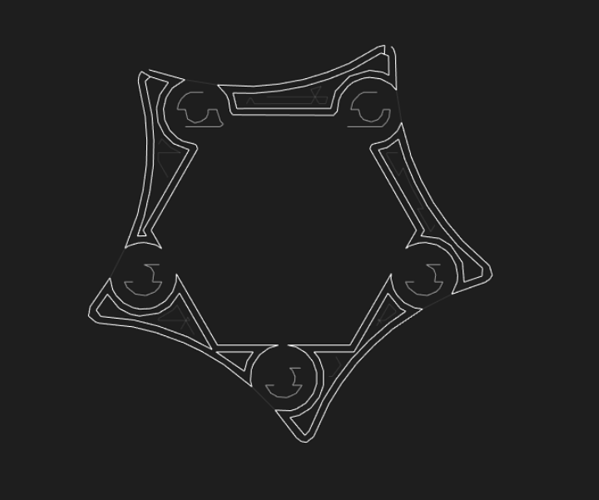 I'm running into the same issue. My printed parts have holes in the same places, even after slicing the file for a 0.25mm nozzle on ultra detail.
What nozzle size are you printing with?
What is your layer height?
Infill percentage?
For the bases you are printing without any support? The angles for the arms of the bases seem pretty steep for not having support.
Same here. Slicer (or PrusaSlicer) is having a real issue with this STL. Slice it in Cura and the slice preview is much better. I haven't actually printed it yet, though.
Cura seemed to have the same issue for me. (I only noticed after printing.)
I've been printing hatchbox pla on a brand new ender 3 pro(0 mods) at
.28mm layer height
20% infill (cubic)
like 10 wall brim
(I'm getting around 3.5 hours per wheel)
using all cura generic pla settings, I haven't needed any supports.
but all my prints also have the hole on the sides.
Do you have detect thin features enabled?
We printed them with a .4mm nozzle, .2mm layer height, 20%infill, no supports and they came out quite well. We do have the holes in the side but they don't seem to be an issue
I can't find a local supplier for the fasteners anyways. Instead I just glued the two pieces together in CAD and printed it as a single piece. Going to see about picking up some "comparable" dowel pins and jamming them through to secure the rollers. Hopefully that will get me a working wheel.
My print settings are similar to what you've got going on.
Though I have gone ahead and done up a different approach in CAD that I'll see about printing tonight. I may abandon this printable wheel if this other thing pans out. I'm really just looking for a quick & dirty & cheap way of prototyping/validating the use of mecanums with our students. We can buy something nicer if we choose to go down that route.
I tried with and without detect thin features, it didn't make a difference.
We have 4 sets of parts ready to be assembled, aiming to have 6-8 by our meeting this Tuesday. we will be testing them then if our mc master order placed today(like 10 am) gets here by then. We didn't even look for a local supplier, mc master is simpler and fast enough, and saves us a trip to a hardware store.
I'm still very new to 3d printing so I didn't want to try something like fusing them in cad.
If our tests seem to have good results we will likely be printing more (out of the same pla or possibly out of nylon CF on a mentors prusa if we think strength will be a concern) if we don't like how they perform we will either try a different intake style or the wcp 2in mechanisms. (when they go in stock that is.)
It can be a hassle to get McMaster Carr orders fulfilled up here in Canada. (Unless that's changed over the last few years and I'm just out of the loop.)
So ive heard…
Here in metro MN, were decently privileged to get mc master orders in 1-2 days depending when we place the order.
For a rough prototype we just used steel paperclips and assembled that way. Works okay until you find hardware.