Hi there,
While I was scrolling through Instagram the other day, I came across an account, @frcisstrong. I usually follow all FIRST/FRC related accounts I find, so I went through their posts.
The account began a few days ago, soon after the announcement that the season was postponed. They only have two posts (as of March 15th), but the one that caught my attention was their first. The caption read "We have a document all about online competitions…"
My initial thought was, "How's an online competition gonna work," so I asked in the account's dm's.
According to the person I talked to, they are trying to plan a simulation competition. They want to create something where people can participate without traveling. While they do not have particular details about how this competition will be run, they do have a form in their Instagram Bio for anyone interested in helping out. I have linked it here as well.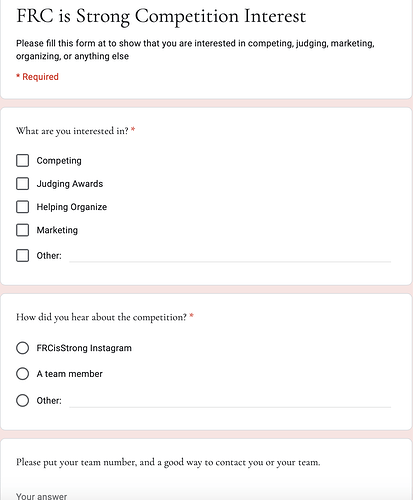 I know this season has been more than disappointing for most people, but I think this is a way to at least bring teams together for now. FRCisStrong is going to need a lot of help if they are going to be putting together this online competition, so I encourage all teams, mentors, alumni, students, and anyone else I have not mentioned to fill out this form and help prove that FIRST teams are stronger than the Coronavirus.
The link to the document mentioned in their post is here. It goes through all of the information about what the competition will be, what positions are required, and more.