How do we connect to the database?
On the website there are two buttons.
Integrate with Tableau lets you download a connector file. Opening this connector file with Tableau connects you to the most recent data and preloads some calculated fields and pictures of the field.
Connect to Database gives you the logon credentials to connect pgadmin (a program for connecting to Postgre sql databases) to your data.
Hi everyone! So I wanted to post some visualizations and usage statistics I made with the frcscout.com database.
Please check it out!
https://public.tableau.com/profile/publish/Demo_54/RobotRoleScatter
Disclaimer:
All data is collected by scouts (not just my own team) and therefore might not reflect the true results.
It has all of the data currently (8:00 PM PST 3/7/2015) in the database. I will refresh it and upload it on Monday to reflect this weekend's scouting.
Also, shout out to team 360 who scouted the Auburn Mountainview regional almost entirely offline (at one point a scout went 23 matches in a row without pushing data).
I'm trying to access the database through Tableau, and getting the following error:
See attachment 1
I'm using the file downloaded from frcscout for the login information.
See attachment 2
Any ideas on why I can't access the data?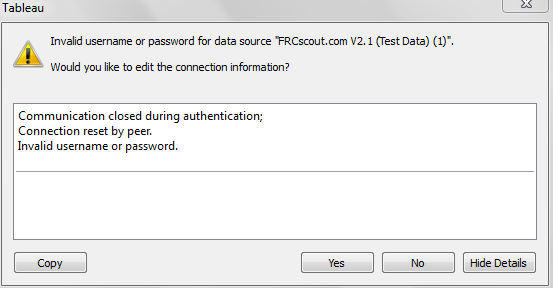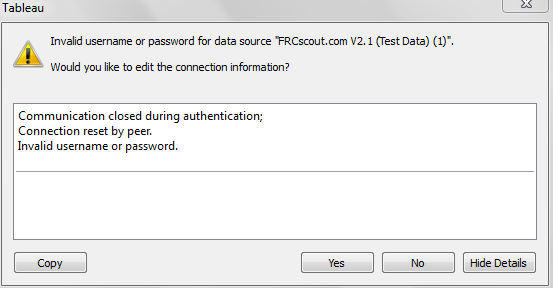 Looking at your logs, I think it is mostly that you lost connection during authentication. Try restarting your wifi and connecting again. It is working for me and our other developer right now so I think it might be on your side. Your logon information is correct.
Also, we provide a connector filefor Tableau that should handle the connection and give a few pre-made calculated fields to help you get started.
Just to make sure, you downloaded the PGSQL driver right?
Yes, I do have the driver, and I am using that file for the connection. I'm trying to use the public wifi available at the event, and that may be the problem.
That would probably be the problem. It takes a bit of time to extract the data. Bluetooth tether to your phone and use a data extract to avoid having to reconnect every time you move anything. Just refresh the extract every 5 matches or something.
Note that the organizers close down the public WiFi at many events (they did at CVR).
To the owners of frcscout.com:
First of all, love your website, kudos!
At competitions, the data is stored locally, and I was wondering if there was a way to access these files so that they could be sent over bluetooth. That would be a good way to get around the wifi problem at competitions.
To everyone:
Does anyone know an app or website where this could be done? We're looking for any scouting system that can send data over bluetooth or anything that could get around the wifi issue.
I made a quick walk-through to find the local storage and posted it to Imgur. Here is a link to the album: http://imgur.com/gallery/lvNY8/
If you want to make an add-on for your browser to use this raw data, be my guest.
If you have bluetooth though, you should consider just tethering your devices to the internet with bluetooth. It's what we do at competitions. As long as you have even one bluetooth enabled internet device, you are set.
While sending the data can work on very sketchy connections, for analyzing the data in Tableau, I strongly recommend USB tethering to your phone to minimize the chance of dropping a connection. Our database is getting pretty big so having a faster, more reliable internet connection is your best friend.
Please PM me if you have any more questions or if there is any way I can help you out for your specific case.
Happy Scouting!
Quinn
Thanks for the help! I eventually just used a phone as a mobile hotspot, and was able to get the data that way. Unfortunately, I had to borrow another person's phone, as mine doesn't allow me to make a hotspot. I'll have to try using bluetooth tethering.
this looks great - we brought it to our members at our team meeting today and they were all "finally, we get a chance to be involved in an easy way!"
thank you thank you thank you!!!
Thanks, my team started using bluetooth tethering to scout at Buckeye Regional. We submitted pit scouting data but we can't seem to access it from Tableau. It appears on the Website but whenever we download to Tableau nothing from Buckeye Regional appears. I've tried refreshing and redownloading. Any ideas? Thanks a ton.
Update: Instead of Downloading the data, I connected to the database from Tableau and it now shows everything. Still not sure what happened, but it's working.
I'm so sorry. In the recent version of the connector file, the pit scouting data isn't included because it messed up the match scouting data.
You will have to do bluetooth tethering at most venues including Champs. We use that method with our tablet-based system.
Of the 60-some teams that used the system this year, it looks like 24 of them will be competing at World's (With at least one team on every division!)
One of the best things about this new system is that it makes joint-scouting and pooling resources a lot easier. Hope this helps teams find others to work with:
Team	Division
360	Archimedes
2605	Archimedes
5667	Archimedes
1296	Carson
2471	Carson
2601	Carson
4911	Carver
5402	Carver
1305	Curie
2594	Curie
3663	Curie
4061	Curie
191	Galileo
492	Galileo
1002	Galileo
2168	Galileo
2990	Galileo
3787	Galileo
987	Hopper
2614	Hopper
2830	Hopper
1983	Newton
1225	Tesla
2399	Tesla

Do you plan to update this program for the 2016 season? I've been looking at it and I like the idea for our team if it gets updated. Thanks for all your hard work.
When will this site be updated for this years game? :deadhorse:
Bumping thread
Will FRCscout be updated for 2016?
It looks great and we would love to use it!