Hi everyone! 4513 alum here! I figured the FIRST community would be a great place to reach out to about this opportunity!
TL;DR- Stanford is offering an online version of our CS106A introductory CS class! We are looking for volunteers to help teach (all you need is programming experience and a love of teaching), and students who are interested in learning CS (no experience expected)!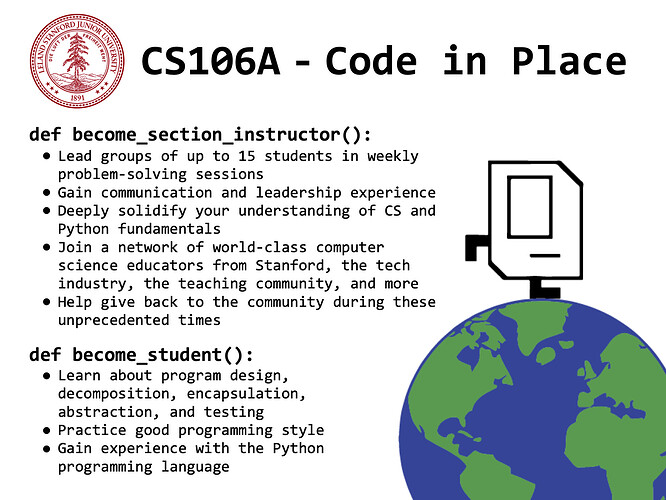 The time of COVID-19 has been difficult for many people around the world, in many different ways. As an act of community service, a group of computer science instructors is coming together to offer our teaching services free of charge for people who want to learn introductory coding , subject to availability. This is a one time offering for the COVID-19 pandemic.
Course Dates: April 13th until May 22nd.
Where: Anywhere with internet.
Who: Learners, with no programming experience, and time to dedicate to learning.
Student application deadline: April 8th, Anywhere on Earth.
Teacher application deadline (must be 18+): April 3rd, Anywhere on Earth.
The learning experience, which we call CS106A - Code in Place, will be an introductory programming course using the Python language, using material from the first half of Stanford University's established intro course, CS106A. It assumes no prior programming experience. You should expect to be working 15 to 20 hours a week and you will need an internet connection strong enough to stream video.
This experience is different from typical free online courses in that, in addition to using online resources, you will meet (via videoconferencing) in a small group, once a week, with someone on the teaching team. The course is centered around engaging assignments and includes an optional final project. You won't receive a grade in the course, and completing the experience doesn't earn university credit. Instead, the main outcome is that you will have acquired a new and wonderful skill: how to program.
More information: https://compedu.stanford.edu/codeinplace/announcement/
*as a volunteer: https://compedu.stanford.edu/codeinplace/handouts/Recruitment.pdf
Please lmk if you have any questions!


Share widely!!