This is my teams first year using the Flipped Gearboxes from WCP. The first stage is 10:60, and the second stage is 16:32. We had no issues with them during our Week 3 event, even after playing heavy defense almost every match. After the event, we inspected the gearboxes for damage, and nothing was visibly wrong.
We played even more defense during our Week 6 event. Everything was fine until one of our last qualification matches when the 16t gear on the left gearbox shattered. This failure really wasn't surprising to us after 25 matches of wear. We had two spares (purchased in January 2022), so we replaced it. We didn't have any problems until semi-finals when the 16t gear on the right side gearbox shattered.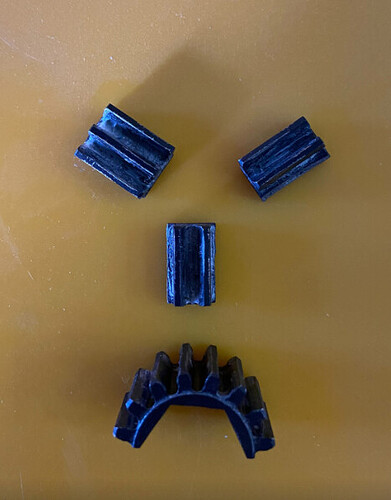 We scrambled to replace it with our last spare. Because we were rushing, our gearbox wasn't mounted properly which led to the 16t gears teeth being chewed down, but it did not shatter.
We left our Week 6 event assuming that the gears had just been worn down over time (causing the failure) and ordered 4 replacement 16t gears. The night before district champs, we completely reassembled the gearboxes and made sure the directions were followed perfectly. We replaced the right side with a brand new gear (ordered on 4/11), and kept the gear on the left side because we had just replaced it.
At district champs, nothing was wrong until our 11th qualification when the right side gear failed. Although we were a little disappointed, we replaced it (with a gear purchased on 4/11) and continued to play some hard defense.
We were picked by the 8th seed alliance, and we knew we would need to shut down the 1st seed's alliance captain, 230. We defended 230 until there was about 60 seconds left in the match, and guess what? the right side gear failed again.
We had about 30 minutes to replace the gear, which was doable. We even used our timeout to make sure that everything was tightened and greased properly. With this extra time, we removed the chain driving our front wheels in an attempt to reduce stress on the gearbox. After another minute of defending 230, the right gear failed again.
Basically, my question is, do you think the gears we ordered on 4/11 were bad? It doesn't make sense that the gears from January lasted over 10 times as long as the ones from April. I plan on emailing WCP tomorrow morning and asking them, but I'm interested if anybody else has had similar experiences with the same gears ordered in the past couple weeks.
We plan on staying away from the 16t gears if we use the same gearboxes next year, and I recommend other teams doing the same.