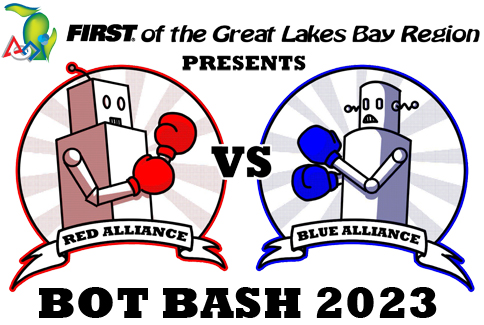 FIRST of the Great Lakes Bay Region is pleased to announce the 8th annual
"Great Lakes Bay Bot Bash" FRC Off-Season Competition, October 27th and 28th at
H.H. Dow High School in Midland, Michigan playing the 2023 FIRST FRC game: "Charged Up".
Registration is open to all current FIRST FRC teams.
Where:
Herbert Henry Dow High School
3901 N Saginaw Rd
Midland, MI 48640
When:
October 27th 2022- Pits Open from 4pm-9pm for registration, load-in, and practice matches.
October 28th 2022 - Competition from 8am-7pm.
Who:
Up to 32 FIRST FRC teams
Cost is $300 per team
Teams may waitlist a competition-legal practice bot for no extra cost (2 for 1)
Waitlisted 2nd robots will be used to fill any open slots when registration closes.
Payment due by October 14th
Please register soon!
Click Here for Event Information & Registration