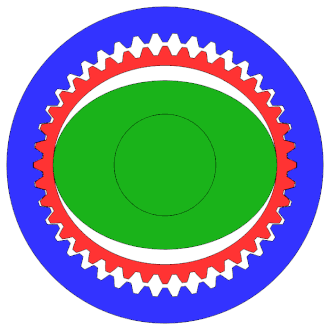 I had some time on my hands today, so I decided to take on a project I've been wanting to do for a while; a Harmonic Drive that would be feasible for an FRC robot. The design I came up with has a gear reduction of 125:1 and uses a GT2 3mm pitch timing belt in place of a traditional flex spine. In theory this design's gear ratio could easily be changed by swapping the belt out for a different size. Due to the nature of a Harmonic Drive, this design would have basically zero backlash. It also isn't back drivable, which could be a good or bad thing depending upon the application.
While there are definitely advantages to this design, there are a couple drawbacks. The biggest disadvantage is the time and precision needed to machine the multitude of complex parts needed. There also is the 25 tooth GT2 belt that would be very difficult to source as it is not a normally stocked size.
If you don't quite understand the mechanics behind a Harmonic Drive, I recommend watching THIS video, it does a great job explaining the core mechanics!
Critics, comments, and questions are more than welcome!
If you would like, you can check out the CAD for the module HERE.
-Trevor Glasheen, Alumni