I've been meaning to make this post for a long time but didn't get around to it- it's mostly about an extremely useful "discovery" we've made in the 2020 season surrounding HDPE machining.
Our robot this year, Asteria, was very heavy on pulleys and belts. In past years, we would 3D print them so we were used to making custom tooth count pulleys pretty much all the time. However, during the season our 3D printer, at some point, just stopped working, and we still had lots of pulleys to make.
Since they were mostly custom, we couldn't just buy them, and changing them to COTS pulleys would mean a big redesign for the whole robot, so the idea came up to machine them. Thanks to having a plastic sponsor, we just had a whole bunch of HDPE lying around, and seeing it was the most machinable material we have it seemed like the obvious choice.
This idea ended up going way better than we expected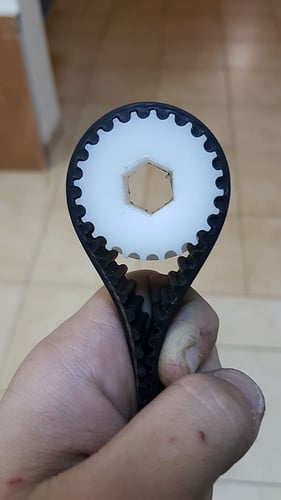 Initially, we thought having a hex bore with 3mm fillets on it would allow us to fit a Thunderhex shaft through the hole, but what we accidentally discovered was that HDPE can actually be broached with a regular 7075 Aluminum Hex shaft, with no expensive broach or press required. Not only did this allow us to make custom hubs later on, but making pulleys on our CNC router ended up being way more efficient than 3D printing them- on the first attempt of this we managed to pull out ~80 pulleys, enough for serializers on both our practice and competition robots with some to spare, in roughly an hour of work start to finish. Because of how machinable HDPE is, we would usually run the router on very high speeds (at first 19k mm/min, though we would slow it down later for better surface finish).
All pulleys on the final competition robot would end up being machined this way, usually with a 3D printed flange on the top side where we couldn't machine one. As far as i know we were the first team to do this, but i hope to see other teams with CNC routers adopt this method. Having access to custom pulleys makes working with belts a lot easier, not to mention it saves money over using COTS pulleys.