we are trying to set up the compresser with the robot using labview , can you help us?

The compressor code goes in Begin.vi
That's all you need.
With this example the PWM control cable for the Spike controlling the compressor connects to Relay 1 on the Digital Sidecar.
The Pressure switch cable cable connects to Digital IO 1 on the Digital Sidecar.
Watch which sub-forum you start threads in. This thread should probably have been started in NI LabVIEW - Chief Delphi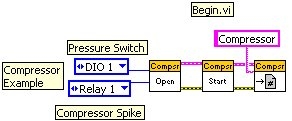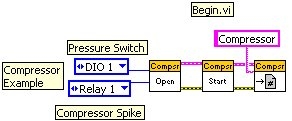 Someone please move this thread to the proper forum.
I was excited to see something posted in the UFH forum. Oh, well …
thanks for your help