Hello.
Our team has been trying to work with motion profiling on our new Falcon 500 motors.
First, we looked up example LabVIEW code for motion profiling with talons, and read the manual.
Then we generated a csv file with Path Planner. We generated a path that would move the bot about 5ft. Then we exported a csv file in this order:
position left, velocity left, duration left, position right, velocity right, duration right.
https://github.com/mjansen4857/PathPlanner
-Then we put the example code that sets the motion profile paths in begin. We set the code that runs the motion profile in periodic tasks.
(Ill post screen shots below so you can look closer)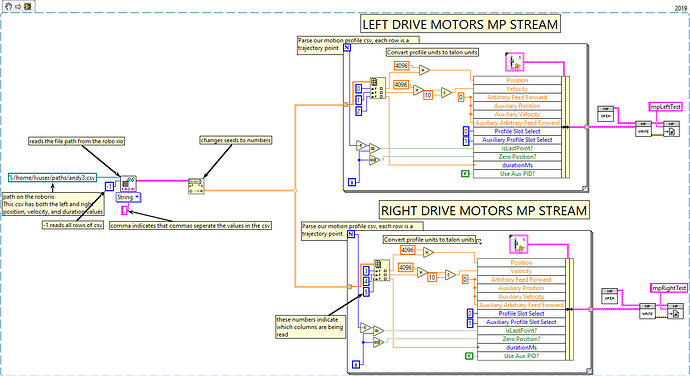 The motion profile starts when we just press down a button. There is also identical code for both sides of the robot. (Left and Right).
So far when we ran the code, only the left side of our robot's wheels would move, and it didn't seem to stop when we ran the motion profile.
We aren't sure where the problem is in our code, so any sort of help would be appreciated!
If you need any more details on how we coded our motion profiling, feel free to ask.

We are in a pickle. Thank you!