Hii, ı have got a small question.How did you feel when you found out you were the champion?
Edit: Dang! the linked video in that thread is no longer available…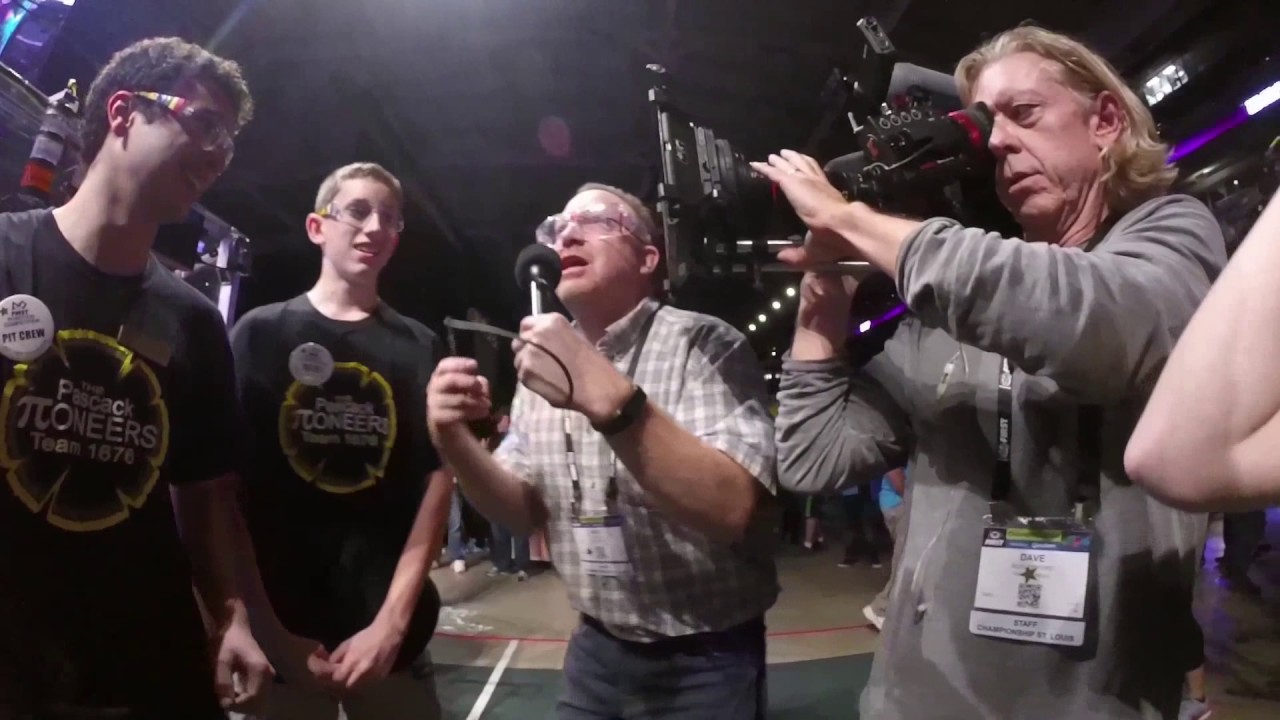 There may or may not have also been some shoe-eating involved (before it was cool…)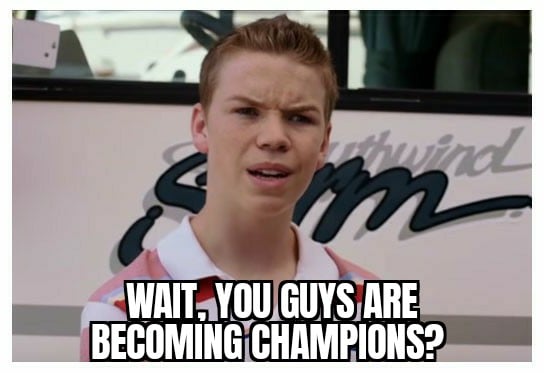 I'll let you know when it happens.
Relieved, when we won our first Championship the biggest feeling was relief.
We had been really close several times over the years and thought the window was closing after the way the previous season ended. It was also the year finally beat 71 who had knocked us out in other years where we were close, so we got that monkey off our back at the same time. We had a many of our early/original mentors retire after that season because they had finally done it after 13 years of trying with some really close calls in 1997, 1998, 2001 and 2004.
The second one (2010) we were able to actually enjoy.
Our 2014 district Championship allowed me to say I'd won every level that was available (regional, district, district championship, Championship division & Championship) and made it easy to "retire" for a few years.
Context: 2022 World Championship - Words cannot describe the feeling, but I'll attempt to. Surreal, like I was in a dream. It's something you dream about as a student and something that we didn't even think of as a possibility coming into the season (outside of joking). A few of us had been around the team for 10+ years and having been through so many highs and lows over the years, it was just purely exhilarating and honestly, still doesn't feel real 8 months later. To be there next to my mom, who I've been around this program with for 13 years, since I was in 6th grade just tagging along going to events because I thought they were cool, as the final score went up for finals 3 will always be one of my most cherished memories. To see our team members celebrate with their families as well, was so rewarding. I'm bad at putting all this into words but it was just amazing.
My mom has been telling me that I'm a champion for years!
27 years later and were still waiting. I'll make sure to tell you when it happens
I have to actively think to remember the fact I won a FIRST Vex Challenge world championship, so it didn't make that big of an impact in the long term. Probably would have had a more ingrained mental image if it wasn't happening simultaneously with my duties on our FRC team at the time.
It was so awesome seeing this for you guys! So well deserved.
April 23rd, 2022, was the best day of my life. When "Blue Alliance Wins" flew across the screen, it was surreal. The dream I had had since I first stepped into a VEX team meeting had become a reality. It didn't feel real for the days and weeks that followed. The moment of victory was the best feeling I have ever had. It was an overwhelming happiness. Tears began to flow as the team made their way down to the field. As we left the venue, we all found ourselves questioning if what just happened was real. It was, and I'd give anything to have it happen again.
First Regional Win: Vindicated
Story

2014 was the turning point season for me in my FIRST career. I had left my high school team after mentoring them for 3 years due to ideological and personal differences with team leadership. A decent percentage of students, and alumni mentors also left soon after due to similar issues. The original plan was to start our own team but the turnaround time and financial issue lead to that not being feasible and our joining with 179.

My group were constant quarterfinalist/semifinalist alliance captain level. Most felt tied down by the decisions made above them to play it safe and that we were carrying a worse robot to a better record than it deserved due to strategy and skilled drive team members.

179 had been in a downward trajectory last winning a regional in 2011. Worries on the team from students were about them not living up to the previous generations of the team. Mentors were worried about the team being passed by and a downward trajectory of team members.

The 179 who attended Kickoff in 2014 was split into thirds between the students who came over with me, returning 179 students, and new rookies. This lead to a team with a strong drive to prove themselves as my students wanted to show the old team they made the right decision, the returning 179 students either had never won or last won when they were freshmen, and new students wanting to make a splash.

We had a rough build season partially brought on by making twins with a team where we had much differing design philosophies and ideas about how long certain things should take to accomplish. This lead to us attending the Orlando Regional with a robot we had barely any practice with, that was over weight, in a game where we had no idea how to best scout or strategize since it was scored in a way that we were unused to.

The regional went ok we were the 8th seed alliance captain after some interpicking, and grabbed our twin and 79. We got slaughtered in the quarterfinals and were about to head down to pack up when we noticed a commotion on the field. The events of that quarterfinal are well documented but the result lead to us advancing to the semifinals, which we would win before going on to the finals where it would be a close series against the number 2 seed.

Quite a lot of sentiment at the event was we were undeserving finalists (arguably so), and that the number 2 alliance were undeserving winners since they were close against us and the red carded number 1 seed had destroyed us. This is more debatable but overall this event taught us a lot and further united us from 3 groups that shared a team number to one unified team.

We spent the time between Orlando and South Florida running drills with our twin team using the practice robot. Working with our sister team (180) who we had just faced in the Orlando finals so they could teach us how to best scout and strategize for the game. But most importantly was watching every match from every team who was going to be at South Florida, as well as the best teams in the world at the time for how they were playing the game.

South Florida was a tougher event however Friday ended on a high for the team. We were one of the highest ranked teams. We had gotten the imagery award, the first non robot related award the team received since their rookie year, the reimaging effort was something the existing students had wanted to do and the students who I had brought along had the skillset to do it. So this award further helped unite us. I was awarded the WFFA award at the end of the day and as keeping the WFFA nominee a secret was tradition I had no idea I was the nominee and received congratulations from not only my team, but the students and mentors of our twin team and my own former mentors and students. Honestly that night in the hotel with my award behind my laptop checking and double checking our data after wrapping up the scouting meeting was one of the most stressful of my life as I knew there was really only one way for us to reach a higher high then we were currently at and I needed to make sure everything was lined up for that success.

We finished rank 7 and were the first selection of the number 1 seed, our sister team 180. Our twin was ranked 5th and was the first selection of the number 2 seed 86. After being the alliance that no one wanted or thought could win in Orlando us going 1 and 2 off the board really made the work we did in-between Orlando and South Florida worth it. The discussion beforehand with 180 really further opened my eyes to how to run an alliance meeting and what to look for in a 3rd robot and ultimately the 3rd robot selection is what lead to the number 2 alliance falling to the number 6 in the semis and our alliance going undefeated through elims.

A group that started the season divided and with a whole bag of chips on their shoulders came together in celebration as the score was announced and "We Are The Champions" played for us. Despite feeling like vagabonds, has-beens, never were, and imposters; here we were champions for the first time for 90% of the team.

Every decision, every late night, every argument, and every time I questioned calling it quits was worth it for that moment. My first Blue Banner for Robot Performance (I had a Chairman's win from my second year as a student and WFFA now gives a blue banner but did not back then), my first time qualifying for worlds as a mentor, and the biggest celebration I had been a part of in my time in FIRST up to that point.

Thus Vindicated
First Division Win: Relief
Story

2019 was an up and down season. We had finished finalist in our division in 2018 and wanted to control our fate and build the best robot we thought we had ever made.

2019 Orlando was brutal, almost every match we were getting completely beat up and had many matches were robots were inside of our frame perimeter. We finished rank 3 and denied the number 1 seed (2152) fearing the combination of the the number 2 seed (386) and our sister team (180) would be impossible to overcome. This lead to us making risky selections and losing a close semifinal to the number 2 seed after we tipped over in semifinal match 2. This number 2 seed (386, 233, 1251) would go on to beat the number 1 seed (2152, 180, 3556).

We knew our decisions let the robot down not the other way around. We shored up our scouting system, had our driver practice under the most brutal of defenses, and came up with a clear cut off for when to break off of trying for a rocket RP. This lead to us being undefeated Rank 1 at South Florida, and completing the event with the undefeated record intact.

In the lead up to worlds we were considered likely to be finalist again at best as several teams (1986, 2468, 2478, 4414) were considered much better by the community and likely to pair with the favorite of the division in 971. We took the time in-between South Florida and worlds to make a new hatch panel mechanism, shift our cg slightly forward, and make our auto more reliable.

An up and down event lead to us shockingly finishing rank 3, and we received a call from 971 that we would be their choice. Bringing our scouting crew to their hotel was another learning experience in terms of how other people handled their scouting and how different teams prioritize different aspects of scouting. We had a solid alliance and were shocked to get 3646 who we had made finals with the previous year and could solo a rocket and double climb with 971 in the event we were broken and the best defense bot in the division in 498. Our run through Galileo started with a loss due to a mechanical malfunction on our end as well as not utilizing our 3rd alliance members strengths.

We would then make it back to finals and win our division to make it to Einstein. The pressure of knowing we were good enough to make Einstein the previous year and making a robot to maximize our chances this year was lifted. Our students who had been on the journey with us from the start of our regional winning season streak in 2016 now got to see the culmination of their efforts, getting further at worlds in all 4 of their years and now getting to be on the field with the best of the best.

So relief no more pressure, no more worries, no more are we good enough. Followed immediately by; well now we have to find a way to you know, try to win Einstein so new stressed replaced it
First Championship Win: Hasn't happened yet but if/when it does I will let you know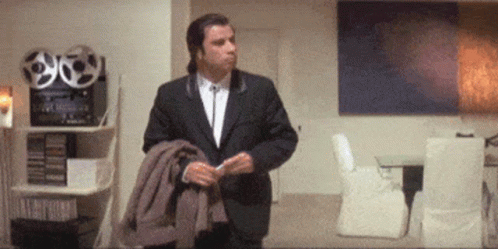 I was getting the robot ready to play another match but then they set off the confetti cannon so the drive team stumbled around for a few moments before we found somebody who knew what was going on.
For context:

I was there in the balcony for that. I was jumping out of my seat with my head in my hands when I saw the whole falling down and getting back up sequence
It's like Tubthumping, "I get knocked down, but I get up again, you're never gonna keep-a me down"
That was ultimately a much more exciting moment than the eventual final match. Most of Einstein for us was winning on 5-10 point margins.
For better or worse, that sequence took much longer than it should have the first time due to a slight control tweak we weren't as practiced with. The second fall was completely unrelated, just weren't hooked on quite right.
I was sitting in a sea of Canadians, while I was cheering for 330. If I was a person with any self-awareness it probably would have been uncomfortable. Definitely one of the most exciting finals I've gotten to watch. 2022 was really good, too.
Our win on FiMstein last year was surreal. We lost the first match then won the next three in a row, yeah it took 4 matches to determine a winner. It was super special because our seniors had lost 2 years to covid and it slimmed down our team drastically. Also during those last three matches we broke one of the mounting points of our intake and couldn't pick up cargo. Our driver adjusted to driving defense on the fly and that's something we hadn't done all year. Breaking our intake was actually a blessing since we were running triple offense and running into ball starvation. We commemorated the win with T-shirts, just wish we could've gotten them to the other teams on our alliance, the end of the school year cut off our funds before we could order more. Big thanks to 27 Rush and 2337 Enginerds. Figured I'd share the shirt style that our students came up with since we found that people that don't know about FRC find it kinda strange.