How do the bearings in these three sections work?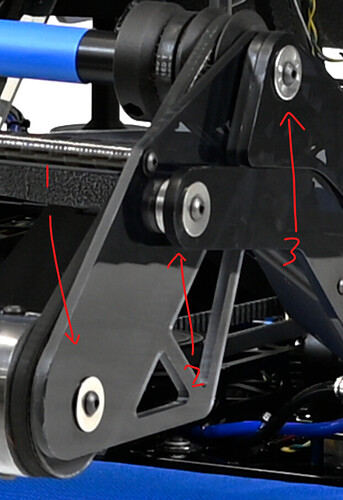 full image here: https://media.team254.com/2022/03/8e68079e-sideways-full.jpg
for those not aware, bearing 1 needs to support the a roller of the intake, bearing 2 acts as a joint in the linkage, and bearing three needs to do both.
My initial thoughts:
The way my team would usually do something like this would be to put a bearing into the polycarb panels and then put a screw with a washer into both ends of whatever axle the bearing was supporting to stop the axle from being pullet out of the bearings. This does not seem to be what is happening in any of these arrangements though, as nothing can be seen below the large washers, suggesting they would have to be resting on the outer races of whatever bearings they were sitting on, which seems unlikely to be the case to me. Are screws themselves acting as the axles in this case with the bearings being in the actual rollers of the intake? As for bearing 2, i initially thought the metallic cylinder between the two arms of the linkage was a thrust bearing of some kind, but then i realized that if there was a screw with a large washer going through the entire stack, the two arms would not be rotationally isolated, since the screw would still be effectively connecting both sides despite the presence of the bearing.
Any insights would be much appreciated. Thanks in advance.