I want to preface this by saying that, as a long time mentor of FLL, FTC and FRC, I have a firm belief that winning isn't everything. Our teams have been at the wrong end of bad ref calls and I generally shrug it off and keep my team moving forward.
But it has occurred to me that one of the "soft skills" we should be teaching our students is how to advocate on their own behalf. How do I teach them to be strong but not aggressive, convincing and not condescending, persistent and tenacious without being annoying.
Most of my kids are pretty mild mannered, by the book, color inside the lines kind of kids. I am thankful for that but sometimes I feel like I need to help them figure out how to push that line a bit.
I certainly have seen mentors and kids go at refs the wrong way. And I'm sure ref's, being human and volunteers, deserve some deference. But at some point when they are wrong, we have to teach our kids to believe in themselves and somehow not take no for an answer.
Case in point, Michigan State Finals NW: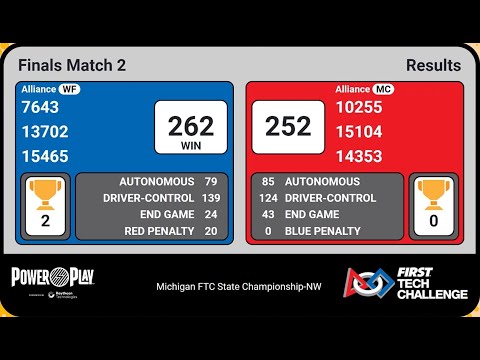 Our human player at 94 seconds left to play gets 2 fouls called against him. One was breaking the plane while a robot is in the substation and the other was placing a cone outside of the substation.
There are a few considerations.
15104's intake does not extend outside of the robot frame. And it's pretty clear, that the human player's hand is outside field by the time 15104's robot enters. 15104's robot actually stops when they see that the human player has not completely exited the field. It is even more clear if you do see this in slow mode.

The ref standing on the right back side, can't see over 15104's robot to know exactly where the human player places the offending cone. When 15104's robot leaves, a tipped over cone is blocking the view as well. The resolution is not super clear in the video (bit better on twitch), but while 15104 is in the substation, you can see the tipped over cone moving, hitting the cone that was called to be out of the substation and potentially moving the cone out.
Now all of this was understood after watching the video over and over in slow motion. And being that no video replay evidence is allowed, the arguments above certainly would not be an acceptable or convincing one.
The only argument I could think to make is that there is certainly no clear view and my understanding is that if there is some sort of uncertainty, the ref is supposed to give the offending team the benefit of the doubt.
How would you argue against this call? If you have been a ref or head ref, what would convince you that the call was bad? How do I teach my kids to question the call and push against what they know to be impossible.
In the end, we lose by 10 points after receiving the 20 points of penalty.
What makes this sting even worse, is that while the ref on the red side seem to be hyper vigilante, the ref for blue seemed to be asleep. If you skip to 76 seconds and 67 seconds left to play, you'll see what I mean.
The PSA here is that as the season matures, scores are going to get incredibly close due to the limit in cones and the fact that robots are getting so good that they run out at 45 seconds left to play. A single penalty will decide more games. For those who are still competing, while you brush up your judging presentation and you run robot practices, you might also want to include a tutorial on effective arguing.
One last note, just wanted to thank 10255 and 15104 for playing with us. They were both so gracious after the match, never once making my drive team feel like they had done anything wrong. It was a privileges' to be part of your alliance.