Preface: I stayed up entirely too late Saturday night writing a version of this on my personal Facebook. Yes, the thrust of this might fit in the Electric City Regional thread. No, I don't care if this makes me guilty of mod abuse. If a team you were around for the start of did this, you'd post this too.
6,555 days.
That is how long it's been since I walked into my rookie FIRST event, the 2004 Palmetto Regional, and was immediately hooked by these incredible machines running around Colonial Life Arena. 1293, then known as D5 Robotics, had brought a window motor drivetrain to the competition with an ineffective gripper arm–absolutely a knife to a gunfight. But we were rookies, and even if Keenan beat us out for Rookie All-Star and Flash got Highest Rookie Seed surely we could start bringing in the hardware soon, right?
Nah.
A couple years later after the 2006 season (which was at least above .500), I parted company with 1293 and moved over to tiny 1618 to get a breath of fresh air as many 20-year-olds are inclined to. But even when the T-shirt changed, my heart always wanted to see the operation then known as D5 Robotics get theirs. Some years, the hyperpolished machines leaving their warehouse space looked like they could do the job. Some years, not so much. In 2010, now on Los Pollos Locos, we even steered our alliance captain to pick them as the second robot, only for materials selection in their drivetrain to fail us at the worst possible time in semis. The next year, they were all but guaranteed to reach the Palmetto Regional finals–and very possibly beat Los Pollos Locos on the other side of the bracket just a week after their own Cinderella maiden win–only for a partner to rack up a heartbreaking red card and deny them. It would be eight years before they even saw playoffs again.
I've seen them pour their efforts into so many facets of the FIRST experience to serve teams. They were nuts enough to run with me start SCRIW when 2815's then-lead teacher didn't want to do much, they were instrumental in getting Garnet Squadron started in its earliest days, they hosted FIRST LEGO League and FIRST Tech Challenge events, they wrestled the statewide Kickoff into something that serves the teams greater than "here's your kit, see you in a few weeks". They turned out tremendous alumni I've had the pleasure of knowing, two of whom never got to see the team get that signature breakthrough.
And despite all their hard work, the trophy cabinet remained bare.
I returned to the team for the 2018 season, still processing my experiences (both inspirations and burnout) from AndyMark and life in Indiana the year prior. I decided to come back to 1293 for more than sentimental reasons–my fledgling business was focused on the hours immediately after school, so meetings starting at 6 PM were clutch. But at the same time, I had a burning urge to see this absurd drought end. The result of that 2018 season was another butt-kicking, but the kind that made everyone angry in the best possible way–angry enough to tear into old thinking and do better. And we started to do better–unheard of heights as we started attending multiple events in 2019, seeding top-10 at them, and being alliance captains. Except it's near impossible to go deep as the underdog in playoffs, so the trophy cabinet remained bare.
We kept our momentum rolling into 2020, and then on March 12 my world was jerked apart in many unexpected ways. I was standing in the library of H.B. Rhame Elementary when I heard FIRST had scrapped the remainder of the season, and the class I taught after school just down the road ended up being the final one my business ever ran. The team strung together barely enough people (about four at its peak) to run the 2021 at-home challenges with a semi-new build and even attempt the virtual game design challenge. You can guess how that went.
And that's just the prologue, folks.
We joked this year that it would be the most 1293 thing ever to win our regional tournament and qualify for Championship in the one year the district wasn't allowing out-of-state trips. With a largely new cast of characters, we assembled a robot this year that wasn't all that conceptually different from our groundbreaking 2019 robot. Except between COVID precautions pushing us to virtual meetings longer than was beneficial and parts delays, the robot was barely put together when it was time to stuff everything in the trailer and haul it up to Anderson for the inaugural Electric City Regional. The drivetrain had maybe ten seconds of powered movement beforehand, and none with the arm on. And due to some turnover in the mentor base, yours truly was moved from the head of scouting to field coach for the first time since I coached a very forgettable season with the Iron Kings in 2017.
The team hustled hard all day on the practice day Thursday to iron out the remaining known wrinkles. By some miracle, we even made a practice match–where the robot stuttered in auto and then crashed its code. But even that was one more practice match than we'd run in a long while. We ended up chasing issues with the robot's CAN bus, and the only way we got around it was to convert our smart motor controllers to PWM control. It meant we could move and make it to Q1 on Friday morning, but it eliminated all the safety smarts–like limiting the power our arm could put out. We were able to rig it up enough to make it to the first match, but with the arm locked in the up position. It immediately tipped over as our driver took control. And sure enough, in our third match the arm crunched itself going down autonomously. We tried to repair it, but it fatigued the metal enough that it rattled apart in the following match. I huddled the team up in the pit and laid out the options: we keep chasing this, or we try and get the robot climber hooks on something not trying to pivot around cleverly for a few points at the end of the match. The unanimous decision was to go the second route.
Through all this troubleshooting, the kids never flinched or pouted or got grumpy–they just kept working the problem. We kept shaking out the small bugs in our wiring or programming. We got new rails fabricated to mount the climbers, and meanwhile our driver–whose only competition experience was those at-home challenges with no other robots–found himself to be an absolute natural at playing lights-out defense. Even when we lost power on-field and head ref Terrell Burch came over to explain dying in that protected spot was only a technical foul and not the worse yellow card thanks to our partners whacking us out of the way, he took time to compliment his driving. And then others did the same in the pits. We heard that compliment a few more times over dinner, but we knew we had a lot of gremlins that would look terrible on a scouting report. I texted 4451's coach over dinner asking if we should even bother finishing the climber additions in the hopes of getting selected for playoffs; I knew he would shoot straight with me if we were already consigned to the do-not-pick list. The answer in reply was enough for us to press on with the plan.
(An aside: my fiancée burned a volunteer day and drove up from Georgia–all back roads–to come help out with the team in the stands and with scouting, and she barely saw me outside of the hotel. I left earlier than her each morning and was almost always in the pits or the field away from her, so we only caught meals and maybe a little TV after the team meetings. I don't deserve this wonderful woman.)
The climber system went on Saturday morning, with plans to get it plumbed up and inspected after our first match. Except the code crashed that first match, so we hardly moved. After that fix, we were able to drive a full match–or at least the parts of those last two matches where we weren't tipped over from being so top-heavy. Headed into that last match, I told the kids on our drive team how proud I was of their grit and determination…about two minutes before another tip and a tied match to end our schedule at 3-7-1.
I was pretty resigned to a Learning Experience kind of year this year, which is itself a victory in many respects. But while I was attempting to rehydrate with a ginormous $4 Gatorade, some team members 4265 came over and asked our lead teacher: would we be open to ditching the climber?
DUH, of course we would! (This wasn't some "high seed bosses around the second pick" thing, even we didn't like the blasted things at this point.) They ended up going as the first pick of the draft by the Cyber Tribe of Kingsport, Tennessee–and miraculously, they decided together that our defensive driving was worth the risk of picking a team whose robot had died or tipped in far more matches than they'd actually run to completion.
The scene in our pits immediately after was a mix of all three teams' shirts. We'd strapped on a 10-pound kettlebell to the frame of the robot before our last qualification match to try to reduce the tipping (spoiler: it didn't), but our teacher grabbed another 20 pounds of dumbbells from the local Target so we set to strapping them down. 4265 kids were helping relocate our robot controller to accommodate the ballast and make the wiring utterly bombproof. 4020 kids were helping our programmer go through the code to find any other surprises. The other two coaches and I worked out the subtleties of all three autonomous routines and what we needed to do to prevent collisions that could very well cost us the match before the kids even got to touch controllers.
Things got relatively smooth for the first two rounds, thanks ot the steady work of our pit crew feeding us batteries and water and a little extra protection from balls bouncing into our robot. After we clinched the semifinal round, Blair Hundertmark didn't believe me when I told him the rotten-luck history of this team. And on Day 6,555, the drought (one I believe to be the second-longest active one in FRC behind 937) was ending one way or the other: gold or silver.
Cyber Tribe's coach called the shot for finals: rather than keep the heat off of them, it was time to go after 364, the 2 seed who was 13-3 that weekend and with a long history of success. Despite the 8-Falcon swerve against our 4-NEO AM14U5, there was only one option: give 'em hell. From shoving them around the field to well-timed bumps as they shot their cargo, our driver's defense utterly shut them down. And with enough of the planets aligned, a nineteen-year run of heartbreak and disappointment came to a most unbelievable end: not just with an award, but a blue champion's banner that has eluded the entire Columbia area since the Garnet Squadron kids they helped out stormed the Orlando Regional in 2014.
And because this wasn't an absurd enough ending to this tale, the judges then blessed us with the Imagery Award for our team's ability to cross our yin-yang motif with our blend of the arts and sciences and the FIRST Core Values. (You would think that with a marketing degree I had anything at all to do with this, but the first time I heard this unifying vision was when Blair read out the award citation. This was entirely our kids' work.)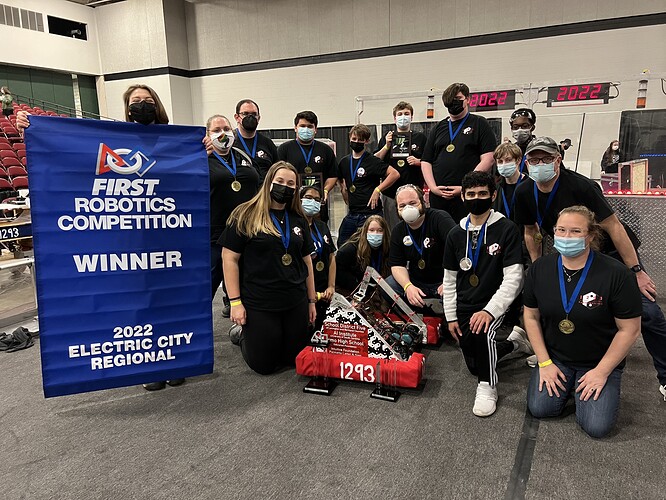 Thank you so very much to 4020 and 4265. It is an astounding show of faith to pick a team that died on the field more times than it ran the full match. I'm incredibly blessed to have drive coached that scenario once before–the 2011 Peachtree Regional where 2415 and 1771 blessed 2815 with that same show of faith in their defense. All of us are grateful for your help in giving our electrical system a field-expedient overhaul. As we work on a rebuild for whatever is to come, I'll be making sure our team members study up.
Thank you to everyone near and far who blew up my phone with encouragement and then congratulations, and everyone who caught me in the venue. Lots of people tried to congratulate me at lunch, and after seeing how this team has been cruelly denied I was like "Not yet, we've gotta convert on it first!"
Thank you to our friends on 2815 and 6693 for joining us on scouting. It's only the second time I've put our scouting workflow in the hands of someone else almost entirely so I could focus on field coach, but I'm glad it held together without a bunch of bug fixes in the stands! (Also, congrats to the former on their first alliance captain run at a regional that I can remember, and thank you to the latter for loaning us a couple extra batteries before they left just in case we needed them.)
Congratulations to Justin White from 342 on basically winning Friday afternoon, first receiving a much-deserved Woodie Flowers Finalist Award and then turning right around with the surprise proposal on the field. It was adorable, find the Twitch VOD.
Additional congratulations to Chris Cortez on the equally-deserved Volunteer of the Year award. He's been quietly grinding on a number of things for the state while also doing all sorts of events for FIRST North Carolina and the Peachtree District as well. He makes me look like an amateur at this.
Thank you to all of the FIRST South Carolina volunteers and new PDP Giselle Cheeseman who worked so hard to make this event happen at all. The new regime has been a breath of fresh air, and if this was the first edition then I can't wait to see what's to come.
Now to hope the Priority Waitlist gods treat us better than FMS did by sticking us in Q1, the last scheduled match, and the replay of Q1 on Friday.