To run our intake rollers, we are planning to use a Mini CIM with timing belt pulley. The timing belt pulley is 18 tooth with 1/2" hex bore. We have a 8mm to hex shaft adapter. The problem we have is figuring out how to keep the adapter and pulley from sliding off the shaft. There is no set screw. Ideas we've had are:
JBWeld it all together
Drill through it all and insert a roll pin
Drill and tap a set screw in pulley that extends also through adapter.
None of those sound great, hoping someone has a better idea.
Here's what we are working with: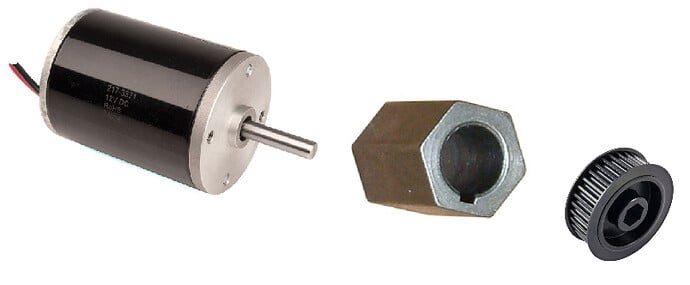 CIM to Hex Adapter -
https://www.vexrobotics.com/217-3255.html
Mini CIM -
https://www.vexrobotics.com/217-3371.html
18T x 9mm Wide Double Flange Aluminum Pulley (HTD 5mm, 1/2" Hex Bore) -
https://www.vexrobotics.com/htdpulleys.html