Hello everyone, this could very well be simple to solve, and I could just be very tired, but I need some help calculating the angle of our wrist mathematically given the angle of the arm.
I'll try to be descriptive as possible, We have both our wrist motor and arm motor mounted within the carriage of our elevator, the arm motor, straightforwardly takes the output of the gearbox, and runs it through a sprocket that is bolted to the side of the arm, therefore rotating it rotates the arm, simple enough. The wrist motor however, is more difficult, it runs through a chain to a sprocket on the same axle that the arm rotates around, but is affixed to the axle not the arm (obviously), then there is a second sprocket, attached to the same axle, which runs a chain across the arm, over one passive sprocket, to the wrist axle, with a sprocket attached to it. Unfortunately the second sprocket on the arm axle and the sprocket are not the same tooth count (22T vs 12T) meaning there is a ratio. This also causes the problem that when we rotate our arm, because the arm axle stays stationary (due to being attached to the wrist gearbox via a chain) it causes the wrist to act as a 4 bar, but because there is a ratio between the two sprockets driving it, it rotates (as apparent from the floor) as well.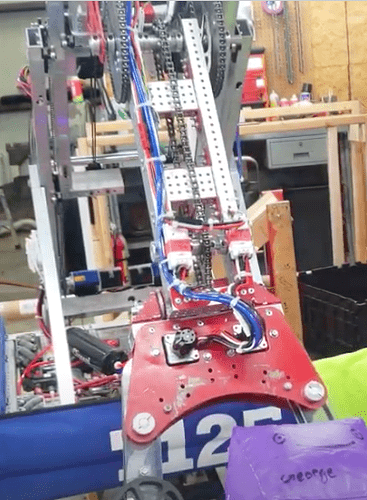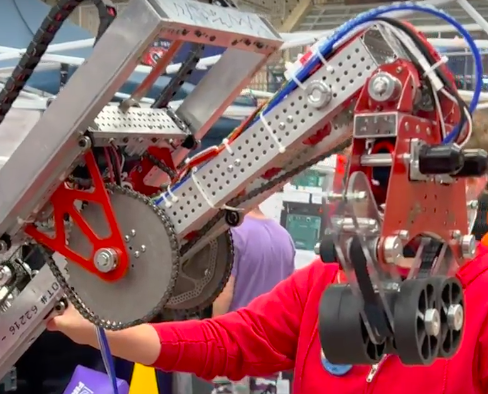 Im sorry I don't have great pictures, please excuse any janky-ness in the photos it will be fixed eventually. The left side of the chains / sprockets controls the arm, and the right / middle controls the wrist.
What I need is to be able to calculate the rotation of the wrist that is caused by some rotation in the arm. Say the arm rotates 15 degrees, I need to figure out that the wrist, as seen from the floor, or arm, either works, rotates either 5 degrees or 15 + 5 degrees.
Thank you so much for any help you can provide, if you need measurements, tooth counts or anything to help me figure this out let me know and I can get them for you.
Oh and bonus points if you can explain it like I only had half of a geometry course due to covid